Student-Run Occupational Therapy Pro Bono Clinic Provides Independence to University of Mary Freshman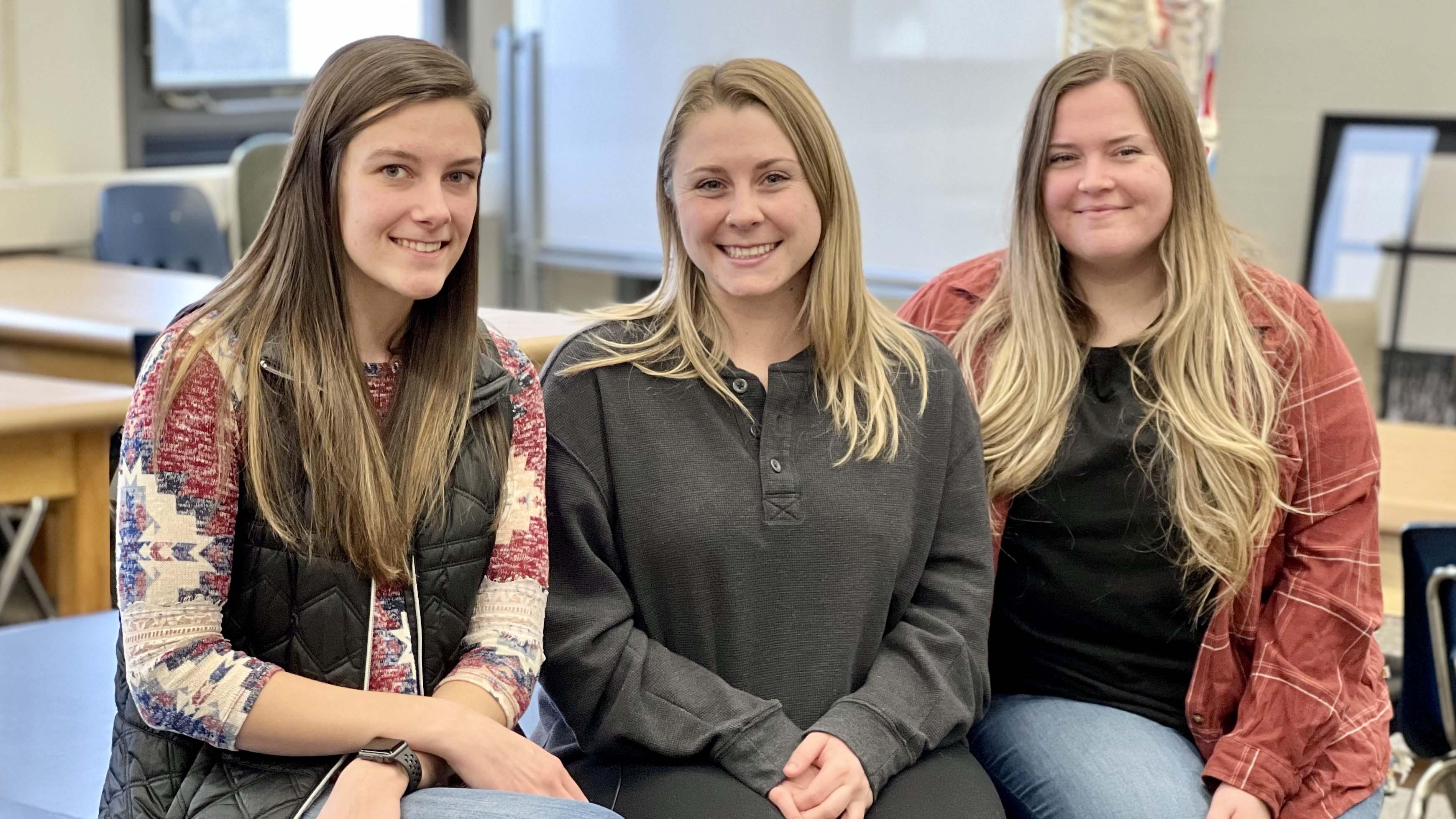 Mary celebrates Life and Dignity Week starting Sunday, Jan. 16, 2022, with Powwow, MLK Day, Community Learning Day, and March for Life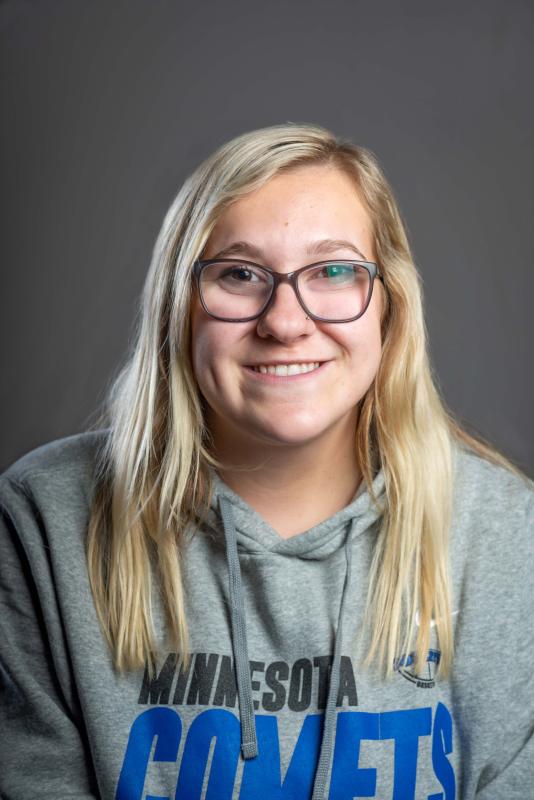 BISMARCK, ND — When freshman Allison Eiynck arrived at the University of Mary this past fall, she was unable to do some of the typical day-to-day tasks that many college students often take for granted. In fact, Eiynck thought she would need a personal aide just to curl or straighten her hair, put in hearing aids or ponytails, or throw on a stocking cap during the winter days.
"To be honest, it was very frustrating and discouraging that I wasn't able to do those tasks as most people can," explained Eiynck, a radiologic technology student from Albany, MN. "I had to learn how to adapt my whole life, so I was familiar with failure along with trial and error. Not being able to do those tasks never prevented me from doing the things I wanted. I was capable enough to ask for help or find a way to do it myself. The University of Mary Occupational Therapy Pro Bono Clinic coordinator had reached out to me and asked if I would be interested in some help from OT students working at the clinic. I was willing to give it a shot since I would be living on my own."
Since birth, Eiynck has been diagnosed with some medical conditions that are hard to pronounce, and even harder to cope with every day.
"I was diagnosed with multiple synostosis syndrome (fusion of joints) in my elbows, fingers, toes, and bones in my feet, along with brachydactyly (missing of partial digits in my ring and pinkie fingers)," said Eiynck. "In the second grade, I was diagnosed with bi-lateral hearing impairment, so I wear hearing aids to bring my hearing to normal. With my synostosis, I am not able to bend my arms, so I cannot reach my face, head, or certain areas above my waist."
It seems daunting and sometimes impossible, — unless of course, you have Eiynck's can-do spirit, and the ingenuity and skills of these three second-year OT doctorate students. Their purpose wasn't to wait on Eiynck hand and foot, and be at her beck and call, but set personal goals and create solutions so she can do those undoable tasks independently.
"In the OT Pro Bono Clinic, I was able to work with three students: Karley Garcia, Morgan Ziesch, and Casey Cullinane," said Eiynck. "The first thing we had worked on was getting to put my hearing aids in successfully, so they wouldn't slide around on the dresser as I inserted them. They had come up with an idea to use Dycem, which is a non-slip material that allows it to grip the hearing aids and hold them into place. For my curling iron and straightening brush, they had taken the idea from my actual hairbrush extender made by my OT back in Minnesota, and had made similar extenders for those two objects to hold into place. Putting in a ponytail was one of the hardest tasks to figure out, it had taken a few ideas between the students before they had come up with an idea that works well. I'm continuing to practice with the ponytail method, but I feel it is the most effective method and an idea that even my OT at home didn't know how to approach. The stocking cap was also very helpful and effective. Think of it as you're putting a trash bag into the garbage can. The garbage can is small and made of plastic. I would put my hat in, like a trash bag with the edges hanging over. This created an opening for me to simply pick up the trash can, flip it upside down, and slide my head into it to place the hat onto my head. Then I would remove it from the trash can using my arms and adjust as needed."
The OT Pro Bono Clinic gives students a direct opportunity to use their skills with real-life patients and treat many medical diagnoses, like Eiynck's. For Garcia, Ziesch and Cullinane, it meant several sessions with Eiynck, lots of trial-and-error experimentation, and modifications to get each adaptation up to standard.
"This is definitely one of the highlights of my experience in the OT program," said Cullinane, a native of Camarillo, CA, who would like to work in either outpatient pediatrics, upper extremity outpatient orthopedics, or mental health among college athletes. "We all worked as a team throughout this whole experience. Before each session with our client, we prepped by creating adaptive equipment, intervention plans, and by designating roles for the upcoming session. We developed goals for our client as a team and then problem solved different interventions and adaptations to help our client obtain her goals and become as independent as possible. Seeing the sense of accomplishment on our client's face when she would reach one of her goals is exactly why I want to be an occupational therapist. The feeling of joy and pride when your client reaches their goals is indescribable."
"This process was very rewarding in many ways," said Ziesch of Pettibone, ND, who is eager for her upcoming field work in both the adult and pediatric fields. "She was very appreciative of all the adaptations that were suggested. She was also extremely open to all the ideas that we brought to her to try. Seeing her willingness to try our interventions and her optimism was very inspiring. Her attitude and drive made me feel more motivated and inspirational to help her live as independently as possible."
"I learned so much from Allison and how she adapted equipment to make her life easier," explained Garcia, a Ventura, CA, native who eventually wants to work where she can improve veterans lives by assisting them in their daily occupations. "I think overall, our confidence as therapists grew and we felt very honored to be a part of such a rewarding experience. Seeing the look on Allison's face when she was able to independently style her hair with hot tools, put her hearing aids in, and place a beanie on her head was so rewarding and made the process so fun. The entire process of creating and adapting equipment to increase her functional independence was challenging, but so worthwhile. It was great to collaborate with not only my teammates but other students and professors as well. I will forever be thankful for this experience and what I have learned from everyone in this process."
Depending on what Eiynck does each morning to get ready, she estimates that the adaptations save her about 10 minutes of prep time.
 At home, Eiynck loves traveling, being a fan at sporting events, and going to the lakes with friends and family. Her parents and siblings are very supportive caretakers — helping her put on makeup. Even her dad tries to help, but she admits, he doesn't always get the desired outcome.  
Eiynck already had special extensions created back home for her hairbrush, silverware, and toothbrush that she brought with to live on campus. She prefers typing on a keyboard otherwise her hands get fatigued. And, she can drive without adaptations by adjusting the seat for her feet and then reclining the back so her arms are stretched out to the steering wheel. She's able to do those tasks and now much more on her own thanks to the OT students and the Pro Bono Clinic.
"I have been mostly independent my whole life, but with the help of the OT Pro Bono Clinic, I am now fully independent."
Anyone who wishes to learn more about the University of Mary, can do so at www.umary.edu, by contacting an admissions representative at enroll@umary.edu, or calling (701) 355-8030.
About the University of Mary
True to its motto "lumen vitae" — The Light of Life — the University of Mary offers education for the whole of life through cutting-edge professional programs and graduate programs animated by moral courage and leadership in chosen professions and service to the community. A private, co-educational Catholic institution, the University of Mary welcomes students of all faiths and backgrounds.
 A Christian, Catholic, Benedictine institution founded in 1959 by the Benedictine Sisters of Annunciation Monastery, Mary offers nearly 60 bachelor's, 19 master's, and five doctoral programs—in business, education, nursing practice, occupational therapy, and physical therapy. The 19-sport Athletic Department adheres to its Greatness Through Virtue mission under the governance of the National Collegiate Athletic Association (NCAA) and American Collegiate Hockey Association (ACHA) conferences. With more than 3,800 students, Mary has locations in North Dakota, Montana, Arizona, Rome, Italy, as well as vibrant online offerings.
Explore Topics