Public Invited to University of Mary's First Outdoor Band Concert in Over Three Decades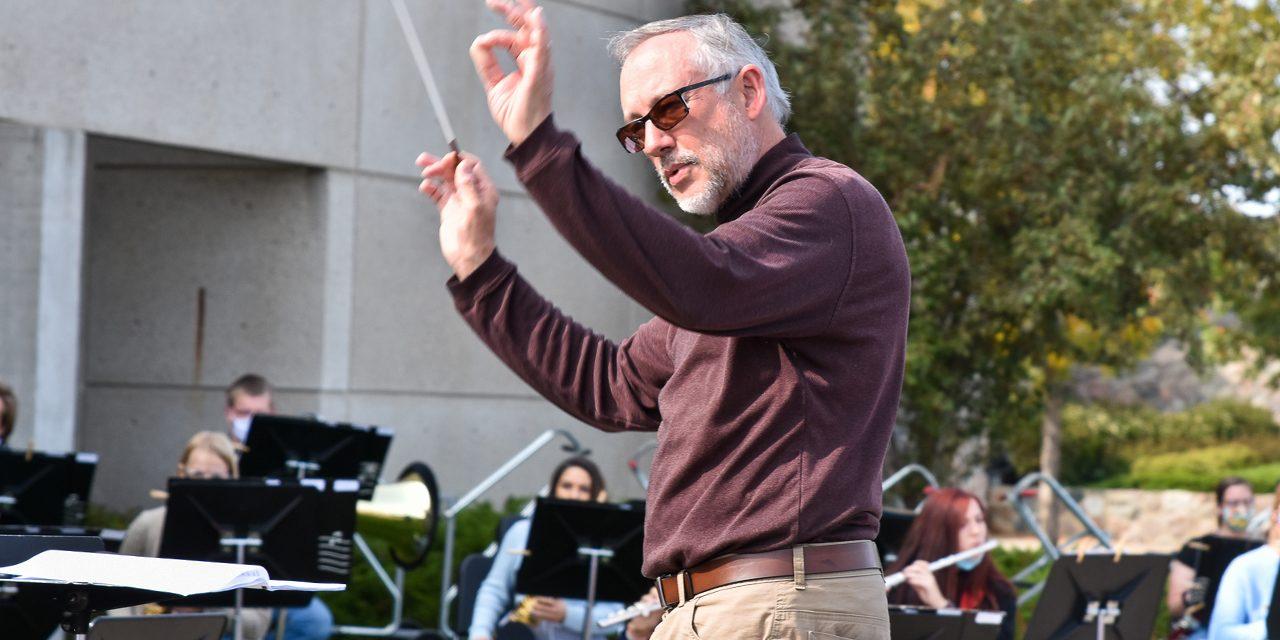 The concert is free and open to the public
BISMARCK, ND — The leaves aren't the only thing changing on University of Mary's campus. On Friday, Oct. 9, the University of Mary Concert Band will perform a special, early Fall Concert in the great outdoors, on the bluff overlooking the majestic Missouri River, where Lewis and Clark presumably once stood and chartered their course as they continued their westward expedition in 1804. This performance will take place outdoors in the west corner of the new Engineering and Lumen Vitae buildings, just north of the Grotto. This performance will replace the concert previously scheduled for Oct. 25.
"While our original concert date was towards the end of October," says Dennis Gowen, professor of music and director of Bands and High Brass at the University of Mary, "and being mindful of the current pandemic, the outdoor performance option seemed more and more likely over the past few days, as the weather forecast remains cooperative and very pleasant." Gowen adds, "the students have been absolutely wonderful to work with this fall. They are excited and ready to present a concert with only four weeks of rehearsals."
Works by Bach, Jacob, Bizet, Galante and Morricone are slated for the performance. "We are pleased to feature both a student and a faculty member as soloists on the performance," says Gowen. "Senior oboist Briele Vollmuth from Bismarck will perform Gabriel's Oboe, while Dr. Lucas Bernier lightens up the mood with Xylophonia."
As a special treat, Gowen says "there'll even be 'audience participation,' as well as some seasonal goodies for the audience – don't miss out."
The performance, which takes place at 4 p.m., Friday, Oct. 9 at the west corner of the Engineering building and Lumen Vitae, is free and open to the public. For more information, please contact Danielle Abler, Department of Music administrative assistant, at (701) 355-8301.
Fall Band Personnel
PICCOLO
Greta Anderson, Bismarck, ND
FLUTE
*Madison Gapp, Park Rapids MN
Maria Osterbauer, Columbia Heights MN
+Rachelle Klein, Hazen ND
Greta Anderson, Bismarck ND
Alexis Ternes, Devils Lake ND
April Mogard, Deering ND
OBOE
*Emily Cicha, Mandan ND
Emily Sahl, Wahpeton ND
Briele Vollmuth, Mandan ND
BASSOON
Briele Vollmuth, Mandan, ND
CLARINET
*Kailee Klein, Wahpeton ND
Isaiah Blickenstaff, Perham MN
+Theresa Karrmann, Fond du Lac WI
Mary Claire Talbot, Carol Stream IL
Raquel Bata, Langdon ND
+Eve Heupel, Dickinson ND
Kelli Anne Vetter, Bismarck ND
Patrick Litton, Bismarck ND
BASS CLARINET
Brian Talbot, Carol Stream IL
ALTO SAXOPHONE
*Beth Kensok, Wheatland ND
Ben Lee, Bismarck ND
Cornelia Enander, Grenora ND
TENOR SAXOPHONE
Kat Lawson, Bismarck ND
BARI SAX
Anastasia Tibor, Dickinson ND
TRUMPET
*Brooke Mueller, Bismarck ND
Kira DeMaris, Northfield MN
Annika Bobb, Taylor ND
Nick Mortenson, Jamestown ND
HORN
*Jane Gowen, Bismarck ND
Jehannah Sollmann, Port Angeles WA
TROMBONE
*Lucas Schlosser, Mandan ND
Reese Lausen, Billings MT
+Kendall Tibor, Bismarck ND
Harrison Punton, Grand Forks ND
Logan Quinn, Wilton ND
+Zachary King, Glendale Heights IL
Collin Prom, Swanville MN
Danielle McLaughlin, St. Paul MN
EUPHONIUM
Mary Gutenkauf, Aberdeen SD
TUBA
*A J Anderson, West Fargo ND
Nathan Heenan, Larsen WI
Keenan Athman, Hamilton MT
Allie Arribe, Friendswood, TX
PERCUSSION
*Andrew Quinan, Manassas VA
David Ruiz, Loretto MN
Zach Marquette, Buffalo MN
Luke Weber, Bismarck ND
Adam Boddicker, Kearney MO
Isaac Davis, St. Paul MN
*= principal or co-principal
+ = section leader
Explore Topics