Public Invited to University of Mary Opera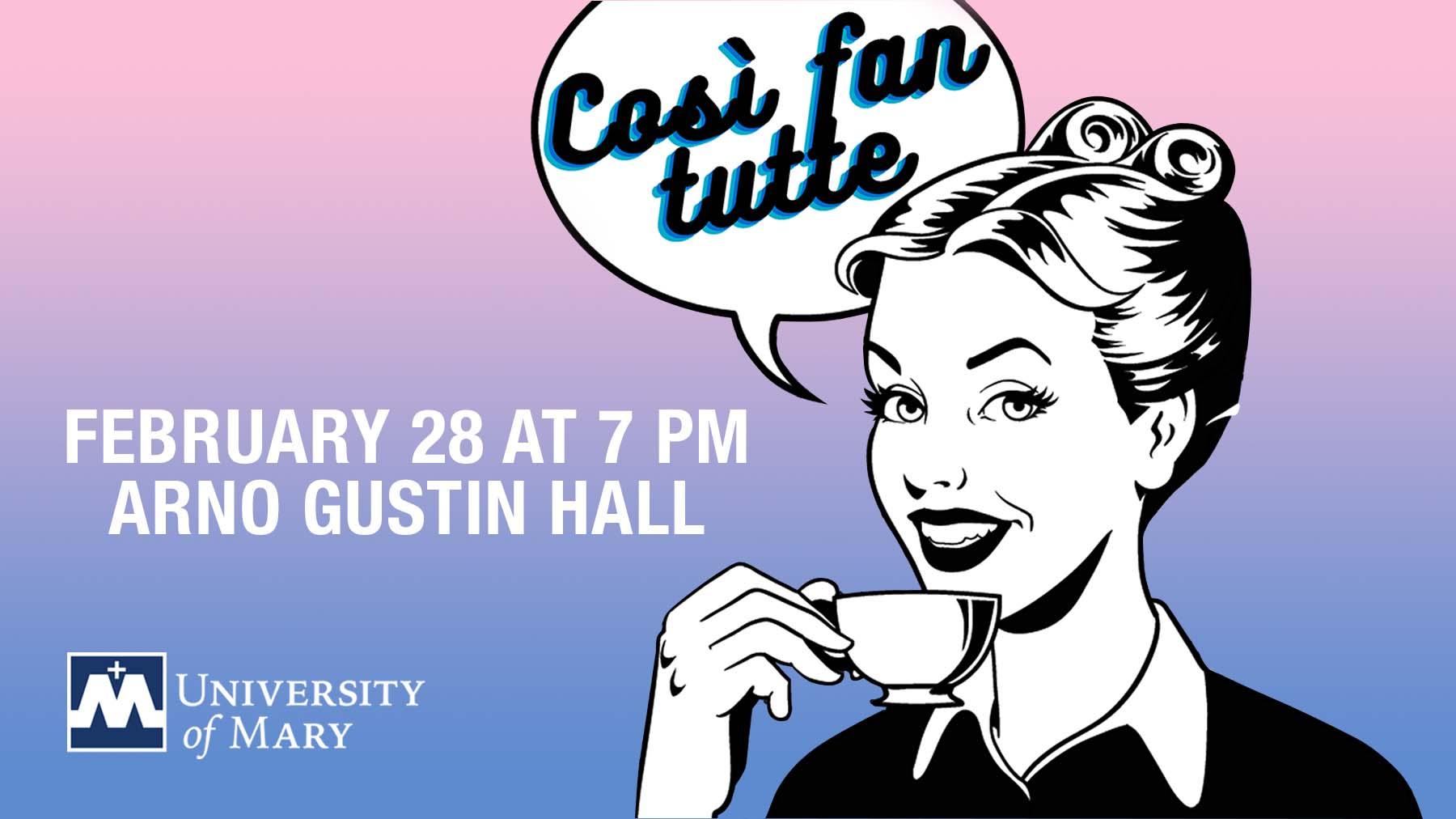 BISMARCK, ND — The Italian phrase, "Così fan tutte," is often translated as "All women are the same." Wolfgang Amadeus Mozart brought those words to life as he made that the title of his last opera that premiered in Vienna in 1790. Taking place in the Bay of Naples, this two-act comic opera centers around cynical character Don Alfonso's belief that women cannot be trusted. He looks to two friends, Ferando and Guglielmo, who are engaged to sisters, Fiordiligi and Dorabella, to prove his assertion.
To demonstrate women's infidelity, Alfonso concocts a plan to have Ferando and Guglielmo tell their fiancées they are leaving for war, and then return dressed as Albanian soldiers, ready to do anything to seduce the lonely fiancées. With their "real" lovers gone, Fiordiligi and Dorabella, become upset when their clever maid Despina, Alfonso's accomplice, allows the two Albanians into their home. From there the comedy ensues. 
"Everyone should attend the University of Mary and Missouri Valley Chamber Orchestra's production of 'Così fan tutte' because it is one of Mozart's comedic masterpieces," said Dr. Melissa McCann assistant professor of music at the University of Mary and the director of this performance. "This young cast of six University of Mary singers is incredibly talented, ranging from freshman to senior. This will be the first fully staged opera with orchestra that the students will have performed since 2019."
The public is invited to two performances Sunday, Feb 27, 2022, at 3 p.m. with the Missouri Valley Chamber Orchestra at Shepherd of the Valley Lutheran Church, and Monday, Feb 28, 2022, at 7 p.m. in Arno Gustin Hall with Rhonda Gowen, pianist. Tickets for the debut performance can be purchased at the door: $20 adults, $15 seniors, student $10, children $5. Monday's evening performance is free to the public.
Joining McCann and Gowen, is University of Mary Director of Bands Dennis Gowen, who also conducts the Missouri Valley Chamber Orchestra. 

"Although this work is written in Italian by Lorenzo DaPonte, the scenes that move the action along will be in English, while solos and ensembles will be sung in Italian with English supertitles," added McCann. "Our production is set in Naples during the 1950s: elaborate seductions, American greasers, arsenic, a 'mesmerizing' doctor, and forged marriage certificates, come to a head as two sisters and their soldier fiancés are hilariously set against each other in order to win a secret bet proving 'all women are the same.'"
McCann has history with "Cosi fan tutte." Before her University of Mary debut in 2021-2022 as director of opera, she performed this very same piece in James Madison University in Harrisonburg, VA, in 2017.
McCann commented, "Cosi is near and dear to my heart because I performed the role of the mischievous maid, Despina, during the final year of my doctoral studies. This time around, I am excited to make my directorial debut with this iconic masterpiece."
For more information visit http://www.mvco.net/schedule.html.
Anyone who wishes to learn more about the University of Mary, or the music program, can do so at www.umary.edu, by contacting an admissions representative at enroll@umary.edu, or by calling (701) 355-8030.
CAST:
Fiordiligi………………………..Madisyn Mientek, Athens, TX
Dorabella………………………Teresa Luke, Kohler, WI
Guglielmo……………………..Benjamin Archuleta, Bismarck, ND
Ferrando……………………….Hunter Fox (2/27), New Town, ND
............................................Bart Stillwell (2/28), Green Bay, WI
Despina…………………………Jane Gowen (2/27), Bismarck, ND
........................................Regina McLain (2/28), Downers Grove, IL
Don Alfonso………………….Noah Fettig, Bismarck, ND
About the University of Mary
True to its motto "lumen vitae" — The Light of Life — the University of Mary offers education for the whole of life through cutting-edge professional programs and graduate programs animated by moral courage and leadership in chosen professions and service to the community. A private, co-educational Catholic institution, the University of Mary welcomes students of all faiths and backgrounds.
A Christian, Catholic, Benedictine institution founded in 1959 by the Benedictine Sisters of Annunciation Monastery, Mary offers nearly 60 bachelor's, 19 master's, and five doctoral programs—in business, education, nursing practice, occupational therapy, and physical therapy. The 19-sport Athletic Department adheres to its Greatness Through Virtue mission under the governance of the National Collegiate Athletic Association (NCAA) and American Collegiate Hockey Association (ACHA) conferences. With more than 3,800 students, Mary has locations in North Dakota, Montana, Arizona, Rome, Italy, as well as vibrant online offerings.
Explore Topics