Public Invited to Livestream University of Mary's Spring Band Concert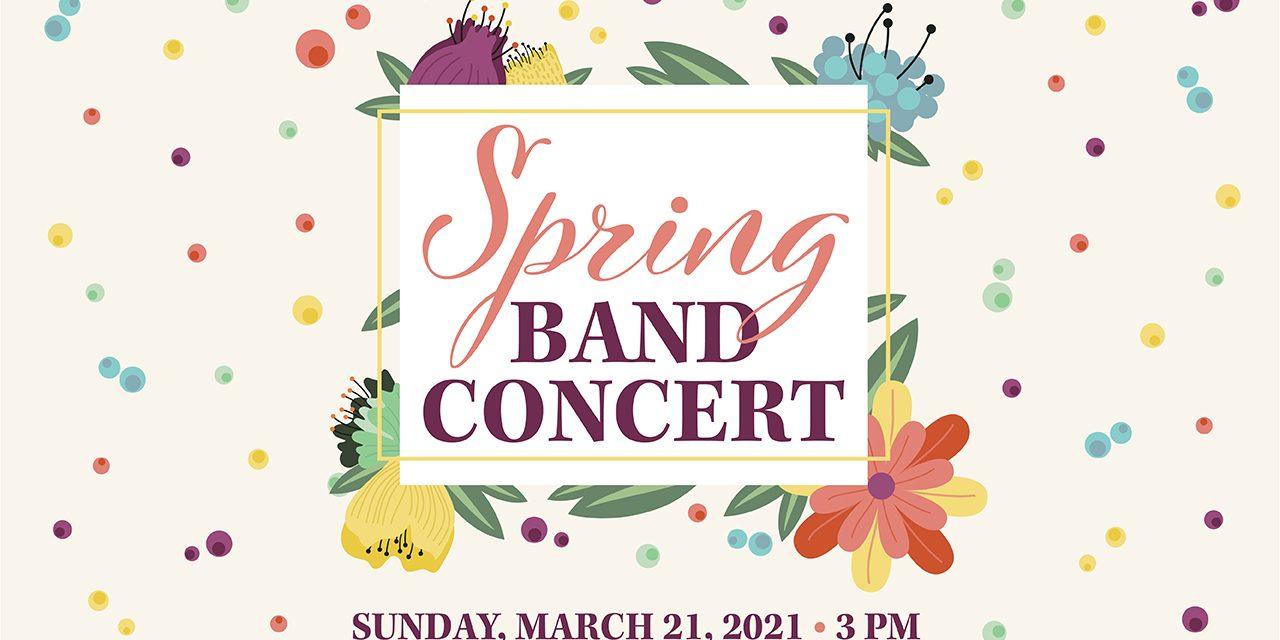 Performance livestreamed 3 p.m. March 21, on Music Department's Facebook page.
BISMARCK, ND — What a year it's been. Nearly 12 months ago, the University of Mary, as well as most other universities in the country, closed its classroom doors to in-person teaching. All students were asked to complete the semester virtually, in an attempt to "flatten the curve" of the spiking pandemic.
"I had just returned home from conducting the Montana AA Band Festival in Billings," said Dennis Gowen, professor of music and conductor of the University of Mary Concert Band. "To learn that we would not be able to share the fruits of our labor last spring was heartbreaking, both to me and our students."
This past October, the ensemble took advantage of the warm weather and presented their fall concert two weeks earlier than usual, in an outdoor campus setting overlooking the Missouri River. This spring, they performed a virtual concert in Founders Hall on the University of Mary's campus.
The spring concert, scheduled for 3 p.m. on Sunday, March 21, will be livestreamed and feature the Second Suite in F by Gustav Holst, The Symphonic Gershwin by Warren Barker, and the trombone feature Rolling Thunder by Henry Fillmore. Two student conductors are also scheduled to conduct the band.
"Mussorgsky chooses to use dissonance in the woodwinds to create the feeling of the witches sabbath and uses the brass to bring the intensity to the audience," says Gabrielle Nett, the St. James, MN, native who conducts Modeste Mussorgsky's Night on Bald Mountain. Wahpeton, ND, native Kailee Klein, conductor of Joseph Compello's Slavic Scherzo, says "Slavic Scherzo is a fiery, energetic Bohemian dance modeled after Dvorak's Slavic Dances and contains shifting accents which keeps the listeners at the edge of their seats."
"I couldn't be more proud of these two fine young music education students," said Gowen. Klein feels the experience has "given me an opportunity to explore my skills as a conductor, while also improving my rehearsal strategies," while Nett says that during this semester, "my musicianship has grown beyond belief. I am extremely thankful for this unique opportunity."
The performance takes place at 3 p.m. on Sunday, March 21 and livestreamed on University of Mary's Music Department Facebook page. For more information, please contact Danielle Abler, Department of Music administrative assistant, at (701) 355-8301.
Spring Band Personnel
PICCOLO
Greta Anderson
FLUTE
*Maria Osterbauer, Columbia Heights MN
Rachelle Klein, Hazen ND
Greta Anderson, Bismarck ND
+Kat Lawson, Bismarck ND
Alexis Ternes, Devils Lake ND
April Mogard, Deering ND
OBOE
*Emily Cicha, Mandan ND
Emily Sahl, Wahpeton ND
BASSOON
Briele Vollmuth, Mandan ND
CLARINET
*Kailee Klein, Wahpeton ND
Isaiah Blickenstaff, Perham MN
+ Mary Claire Talbot, Carol Stream IL
Raquel Bata, Langdon ND
+Eve Heupel, Dickinson ND
Kelli Anne Vetter, Bismarck ND
BASS CLARINET
Brian Talbot, Carol Stream IL
ALTO SAXOPHONE
*Beth Kensok, Wheatland ND
Ben Lee, Bismarck ND
TENOR SAXOPHONE
Patrick Litton, Bismarck ND
BARI SAX
Lia Enander, Grenora ND
TRUMPET
*Brooke Mueller, Bismarck ND
Kira DeMaris, Northfield MN
Annika Bobb, Taylor ND
Nick Mortenson, Jamestown ND
HORN
*Jehannah Sollmann, Port Angeles WA
TROMBONE
*Lucas Schlosser, Mandan ND
Reese Lausen, Billings MT
+Kendall Tibor, Bismarck ND
Logan Quinn, Wilton ND
+Zachary King, Glendale Heights IL
Collin Prom, Swanville MN
Danielle McLaughlin, St. Paul MN
EUPHONIUM
Mary Gutenkauf, Aberdeen SD
TUBA
*A J Anderson, West Fargo ND
Nathan Heenan, Larsen WI
Keenan Athman, Hamilton MT
Sarah Pankratz, Billings MT
PERCUSSION
*Zach Marquette, Buffalo MN
Adam Boddicker, Kearney MO
Isaac Davis, St. Paul MN
*= principal or co-principal
+ = section leader
Explore Topics