Public Invited to Free Jazz Concert at the University of Mary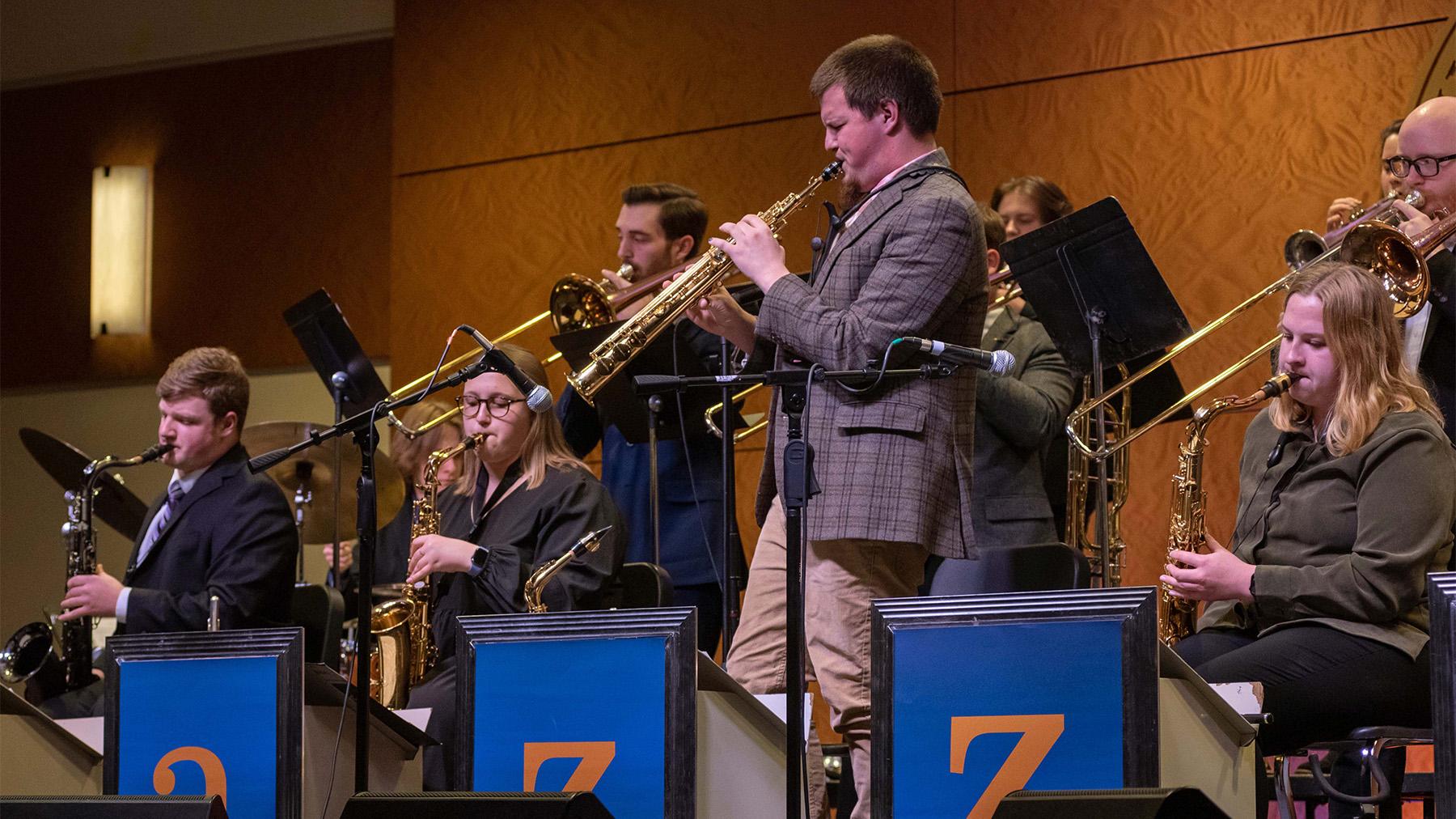 BISMARCK, ND — Join the University of Mary Music Department Jazz Studies groups for an entertaining evening of jazz Tuesday, November 15, 2022, at 7:30 p.m. in Chick's Place on campus. The concert is free and open to the public. Featured on the program will be two jazz combos and the Mary Jazz Ensemble.
They will present a diverse program of selections ranging from American Song book jazz standards "Autumn Leaves," "Misty" and "The Girl from Ipanema" to big band classics from Thad Jones and Count Basie. Highlight selections will be Quincy Jones' theme song to the Austin Powers films "Soul Bossa Nova" complete with flutes and piccolo, and the soulful sounds of Canadian jazz musicians Rob McConnell's affectionally titled "Back Bacon Blues." Other composers and pieces included on the program are Pat Metheny's "Eighteen," featuring senior music performance major Patrick Litton on soprano saxophone.
This year represents a huge milestone for the Jazz Program and Music Department as it prepares for the annual University of Mary Jazz Festival. The festival is celebrating 50 years and looking forward to commemorating it by bringing back returning guest artists from the past decades and featuring an alumni band of graduates from the past half century.
Anyone who wishes to learn more about the music program or any undergraduate or graduate programs can do so at www.umary.edu, or www.online.umary.edu, respectively, or by contacting an admissions representative at enroll@umary.edu, or by calling (701) 355-8030. The University of Mary is one of only 15 Recommended Cardinal Newman Society Residential Colleges and Universities in the US.
About the University of Mary: True to its motto "lumen vitae"—The Light of Life—the University of Mary offers education for the whole of life through cutting-edge professional programs and graduate programs animated by moral courage and leadership in chosen professions and service to the community. A private, co-educational Catholic institution, the University of Mary welcomes students of all faiths and backgrounds.
A Christian, Catholic, Benedictine institution founded in 1959 by the Benedictine Sisters of Annunciation Monastery, Mary offers nearly 60 bachelor's, 15 master's, and five doctoral programs—in Business Administration, Education, Nursing Practice, Occupational Therapy and Physical Therapy. The 19-sport Athletic Department adheres to its Greatness Through Virtue mission under the governance of the National Collegiate Athletic Association (NCAA) and American Collegiate Hockey Association (ACHA) conferences. With more than 3,800 students, Mary has locations in North Dakota, Montana, Arizona, Rome, Italy, as well as vibrant online offerings. For more information, visit www.umary.edu.
Jazz Personnel:
Patrick Litton,                   Bismarck, ND
Calista Rennich,              Bismarck, ND
Hattie Muellenbach,         Corona, SD
Mya Tena,                        Bismarck, ND
Meghan Schneider,          Billings, MT
Lillian Effertz,                   Velva, ND
Kennedy Cowart              Houston, TX
Brady Saylor                     Bismarck, ND
Kira DeMaris                    Sleepy Eye, MN
Stephen Talbot                Carol Stream, IL
Adam Anderson              Nashville, IL
Lucas Schloesser            Mandan, ND
Harrison Walker             Missoula, MT
Logan Quin                      Wilton, ND
Luke Lichtenberg           Buffalo, MN
Deante Kerr                      Bismarck, ND
Matthew Mendiola,        Dassel, MN
Aidan Koop,                      Ham Lake, MN
Aidan Kittilstved,             Spokane, WA                     
Nick Amoranto,               Oceanside, CA
Edmund Peliska,              Bismarck ND
John Colton,                     Bella Vista, AR
Explore Topics