Public Invited to Free Christmas at Mary Concert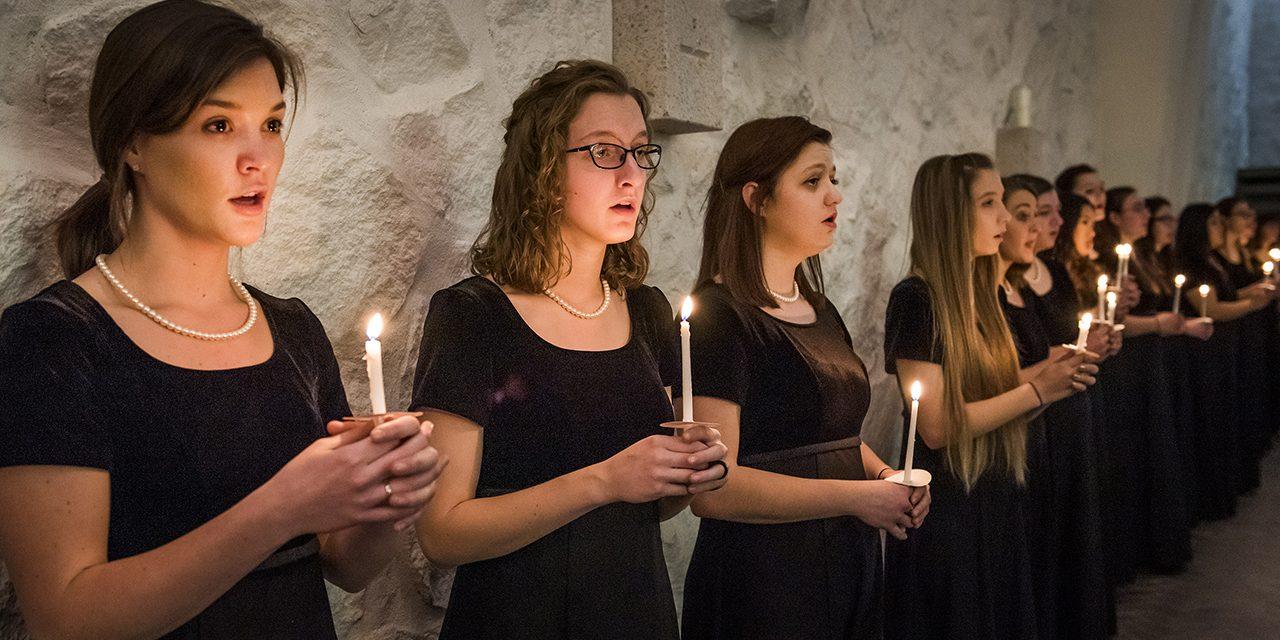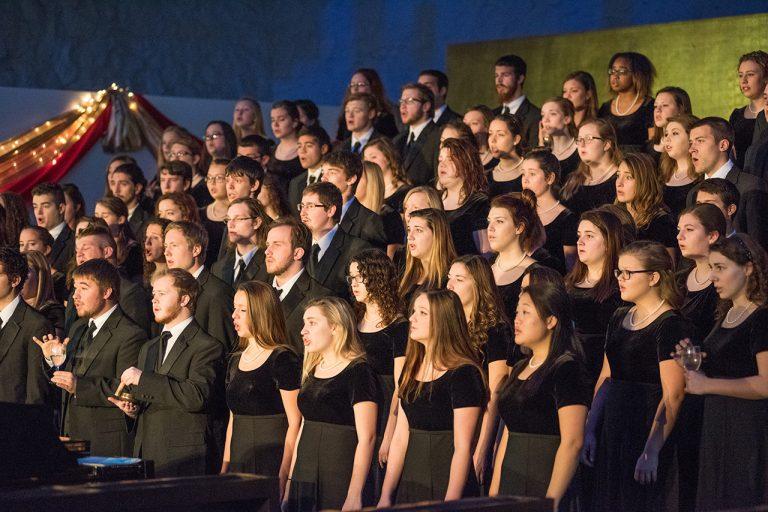 BISMARCK, ND — Our Lady of the Annunciation Chapel will resound with the sounds of Christmas at the 58th annual Christmas at Mary Friday, December 6 and 7 at 7:30 p.m. and then Sunday, December 8 at 3 p.m. The program features the 100-voice Concert Choir under the direction of Dr. Tom Porter singing a variety familiar carols, such as "Go Tell It on the Mountain" and "Silent Night," and spectacular choral classics, such as "Ave Maria" by American composer Morten Lauridsen.
In addition the program includes performances by Gabrieli Brass directed by Dennis Gowen, Vocal Jazz directed by Porter, and special appearances by String Ensemble directed by Dr. Everaldo Martinez (Friday), Double Reed Ensemble directed by Tonya Mertz (Saturday), and Saxophone Quintet directed by Dr. Brian Lydeen (Sunday).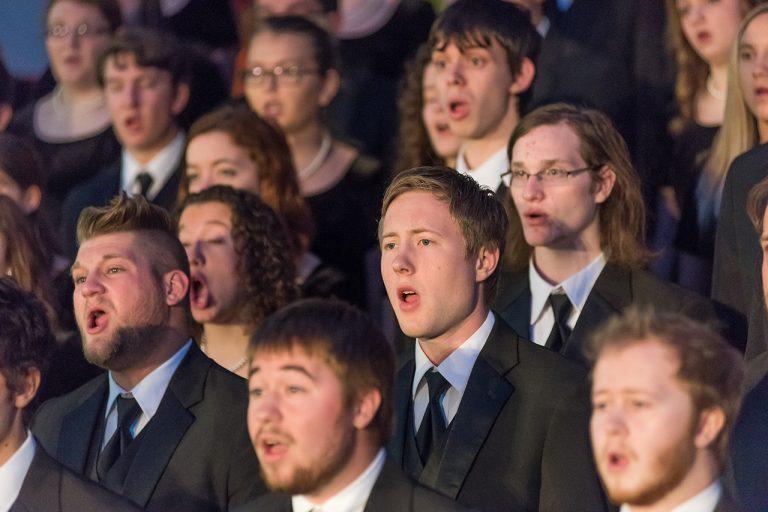 "Concert Choir, which includes students from 18 states as well as Manitoba, Canada, is an ensemble that represents a diversity of majors on campus," says Tom Porter, director. "Students make time in their busy college lives to rehearse and prepare the music, and their deep commitment to the ensemble shines through in their performances."
"The audience will enjoy the breath-taking beauty of Our Lady of the Annunciation Chapel, and the beautiful, rich acoustics of the space lend a unique touch to each of the performing ensembles."
The concert is free and open to the public. Seating in the chapel is limited, so people are encouraged to arrive early. Gifts of canned food will be donated to Ministry on the Margins in Bismarck, a service project coordinated by the University of Mary Music Student Organization.
Student Musicians
Kierra Anderson    Bismarck, ND
Chase Angermeier    Bismarck, ND
Sarah Bachmeier    Austin, MN
Madison Bartholomay    Sheldon, ND
Trish Bartos    Crystal, MN
Annika Bobb     Taylor, ND
Carlie Bogenreif    Fargo, ND
Rebekah Born     Stafford, VA
Mary Borow    Winfield, IL
Margaret Breese    Post Falls, ID
Annamarie Charmoli    Rogers, MN
Hannah Churchill    Bismarck, ND
Emily Cicha    Mandan, ND
Kylee Cline    Beulah, ND
Raven Collins    New Salem, ND
John Cornwell    Spokane, WA
Hannah Cummings    Cashton, WI
Clare Dalton    Littleton, CO
Mara Dalton    Littleton, CO
Katie David    Cando, ND
Victoria Del Curto    Oakdale, CA
Kira DeMaris    Sleepy Eye, MN
Veronica Donato    St. Cloud, FL
Sarah Dudley    Pendeleton, IN
Morgan Duncan    Great Falls, MT
Mary Jo Dunne    Plymouth, MN
Erynn Dunnigan    Bismarck, ND
Adriana Dyson    Gilbert, AZ
Mariah Ehrke    DeKalb, IL
Lia Enander    Grenora, ND
Teresa Falter    Westby, WI
Bridget Finley    Minot, ND
Landon Fischer    Bismarck, ND
Thomas Fleischacker    Bismarck, ND
Jadynn Flowers    Hazen, ND
Ariella Fogel    Bismarck, ND
Hunter Fox     Bismarck, ND
Paul French    Siren, WI
Noelle Gaudreau    Billings, MT
Sarah Gellerman    Bismarck, ND
Rachel Gerads    Brooklyn Park, MN
Kevin Gergen    Marshall, MN
Elizabeth Gilbertson    Belgrade, MT
Angela Gotcher    Franklin, WI
Jane Gowen    Bismarck, ND
Jordan Grant    Colorado Springs, CO
Mary Gutenkauf    Aberdeen, SD
Kayla Hagan    Plentywood, MT
Rachel Henke    Park City, MT
Nicholas Hoffarth    Langdon, ND
Gabby Houle    Redwood Falls, MN
Michael Hrbacek    Minneapolis, MN
Kateri Huebner    Wausau, WI
Courtney Jacobson    Overland Park, KS
Sydney Johnson    Bismarck, ND
Theresa Karrmann    Fond du Lac, WI
Frances Kennedy    Chicago, IL
Beth Kensock    Wheatland, ND
Courtnay Kiecker    Jamestown, ND
Cole Kitzenberg    Billings, MT
Kailee Klein    Wahpeton, ND
Elena Kordonowy    Belfield, ND
Rylee Kubischta    Bismarck, ND
Laynee Kudrna    South Heart, ND
Paige Lang     Bismarck, ND
Reese Lausen    Billings, MT
Keeliana Lawson    Bismarck, ND
Ben Lee     Bismarck, ND
Emily Leier    Moorhead, MN
Amy Lieser    Clearwater, MN
Lucy Lindaas    Mayville, ND
Mikayla Lindquist    Saint Francis, MN
Patrick Litton    Bismarck, ND
Phil Litton    Bismarck, ND
Abigail Lynch    Holcombe, WI
Maria Mack     Rugby, ND
Ruth McCulloch    Lyons, CO
Cooper McDonald    New Market, MN
Helen McGuire    Rochester, MN
Kaitlin McLaughlin    Moorhead, MN
Shaylin Messmer    Bismarck, ND
Joey Meyer    Ypsilanti, MI
Madisyn Mientek    Sebring, FL
Hannah Miller    Browerville, MN
Annie Mittelsteadt    Bismarck, ND
Laura Mitzel    Willmar, MN
Nicholas Mortenson    Jamestown, ND
Brooke Mueller    Bismarck, ND
Diana Nathe    Melrose, MN
John Nauertz    Spooner, WI
Shayla Nelson    Chugiak, AK
Gabrielle Nett     St. James, MN
Monica Northrop    Austin, TX
Emma Olson    Hampshire, IL
Stephanie Otremba    Sartell, MN
Sarah Pankratz    Billings, MT
Winston Platt    Billings, MT
Odalys Montenegro Ramos    Veracrux, MX
Alexandra Reichert    Bismarck, ND
Rebecca Richardson    Kemah, TX
Lanai Ritchie    Brockton, MA
Dana Ritzke    Bismarck, ND
Thomas Ruhland    St. Michael, MN
Emily Sahl     Wahpeton, ND
Julianne Sauvage    Mercer Island, WA
Ashlin Schaefbauer    Mandan, ND
Nikki Schladetsch    Belgrade, MT
Lucas Schlosser    Mandan, ND
Lucas Schlosser    Mandan, ND
Elyse Schweikert    Papillion, NE
Madelyn Schweitzer    Bismarck, ND
Matthew Scott    Rush City, MN
Barret Smith    Bismarck, ND
MaryElizabeth Smith    Steubenville, OH
Ryan Snell    Coon Rapids, MN
Jehannah Sollmann    Port Angeles, WA
Josef Sollmann    Port Angeles, WA
Grace Stadler    Faribault, MN
Jacob Stark    Coon Rapids, MN
Ethan Stevenson    Ashland, MO
Bart Stillwell    Green Bay, WI
Gabriel Suda     Halstad, MN
Anastasia Tibor    Dickinson, ND
Nick Tousignant    East Grand Forks, MN
Audra Tulipana    Inola, OK
Aaron Van Dorsten    Bismarck, ND
Julia Vanwynsberghe     Crystal City, MB Canada
Jordyn Varland    Bismarck, ND
Brianna Vetter    Bismarck, ND
Kelli Vetter    Bismarck, ND
Briele Vollmuth    Mandan, ND
ColeWaletzko    Bismarck, ND
GraydonWilliams    Bismarck, ND
Hunter Wilmes    Bismarck, ND
John Wollman    Pierre, SD
Grace Worner    Starbuck, MN
Maria Yarsky    Coraopolis, PA
Lily Zimprich    East Grand Forks, MN
Explore Topics