Public Invited to Annual Fall Concert Celebrating Another 50 Years of Bands at the University of Mary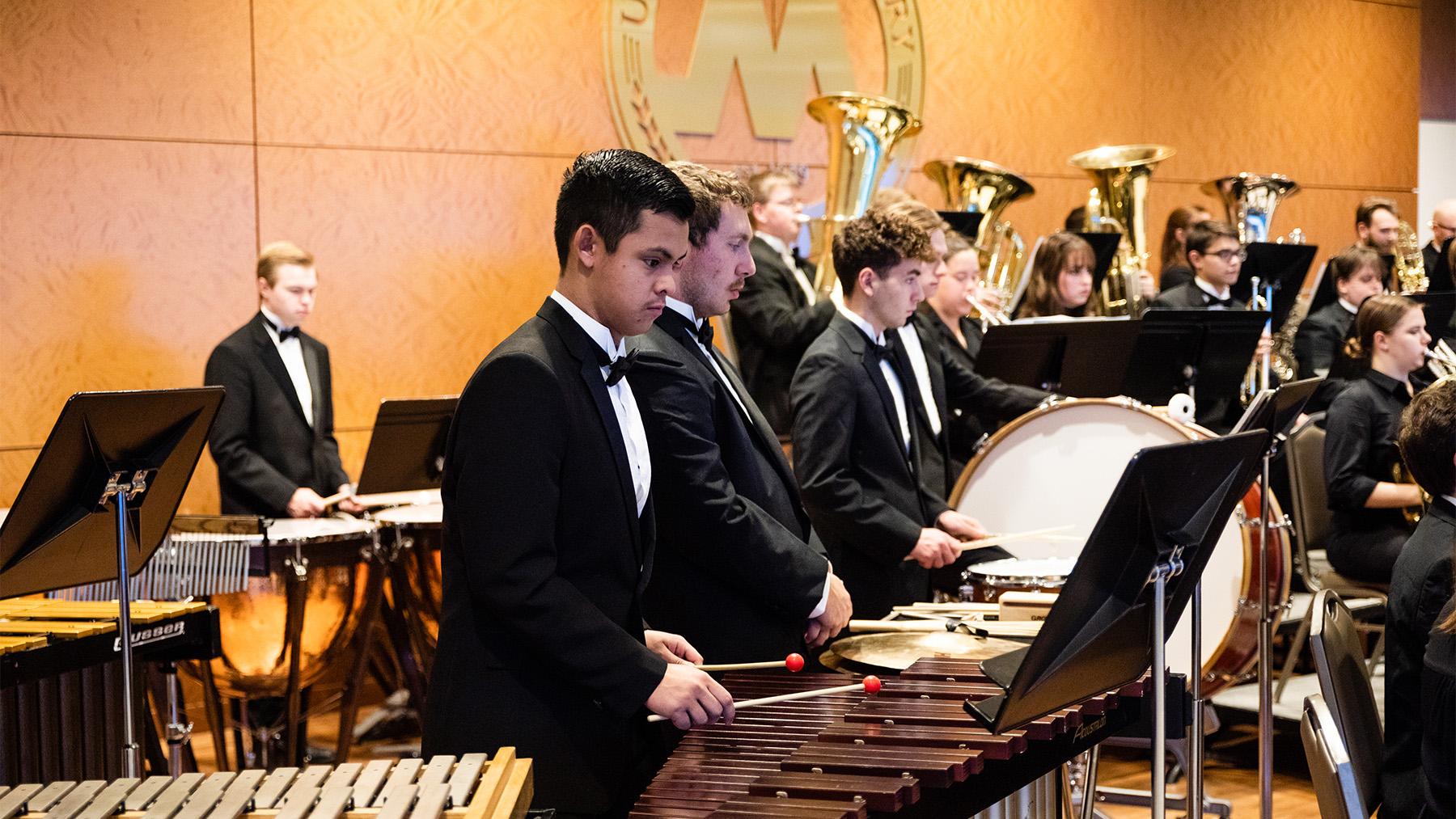 Concert is free and open to the public.
BISMARCK, ND — The second half-century of bands at the University of Mary begins this November as the University Concert Band presents their Fall Concert on Sunday, Nov. 6, 2022. "I say this all the time, but I really can't wait to share this concert, and our amazing musicians, with music lovers in the Bismarck-Mandan community," explained Dennis Gowen, professor of Music and director of Bands. 
The performance, slated for 3 p.m. on Sunday, November 6, in Founders Hall of the Lumen Vitae University Center (LVUC), is free and open to the public and ushers in another 50 years of bands at the university with a rousing concert opener. 
"We are blessed with nine French horns this year, an equal number of trumpets, and a robust low brass section," said Gowen. "How else could you celebrate this occasion but with a great Richard Strauss fanfare!"
Musical works include Festmusik der Stadt Wien by Strauss; Waltz No. 2 by Dmitri Shostakovich; and Corsican Litany by Nelhybel. Hot off their fall regional tour through Montana, the band is looking forward to featuring Dr. Brian Lydeen, associate professor of Woodwinds, on Czárdás by Monti, as well as presenting graduate trumpet student Kennedy Cowart as soloist for Danse Napolitaine from Swan Lake by Tchaikovsky.
"The audiences absolutely loved the contributions of Dr. Lydeen on saxophone and Cowart on trumpet during our recent tour through Montana," added Gowen. "We know our wonderful local and regional friends of music will be equally thrilled."
The ensemble will also feature parts of English Folk Songs by Ralph Vaughan Williams, on the 150th anniversary of his birth in October, 1872. The performance will conclude with a rousing Prelude, Siciliano and Rondo by fellow English composer Malcolm Arnold, born just over a century ago in 1921. 
Anyone who wishes to learn more about the music program or any undergraduate or graduate programs can do so at www.umary.edu, or www.online.umary.edu, respectively, or by contacting an admissions representative at enroll@umary.edu, or by calling (701) 355-8030. The University of Mary is one of only 15 Recommended Cardinal Newman Society Residential Colleges and Universities in the US. 
About the University of Mary: True to its motto "lumen vitae"—The Light of Life—the University of Mary offers education for the whole of life through cutting-edge professional programs and graduate programs animated by moral courage and leadership in chosen professions and service to the community. A private, co-educational Catholic institution, the University of Mary welcomes students of all faiths and backgrounds.
A Christian, Catholic, Benedictine institution founded in 1959 by the Benedictine Sisters of Annunciation Monastery, Mary offers nearly 60 bachelor's, 15 master's, and five doctoral programs—in Business Administration, Education, Nursing Practice, Occupational Therapy and Physical Therapy. The 19-sport Athletic Department adheres to its Greatness Through Virtue mission under the governance of the National Collegiate Athletic Association (NCAA) and American Collegiate Hockey Association (ACHA) conferences. With more than 3,800 students, Mary has locations in North Dakota, Montana, Arizona, Rome, Italy, as well as vibrant online offerings. For more information, visit www.umary.edu.
Concert Band Personnel
PICCOLO
Meghan Schneider ​Billings, MT
Calista Rennich​​ Bismarck, ND
Greta Anderson​​ Bismarck, ND
FLUTE
Meghan Schneider​ Billings, MT
Maria Osterbauer​ Columbia Heights MN
Calista Rennich​​ Bismarck, ND
Greta Anderson​​ Bismarck, ND
Logan Grabins​​ Verona, WI
Kallie Kreutz​​ Fargo, ND
Rachelle Klein​​ Hazen, ND
Myra Arvig​​ Grey Eagle, MN
Lily Shaw​​ Billings, MT
Elizabeth Beshenich​ Leavenworth, KS
OBOE
Anna Wenning Beulah, ND    
Tanner Van Dorsten​ Bismarck, ND
CLARINET
AnnaMarie Ingalls ​Bancroft, IA
Theresa Karrmann​ Fond du Lac, WI
Patrick Litton​​ Bismarck, ND
CONTRA ALTO CLARINET
Sarah Puyleart​​ Forest Lake, MN
ALTO SAXOPHONE
Hattie Muellenbach​ Corona, SD
Matthew Mendiola​ Dassel, MN
Riley Cronin ​​Larimore, ND
Michael Ruwersma​ Lester Prairie, MN
TENOR SAXOPHONE
BARITONE SAXOPHONE
Lillian Effertz​​ Velva, ND
TRUMPET
Kennedy Cowart ​Houston, TX
Brady Saylor​​ Bismarck, ND
Brooke Mueller​​ Bismarck, ND
Kira DeMaris​​ Sleepy Eye, MN
Stephen Talbot​​ Carol Stream, IL
John Mendiola​​ Dassel, MN
Lucas Mueller​​ Bismarck, ND
Madeline London​​ Winneconne, WI
Michael McLaughlin​ Moorhead, MN
HORN
Gina Nelson ​​Bismarck, ND
Alison Kirsch​​ Rapid City, ND
Suzanne Duellman​ Fountain City, WI
Ashlin Schaefbauer​ Mandan, ND
Amanda Rocha​​ Tigard, OR
Gabrielle Kielkucki​ Manchester, IA
Christian Zehr​​ Helena, MT
Adam Anderson​​ Nashville, IL
TROMBONE
Lucas Schlosser​​ Mandan, ND
Reese Lausen​​ Billings, MT
Zachary King​​ Glendale Heights, IL
Kendall Tibor​​ Bismarck, ND
Logan Quinn​​ Wilton, ND
Harrison Walker​​ Missoula, MT
Cole Kitzenberg​​ Billings, MT
EUPHONIUM
Mary Gutenkauf​​ Aberdeen, SD
TUBA
Keenan Athman​​ Hamilton, MT
Nicholas Mettler​​ Burtrum, MN
Thatcher Solem​​ Beulah, ND
DeAnte Kehr​​ Bismarck, ND
STRING BASS
Bernadette Boyle​​ Federal Way, WA
PERCUSSION
Nicholas Amoranto​ Oceanside, CA
Noah Deabel​​ Chicago Heights, IL
Zach Marquette​​ Buffalo, MN
Kolbe Zettl​​ Hill City, SD
Annika Mueller​​ Sioux Falls, SD
Zachary Tuner​​ Mandan, ND
Anya Marie Westhoff​ Dyersville, IA
Edmund Peliska​​ Bismarck, ND
Ethan Emineth​​ Bismarck, ND
Isaac Rhoads​​ Bismarck, ND
Explore Topics