Original Theater Production is a Fun, Musical Story of the First Cowboys and Ranchers of North Dakota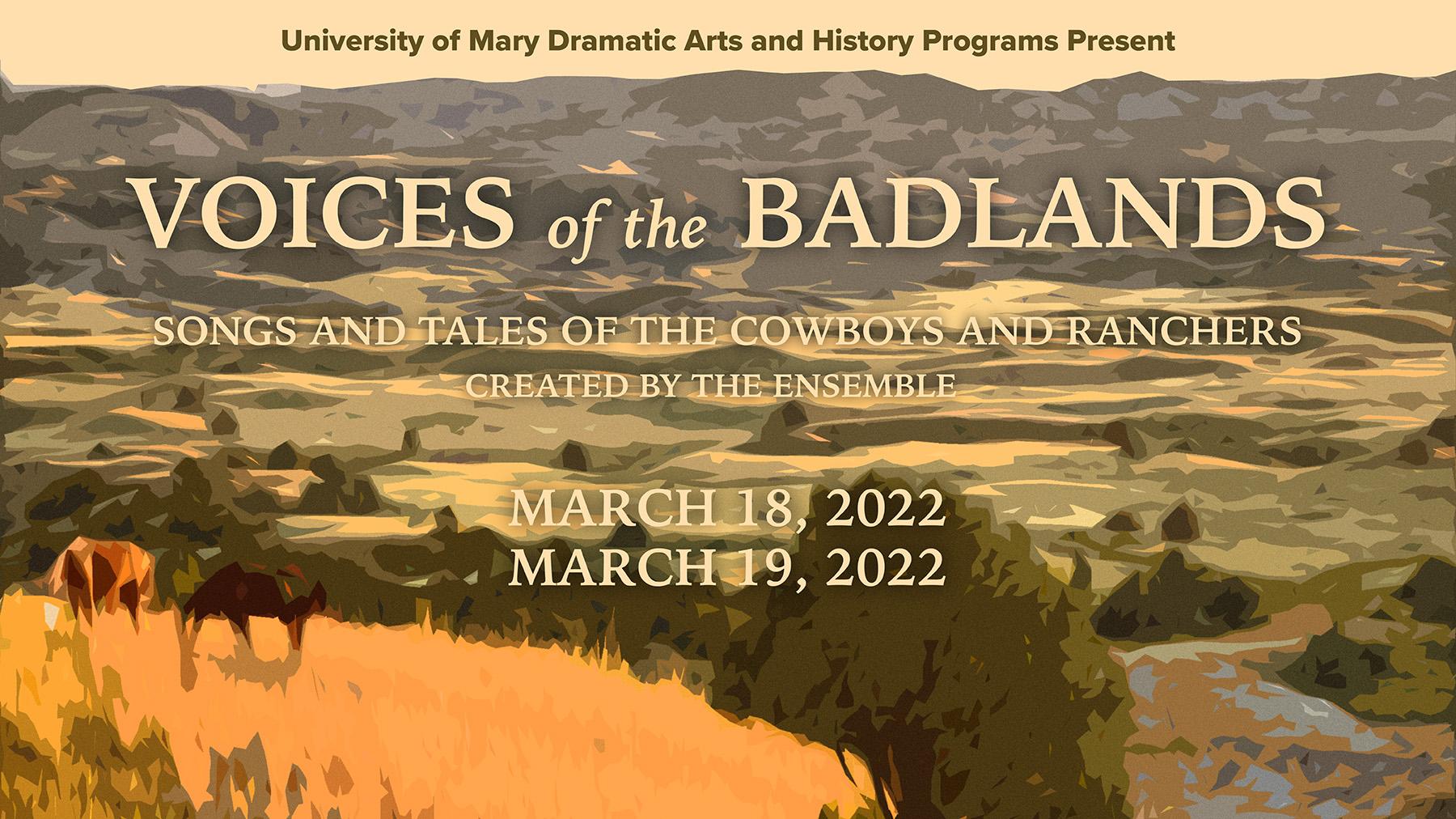 "Voices of the Badlands" debuts Friday, March 18, 7 p.m., and March 19, 2 p.m. and 7 p.m.
BISMARCK, ND — 1870 to 1910 was an exciting time in North Dakota history. Immigrants were coming from Europe to settle and homestead in a new land, looking for a better life. At the same time, cowboys and ranchers were filtering up from the south with dreams of establishing cattle empires in the last cattle frontier of America — North Dakota. The history and dramatic arts programs at the University of Mary have created an original play to honor the experiences of these brave men and women who came here at such a time.  
Through a year's worth of research from interviews preserved through the State Historical Society of North Dakota, Daniel Bielinski, the program chair of dramatic arts, Dr. Joseph Stuart, author and associate professor of history at the University of Mary, and their students, have created an original play — "Voices of the Badlands."
"We have re-structured these interviews into a compelling emotional story that tells of the trials and triumphs of these brave men and women — in their own words," said Bielinski, director of the play. "The life of the early cowboys was non-stop adventure, and so is our show. 'Voices of the Badlands,' is in no way, a dry historical lecture."
The one-and-a-half hour theater production, "Voices of the Badlands," features 24 student cast and crew members and debuts Friday, March 18, 7 p.m. with a dinner theater production. The dinner will be served at 6 p.m., and the show will start at 7 p.m. Additional shows (no dinner) will be held March 19, 2 p.m. and 7 p.m., at Founder's Hall in the Lumen Vitae University Center on University of Mary campus. Tickets for the show are $10 for adults and are only available outside Founder's Hall prior to each show. Tickets for the dinner theater production are $20. Admittance (to show only) is free with a University of Mary MCard.
"This is a historical drama, re-imagined," added Bielinski, who continues to be passionate about creating film and theater that celebrates the history, land, and culture of North Dakota. As an actor, Bielinski co-starred in HBO's "The Leftovers," and he has starred in numerous films and in off-Broadway theater. As a producer, Bielinski's North Dakota films have played in theaters and festivals across the country. "Our previous production, 'Voices of Dakota Prairie,' was a serious look at the sufferings and challenges of the first homesteaders in Dakota Territory. 'Voices of the Badlands' is a more light-hearted look at the colorful characters who came here to run cattle in the late 1800s. These historical figures had great senses of humor, which we tried to honor and preserve in our representation." 
The play itself was created by the collaborative efforts of the history and dramatic arts students, mentored by Dr. Joseph Stuart and Bielinski along the way.
Sometimes, in today's society, through generational loss, or lost, forgotten, and untold stories, people lose touch with their ancestral heritage. "Voices of the Badlands" seeks to rekindle a lost story among the people of the Northern Plains, in their own words:
"Unseen, the Badlands cannot be imagined. But once seen, they can neither be described nor forgotten. The Badlands are so utterly unlike anything you have seen that no description of them could convey any idea of what they are like. My initial impression was this, however: hell with the fires put out."
"Pyramid Park Hotel was the hotel in Medora. That was where Theodore Roosevelt stayed the first night he came to the Badlands. Run by a fella named Frank Moore. He hired his father to manage the place — I swear that man was sober for not more than five minutes every day."
"One of the most striking characters in the Badlands was "Hell-Roaring" Bill Jones. He had served in the Bismarck police force until one day he beat the mayor over the head with his pistol. The mayor didn't mind it, he said, but the police chief was all bent out of shape, so he resigned. Bill was an absolute fountain of the most creative profanity you could wish for. Folks used to follow him around the streets wondering what the heck he would say next."
"Voices of the Badlands" Cast:
Greta Hall, Brainerd, MN
Theresa Karrmann, Fond Du Lac, WI
Sarah Pankratz, Billings, MT
Clare Pankratz, Billings, MT
Ruth McCulloch, Billings, MT
Margie Silbernagel, South Heart, ND
Kayli Stanger, Fargo, ND
Julia Conry, Dyer, IN
Tony Tibbetts, Sioux Falls, SD
Logan Havlicek, Bloomington, MN
Xavier Bielinski, Bismarck, ND
Anthony Sester, Rogers, MN
Madeline Snell, Thompson Falls, MT
"Voices of the Badlands" Crew:
Daniel Bielinski – Director
Rebecca Richardson – Producer
Dr. Joseph Stuart — Producer
Sara Schluender — Assistant Director
Megan Krantz — Stage Manager
Dominick Goettle — Musical Director
Lillian Bielinski — Fiddle
Sarah Pankratz — Choreographer
Julia Conry — Choreographer
Michele Renner — Costume Designer
About the University of Mary 
True to its motto "lumen vitae" — The Light of Life — the University of Mary offers education for the whole of life through cutting-edge professional programs and graduate programs animated by moral courage and leadership in chosen professions and service to the community. A private, co-educational Catholic institution, the University of Mary welcomes students of all faiths and backgrounds.
A Christian, Catholic, Benedictine institution founded in 1959 by the Benedictine Sisters of Annunciation Monastery, Mary offers nearly 60 bachelor's, 15 master's, and five doctoral programs — in business administration, education, nursing practice, occupational therapy, and physical therapy. The 19-sport Athletic Department adheres to its Greatness Through Virtue mission under the governance of the National Collegiate Athletic Association (NCAA) and American Collegiate Hockey Association (ACHA) conferences. With more than 3,800 students, Mary has locations in North Dakota, Montana, Kansas, Arizona, Rome, Italy, as well as vibrant online offerings.
Explore Topics