Mary's Engineering Students Adapt Christmas Toys for Children with Disabilities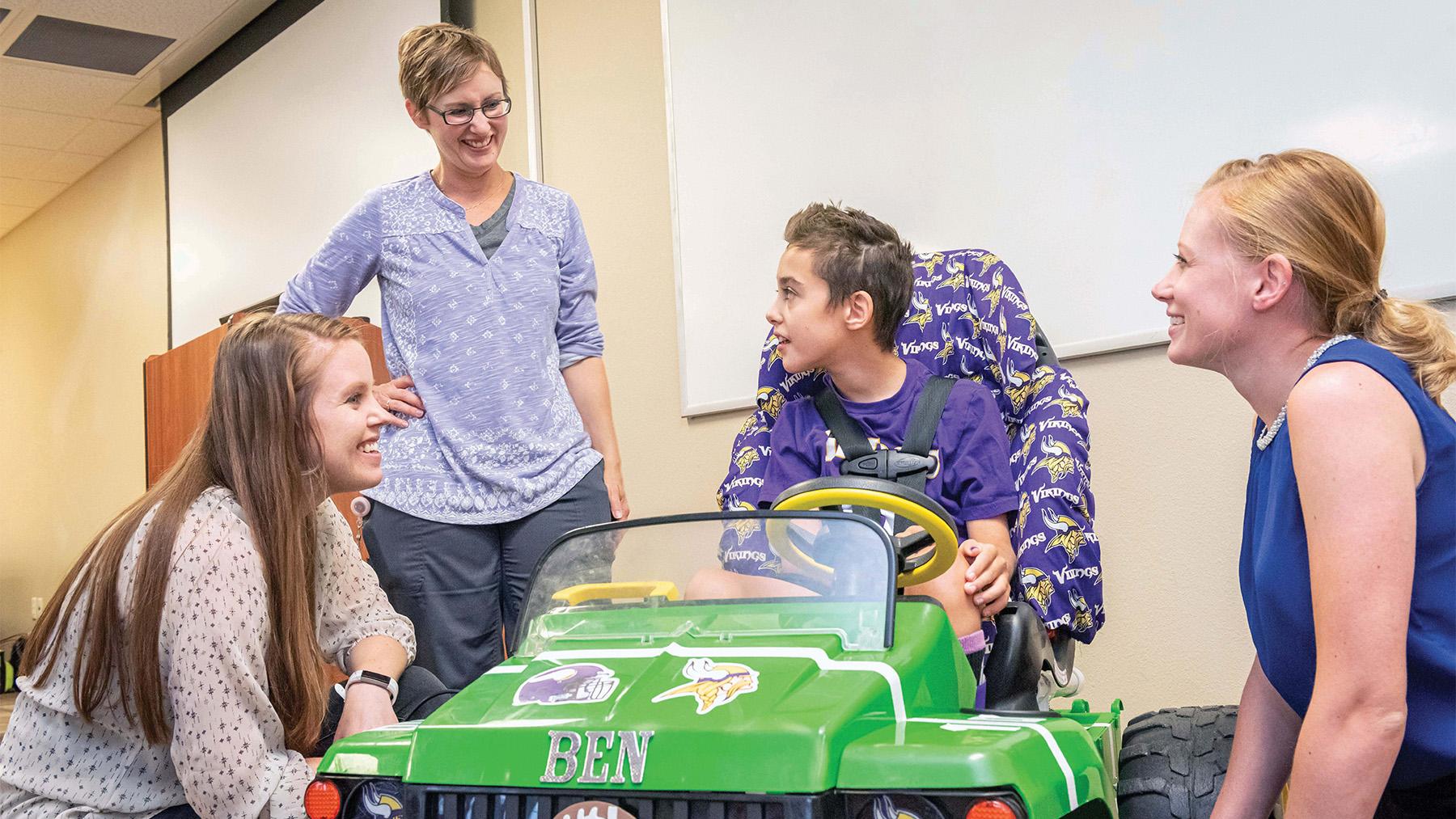 BISMARCK, ND — This Christmas, students in the Hamm School of Engineering are teaming up with occupational therapy and education students at the University of Mary to modify off-the-shelf toys for children with motor disabilities. This nine-day event, December 1st through 9th, is the very first Toy Adapt-a-thon at the University of Mary.  
Families, schools, or families on behalf of schools who have toys that need adapting are asked to contact Jerika Cleveland, assistant professor of electrical engineering and computer science at the Hamm School of Engineering at the University of Mary by email at jdcleveland@umary.edu. From there, Cleveland and her helpers will coordinate where and when to drop off toys that need adapting and how to return the toys once completed. Cleveland says, her students can also repair toys.  
"Our volunteers can take almost any toy off the shelf — that flashes light, sings songs, roars, says 'I love you' at the press, squeeze or flip of a button — and replaces it with an adapter so that one accessibility button can be used and moved between different toys," said Cleveland. "Also, any other students who want to volunteer alongside our students can do so by signing up at this Toy Adapt-a-thon site. Our engineering students will teach others how to solder: the art of connecting or repairing wired circuits. This project fits our mission at the University of Mary by serving the needs of this region, and beyond — and is a great way to help make toys more accessible and Christmas more joyful for children."   
It's estimated that accessibility buttons cost $50 a piece, and pre-adapted toys ordered online are at least $80 to $100 more expensive, and don't always have the favorite characters children love.
"Our cost is less than $3 a toy, which is covered through donations. These adaptions allow children and their family to use their own accessibility button with many toys." added Cleveland.
Cleveland adds, this collaboration of faculty, Hamm School of Engineering, Liffrig Family School of Education and Behavioral Sciences, and Saint Gianna School of Health Sciences students, and volunteers is guaranteed to put a smile on a child's face this Christmas.  
Anyone who wishes to learn more about any undergraduate or graduate programs can do so at www.umary.edu, or www.online.umary.edu, respectively, or by contacting an admissions representative at enroll@umary.edu, or by calling (701) 355-8030. The University of Mary is one of only 15 Recommended Cardinal Newman Society Residential Colleges and Universities in the US.
About the University of Mary: True to its motto "lumen vitae"—The Light of Life—the University of Mary offers education for the whole of life through cutting-edge professional programs and graduate programs animated by moral courage and leadership in chosen professions and service to the community. A private, co-educational Catholic institution, the University of Mary welcomes students of all faiths and backgrounds.
A Christian, Catholic, Benedictine institution founded in 1959 by the Benedictine Sisters of Annunciation Monastery, Mary offers nearly 60 bachelor's, 15 master's, and five doctoral programs—in Business Administration, Education, Nursing Practice, Occupational Therapy and Physical Therapy. The 19-sport Athletic Department adheres to its Greatness Through Virtue mission under the governance of the National Collegiate Athletic Association (NCAA) and American Collegiate Hockey Association (ACHA) conferences. With more than 3,800 students, Mary has locations in North Dakota, Montana, Arizona, Rome, Italy, as well as vibrant online offerings. For more information, visit www.umary.edu.
Explore Topics