University of Mary Announces Nation's Most Comprehensive Online Education Programs for the Catholic Professional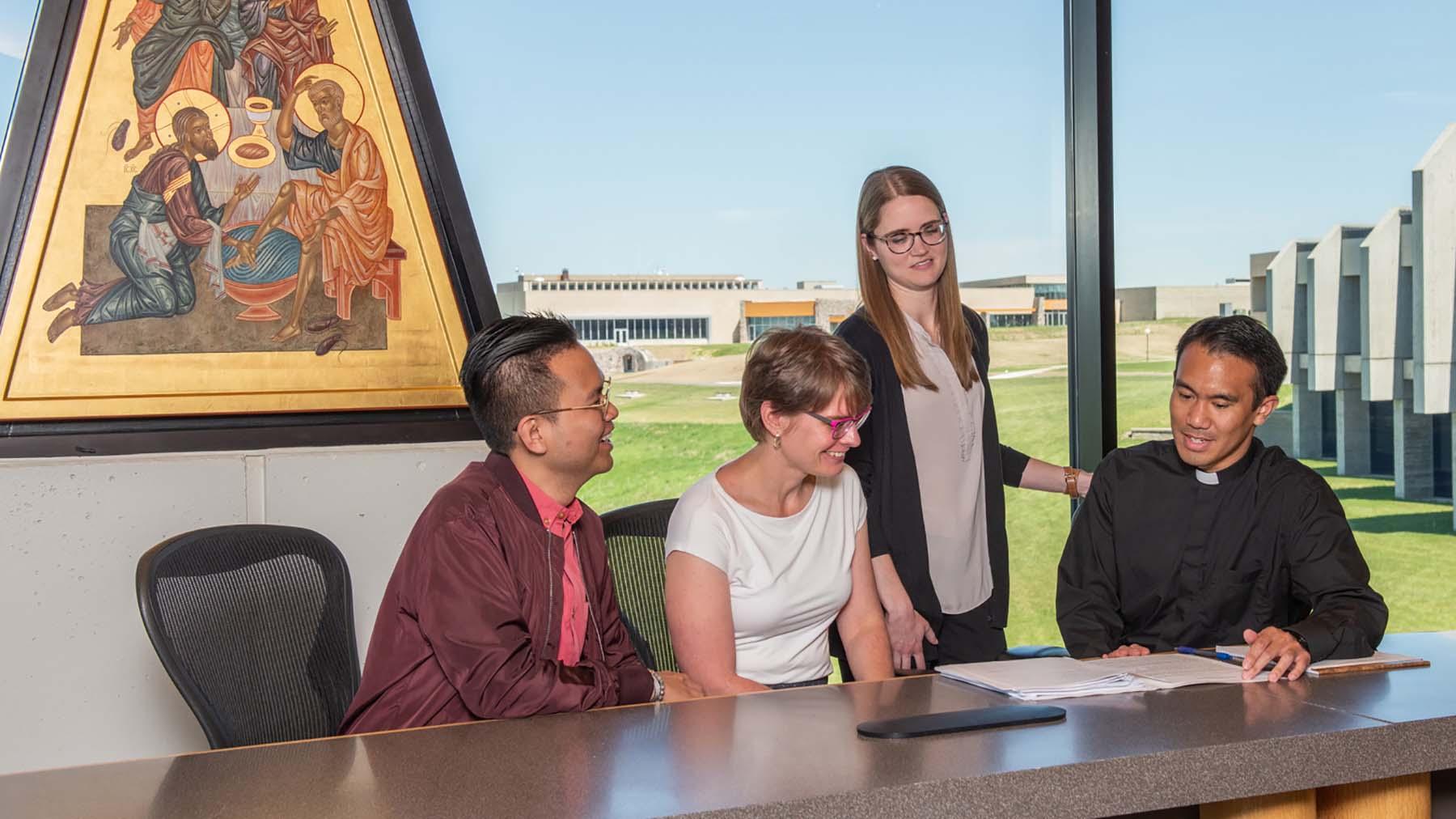 Summer courses begin May 9, so contact enroll@umary.edu to register and UMaryOnline for more information.
BISMARCK, ND — For over 25 years, the University of Mary in Bismarck, ND, has been the leader in online education for the Catholic professional offering affordable, flexible, and formative programs for working adults who seek to advance their careers and faith. Loyal to the Church, and recommended by the Cardinal Newman Society, the university is faithfully Christian, joyfully Catholic, and gratefully Benedictine. Founded in 1959 to prepare professionals with a strong foundation in the liberal arts, the University of Mary has now expanded its offerings — launching an intentionally designed suite of Catholic programs with 21 dynamic degree and certification options, and still more in development.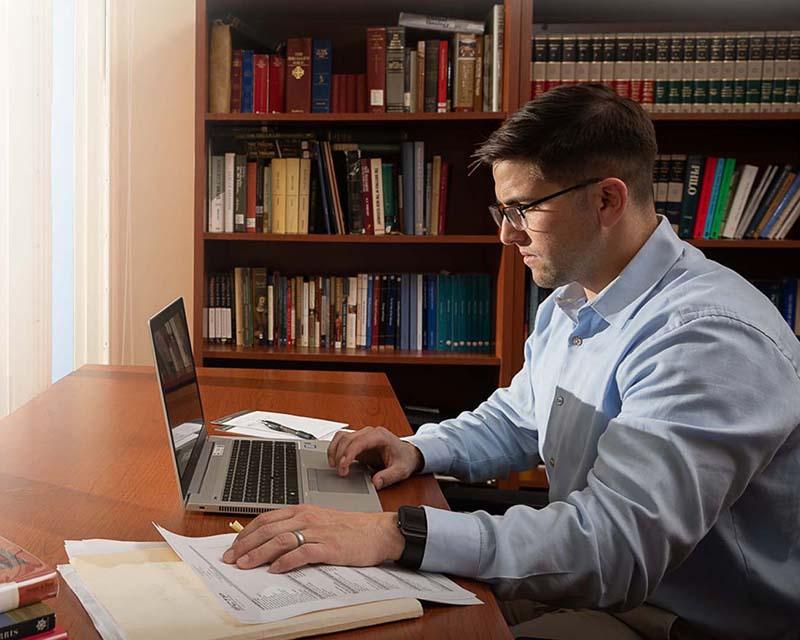 Leading implementation of this initiative is Dr. David Echelbarger, who served at the university as an associate professor of philosophy before assuming the role of assistant vice president for Academic Affairs. This new role positions him to lead the development of these programs as a direct liaison between the departments of Academic Affairs and Enrollment. Echelbarger brings comprehensive knowledge, insight, and a vibrant Catholic perspective to each field of study, all of which offer convenient online and evening options. A key aspect of his role is bringing Mary's distinct, vibrant campus culture to online students, wherever they may be studying.
"The University of Mary has been offering distance-learning for nearly three decades," reminded Echelbarger. "We serve distance learners just as we serve our traditional-aged students, with an excitement and vigor that supports them as they follow their faith and realize who Jesus made them to be — agents for good, living in service of others. We were first in terms of programs offered, as well as students, and so we're the biggest in the Catholic arena. We've now brought our experience and expertise to bear on the educational needs of today — needs that require affordability, flexibility, and formation. Professionals need accessible, ongoing training to stay current in their positions and advance in their careers, to become not merely competent managers, but also pioneering leaders."
The programs span four of the university's academic schools: the Gary Tharaldson School of Business; the School of Arts and Sciences; the Saint Gianna School of Health Sciences; and the Liffrig Family School of Education and Behavioral Sciences, with some programs integrating coursework across multiple disciplines and schools. One of the many collaborations between Mary's academic schools is the master's degree in business administration and philosophy dual degree: students take some of the most pertinent Master's in Business Administration (MBA) courses, while also taking courses in philosophy that prepare them to be innovative and ethical leaders in business.
"The genius of offering a whole suite of programs for the Catholic professional lies in synergy," added Echelbarger. "We can offer working professionals a wide variety of educational opportunities that will equip them with the knowledge and skills they need to serve the Church and their communities. We work with each student to guide them to one of several programs that's tailored to their needs. Further, if someone wants to move from a masters to a doctorate degree, they can do so with the doctorate building seamlessly on the foundation of the master's. They would be familiar with how our systems work, and like all online students they would continue to benefit from our great online interface, our generous financial aid, and financing structure."
The University of Mary's Catholic Portfolio allows students to connect and integrate their professional lives with the truths of the Catholic faith, all in accordance with the Church's Magisterium. Students who are called to serve their communities in various ways will learn from committed faculty with real-world experience while drinking deeply from the Catholic tradition, as they learn to integrate their vocation with faith in Christ and His Church.
"The University of Mary's mission, identity, and values, permeate these programs," concluded Echelbarger. "Everything we do is to improve the whole of our student's lives. We focus not just on the knowledge and skills necessary for advancement of a particular field, like the techniques of business and marketing, but also on the why and the who — why a particular field is a good thing for the world and who it serves. All our programs are rooted in and examine faith and ethics. So for us, business is not something neutral designed only to make money for shareholders, but a vocation, a calling, that serves the greater good. Health care isn't a matter of technicians processing patients, but an endeavor to be true healers who can bring health and wholeness to the wounded, sick, injured, and hurting, body and soul. Similarly, education involves more than fads and fashions, it requires a deep focus on the formation of the whole person, living in virtue. So in our programs at Mary, you advance your career while you advance your faith and prepare to make a real, positive difference in the wider world. The focus on programs for the Catholic professional builds on this drive to prepare students for living whole, successful, and positively impactful lives."
University of Mary's programs for the Catholic professional extend beyond degree offerings into certificate and concentration options as well. The working professional has a broad range of offerings to choose from, like Catholic philanthropy, a Catholic educator's concentration, Catholic anthropology, virtuous leadership, bioethics, virtue in sport, and more. Some of the certificates are stackable, meaning, when all are successfully completed, a student can use those certificates to earn a master's degree.
One such stackable program beginning already this spring is Applied Catholic Theology (ACT). Students can earn this master's degree by obtaining three certificates: prayer and spiritual direction, marriage and family, and sacred scripture. The program launches with the Certificate in Prayer and Spiritual Direction May 9, co-taught by Monsignor Tom Richter, University of Mary President Monsignor James Shea, and Father Wayne Sattler. The certificate program includes a one-time, on-campus, eight-day institute, led by Richter and other experienced spiritual directors from June 19-27, 2022.    
Working professionals, especially those in service to the Church through education, leadership, or volunteer opportunities have incentive to take the next step and enroll now. Because of the pressing need for trained and mindful professionals and increased demand for these programs, Mary has established many scholarship opportunities including, but not limited to, the Family Legacy Scholarship that provides one free graduate-level class to parents of University of Mary students, and alum of the school. A full listing of programs, certificates, and scholarships designed for the Catholic professional can be accessed at www.umary.edu/CatholicProfessional.
About the University of Mary 
True to its motto "lumen vitae" — The Light of Life — the University of Mary offers education for the whole of life through cutting-edge professional programs and graduate programs animated by moral courage and leadership in chosen professions and service to the community. A private, co-educational Catholic institution, the University of Mary welcomes students of all faiths and backgrounds.
A Christian, Catholic, Benedictine institution founded in 1959 by the Benedictine Sisters of Annunciation Monastery, Mary offers nearly 60 bachelor's, 15 master's, and five doctoral programs — in business administration, education, nursing practice, occupational therapy, and physical therapy. The 19-sport Athletic Department adheres to its Greatness Through Virtue mission under the governance of the National Collegiate Athletic Association (NCAA) and American Collegiate Hockey Association (ACHA) conferences. With more than 3,800 students, Mary has locations in North Dakota, Montana, Arizona, and Rome, Italy, as well as vibrant online offerings.
Explore Topics