Mary Alum Has Made a Career Helping Others Get a Second Chance at Life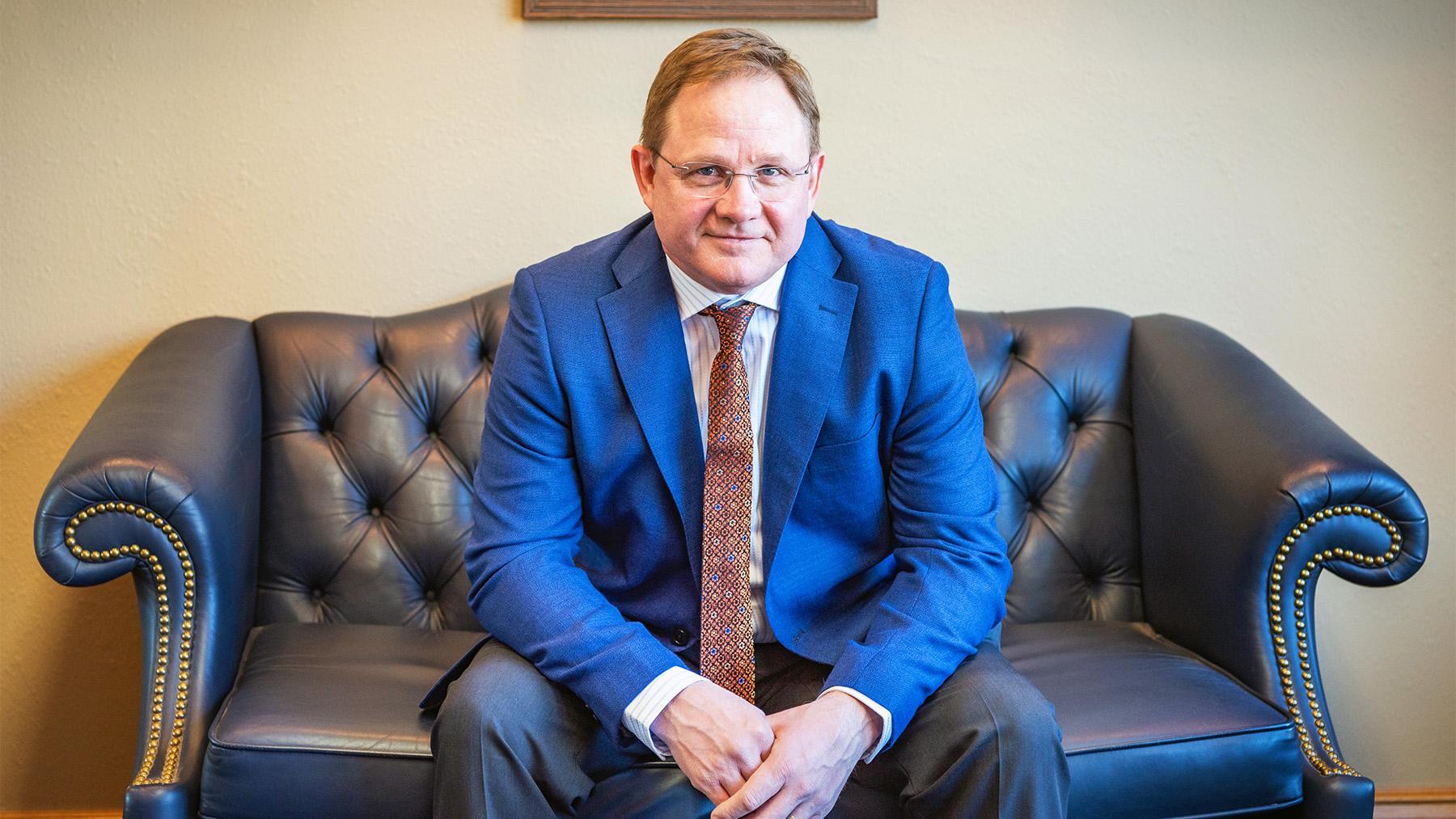 University of Mary launches areas only online bachelor's degree in addiction counseling that takes as few as 2.6 years to complete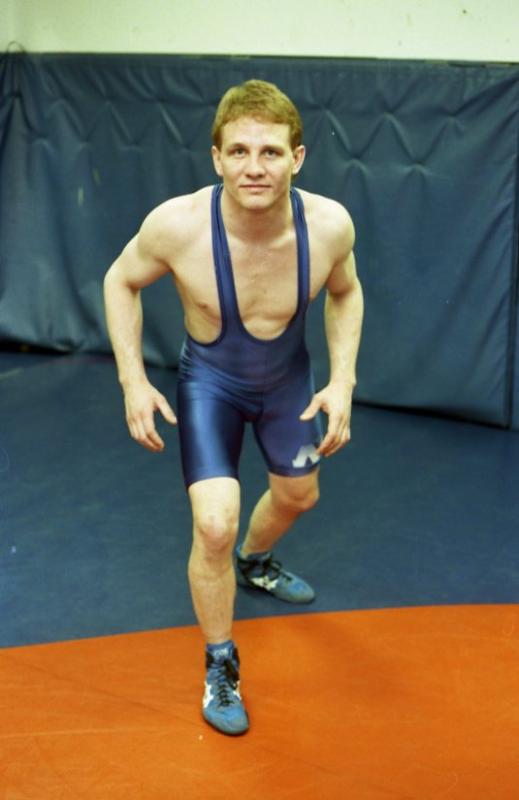 BISMARCK, ND — There is a popular saying, 'not all heroes wear capes.' That is true, but in this case, Kurt Snyder used to wear a wrestling singlet with a big Marauder on the chest. He wore the Marauders uniform for his second attempt at collegiate wrestling.
His first stint in college happened at one of Mary's rival schools. It came and went about as fast as being on the losing end of a takedown and pin during a wrestling match. Except, his opponent in 1988 was an alcohol addiction that led to failing grades causing him to quit the team and drop out of school.
"My addiction really destroyed something I loved in my life," said Snyder, in an interview with University of Mary's alumni magazine, Momentum. "I loved wrestling, and I remember walking away from it feeling just tremendous regret."
Just like that, his dreams of wrestling collegiately seemed dizzied and dried up like an unending hangover. His brother-in-law reached out to Snyder and encouraged him to get help. That providential encounter and subsequent counseling eventually saved his life and helped him overcome his addiction. A year later, his brother-in-law, a man who Snyder regarded as a brother, died from suicide. With the regret of being unable to provide help for him before he died, Snyder helped take care of his nephews and was their biggest cheerleader at their wrestling matches. At one tournament in 1995, legendary University of Mary coach, Milo Trusty, happened to be in attendance scouting potential recruits who could become future Marauders. At that moment, with still some years of athletic eligibility remaining, neither he nor the coach realized Snyder, a man watching from the stands, would be Trusty's newest recruit that day — and oldest at the age of 30 — seven years after last putting on a collegiate uniform.
After their encounter, "I sent Milo a heartfelt letter, saying I think I could be a good influence on the team, I have tremendous regrets, and I would just like an opportunity," recalled Snyder.
Trusty gave Snyder a chance at being an athlete at Mary, and an opportunity to earn a degree in his newfound passion for addiction counseling. Being a walking billboard for a profession that turned his life around, he understood the importance of this calling, the capacity he had to impact others in need of treatment, advice, and encouragement, and pay forward the second chance at life it gave him.
That same University of Mary bachelor's degree in addiction counseling is all online now and takes as few as 2.6 years to complete. The state of North Dakota does not require a master's degree to apply for an addiction license. Once someone fulfills all the required coursework and internships, they are eligible to take the exam and apply for licensure.
Mary's online degree is designed for the busy, working professional, giving students an in-depth understanding of addictive behaviors in society and teaches them the dynamics of addiction. Graduates with this degree can choose career paths as a substance abuse counselor, addiction counselor, prevention administrator, behavioral health administrator, and case manager.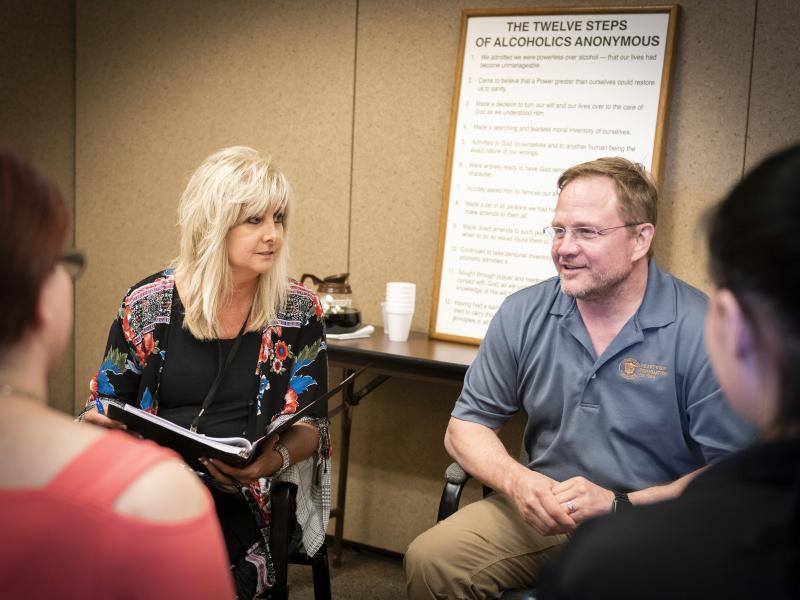 Heidi Nieuwsma, chair of University of Mary's behavioral sciences at the Liffrig Family School of Education and Behavioral Sciences (LFSEBS), believes they are living the university's mission and those of its founders — the Benedictine Sisters of Annunciation Monastery — serving the needs of the region and beyond by providing not only a well-trained workforce but also helping communities across America with the addiction crisis.
"Research indicates that employment of substance abuse professions in the US is projected to grow 23 percent from 2020 to 2030, much faster than the average for all occupations," added Nieuwsma. "By offering an online addiction program, the University of Mary is ready to take an active role in training addiction counselors. Our curriculum is student friendly, in that the required internship hours are integrated in the senior year of the curriculum and can be completed in any approved addiction facility with qualified supervisors. Offering an online addiction counseling program is designed to readily assist students from rural or city demographics to gain access to educational opportunities. This program is strategically created to help fill the many needs in our communities. It is one of our goals to work alongside our communities and our students to help reduce the many job openings and positively contribute to combating the addiction crises in our communities."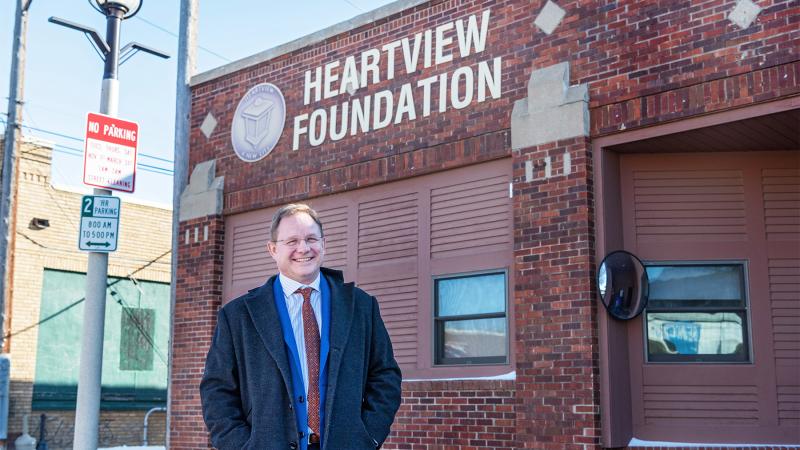 That's where the partnership with Snyder comes in. He now oversees 120 employees as executive director of the Heartview Foundation in Bismarck — a nonprofit that provides treatment for drug and alcohol addiction. With Snyder's experience, support, and need for addiction counselors, Mary's program can be a guide for students and their bridge into the career field. 
During Nieuwsma's last visit together with Snyder, "I was reminded how Kurt's education and his many years of experience in the addiction field has positively impacted clients and local and state agencies within North Dakota. His leadership style is unique in that he has inspired individuals, families, groups, and local and state agencies to place the topic of addiction as a priority in North Dakota. He is clearly an inspiration to anyone that wants to make a positive impact in their community and is thinking of beginning or restarting their college education or changing careers. He is living proof of somebody that has created positive outcomes when combining servant leadership and a degree in addiction counseling." 
"My career, because of my bachelor's degree in addiction counseling, has given my life meaning and purpose," added Snyder. "It is the most significant accomplishment while at the University of Mary."
Injuries most of the year prevented Snyder from having a winning regular season in 1995-96, but his work ethic and impact on the team meant more to Coach Trusty than wins and losses. He decided to bring Snyder along to the national tournament as an alternate in case a teammate suffered an injury. That decision proved to be a brilliant move as a Marauders teammate succumbed to injury that would give Snyder one last chance at redemption. Snyder lost his only match during the first day of competition, one more loss and he'd be knocked out of the tournament.
"That night I called my counselor in San Antonio, and he told me to grab the Bible in my hotel room and look up 2 Timothy 1:7, which says, 'For God has not given you a spirit of cowardice, but of power and love and self-discipline.' So, I just said that over and over again," remembered Kurt.
The next day Snyder would go on to win seven matches in a row to finish third in the country. That effort would help lead the Marauders wrestling team to a second-place National Association of Intercollegiate Athletics (NAIA) finish. Years later, in 2011, Snyder and his teammates would be inducted into the Marauders Hall of Fame for that year's performance.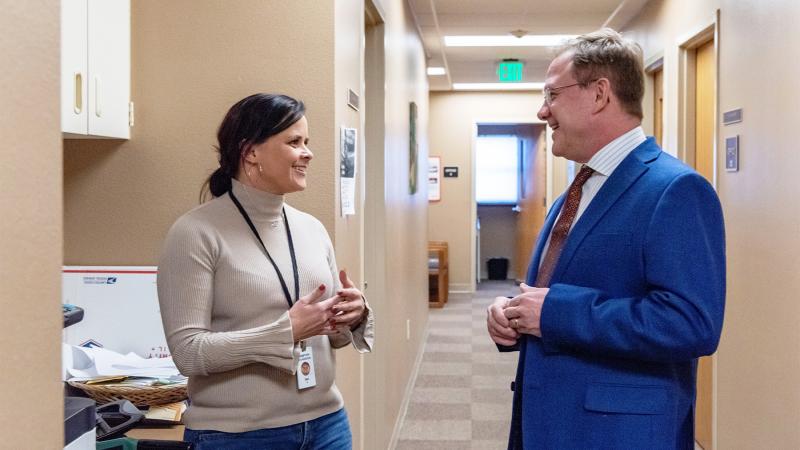 After graduating in 1998, Snyder began his career as a licensed addiction counselor at the Heartview Foundation and later earned his master's degree in management from Mary in 2005. His work in the field and helping lead hundreds of addiction patients to recovery would earn him the Presidential Leadership Award — one of University of Mary's highest distinctions bestowed on a graduate for achievements as a servant leader regionally, nationally, and internationally.
"Between April of 2020 and April 2021, 100,000 Americans died from an opioid overdose. That is more people than the city of Bismarck," said Snyder. "People walk through our door, and they are so broken. But everyone who works at our facility realizes; that's somebody's person; that's somebody's loved one. It's quite the responsibility to be trusted with helping them through some of the toughest times of their lives. But there's nothing more powerful than to be part of someone's life from when they are hopeless and desperate with little reason to live to when they find hope again. It's incredible to be a part of."    
Snyder is now on the front lines wrestling another foe, what the industry is calling a severe workforce crisis, according to PEW research. Snyder says Job Service North Dakota testified on January 20, 2022, in the North Dakota Legislature stating the state will need approximately 147 new addiction counselors in the next ten years. Right now, they are only filling about 10 positions per year in the field, so Snyder hopes more people see addiction counseling as a rewarding profession where they can make a difference in people's lives — many of whom are just like him and need a second chance at life.
Anyone who wishes to learn more about online offerings at Mary can visit www.online.umary.edu, undergraduate programs at www.umary.edu, or by contacting an admissions representative at enroll@umary.edu, or by calling (701) 355-8030. The University of Mary is one of only 15 Recommended Cardinal Newman Society Residential Colleges and Universities in the US.
About the University of Mary: True to its motto "lumen vitae" — The Light of Life — the University of Mary offers education for the whole of life through cutting-edge professional programs and graduate programs animated by moral courage and leadership in chosen professions and service to the community. A private, co-educational Catholic institution, the University of Mary welcomes students of all faiths and backgrounds.
A Christian, Catholic, Benedictine institution founded in 1959 by the Benedictine Sisters of Annunciation Monastery, Mary offers nearly 60 bachelor's, 15 master's, and five doctoral programs — in business administration, education, nursing practice, occupational therapy, and physical therapy. The 19-sport Athletic Department adheres to its Greatness Through Virtue mission under the governance of the National Collegiate Athletic Association (NCAA) and American Collegiate Hockey Association (ACHA) conferences. With more than 3,800 students, Mary has locations in North Dakota, Montana, Arizona, and Rome, Italy, as well as vibrant online offerings.
Explore Topics