Latin Charm and Flare Showcased at 47th Annual University of Mary Jazz Festival Concert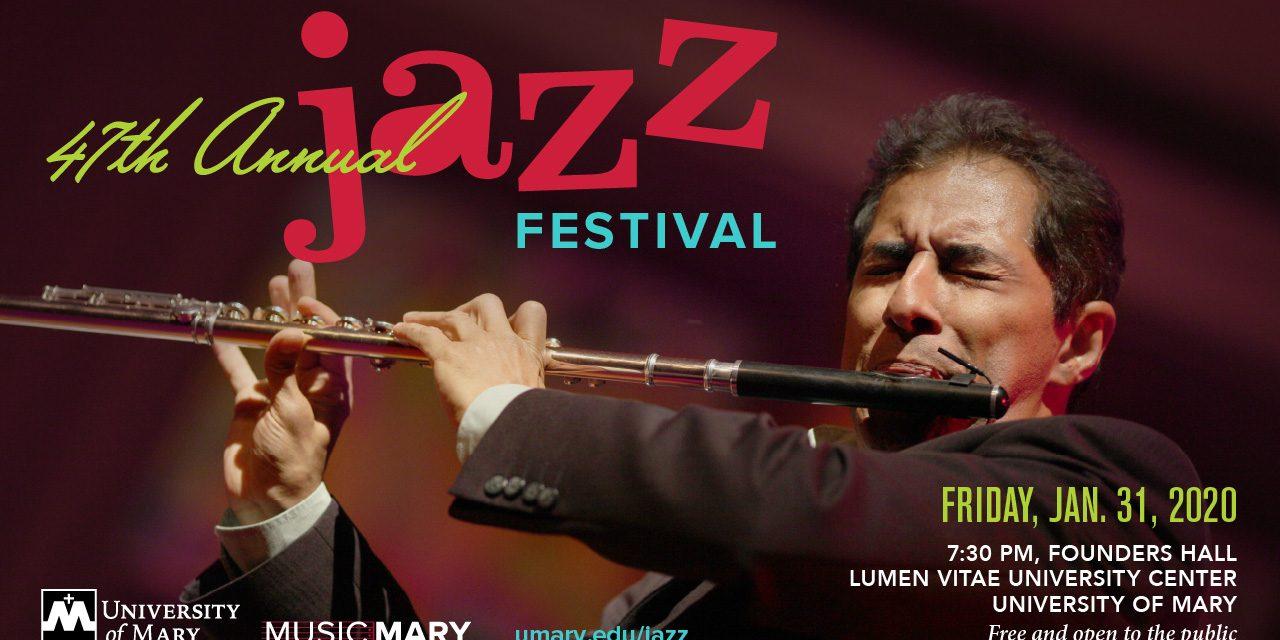 BISMARCK, ND — The 47th annual University of Mary Jazz Festival features world-renowned jazz artists and award-winning student jazz ensembles. The concert showcases Nestor Torres on flute; Ruben Caban on trombone, Jorge Luis Sosa, on keyboards; Agustin Conti on bass; Rey Monroig on drums; Edwin Bonilla providing percussion; and jazz vocalist Aimee Nolte and Justin Binek.
The guest artists join Mary's Jazz Ensemble and Vocal Jazz on stage for an evening of finger-snapping, toe-tapping jazz Friday, January 31, 7:30 p.m. in Founders Hall in the new Lumen Vitae University Center. The concert is free and open to the public.
"This year the UMary Jazz Festival features the red-hot sounds of Latin jazz," said Dr. Brian Lydeen, associate professor of Music and director of Woodwind and Jazz Studies at the University of Mary. "Originally from Puerto Rico, flautist extraordinaire Nestor Torres and his Miami-based band blend jazz and classical with the sounds of the Caribbean and Cuba."
"The University of Mary Jazz Festival is a treasured event in our community and throughout central North Dakota," added Dr. Tom Porter chair of the Department of Music and director of Vocal Jazz. "The concert features university ensembles along with our nationally recognized guest artists, and is the premiere jazz event in the region. The middle school and high school students who perform throughout the festival bring so much talent and energy to the stage. It is a wonderful opportunity for them to show off their skills, to perform quality music, and to hear and celebrate other ensembles of their peers.
"UMary Vocal Jazz is a featured performer at the concert, and this year's program shows a remarkable variety of musical styles. The 14-member a cappella ensemble will perform jazz standards 'Fascinatin' Rhythm' and 'Route 66,' along with covers of contemporary pieces, 'Havana' by Camila Cabello and 'This Is Me' from the movie, 'The Greatest Show.'"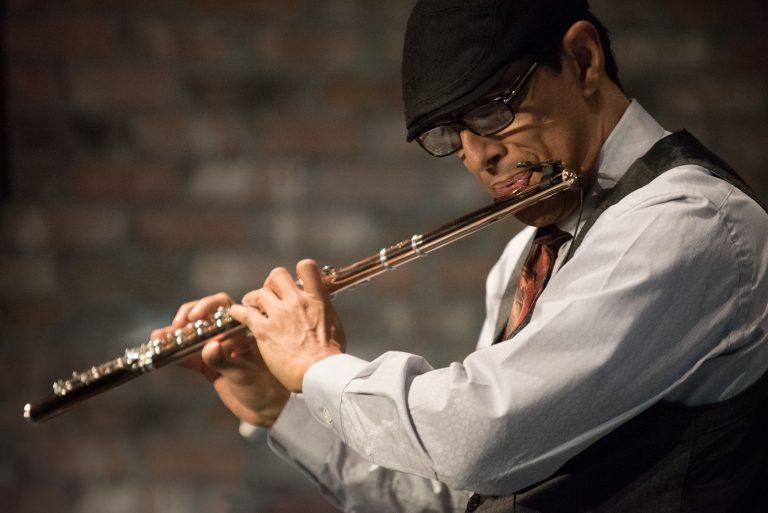 Influenced by some of the greats like Rampal and Galway (classical) Richard Egues (Cuban charanga), Jethro Tull (rock), and most of all, Herbie Mann and Hubert Law (jazz), Latin Grammy Award winning Nestor Torres' rhythmic and mellifluous flute sound remains apart in a class all by itself.
Caban began his career at an early age of 15 as a freelance trombonist in the central Florida area working for international salsa artists, local bands and other Orlando parks and attractions. In his performance career he has toured, performed and or recorded as a sideman with an array of internationally renowned artists such as Ed Calle, Nicole Henry, Dianne Shurr, Randy Becker and many more.
Sosa is a Latin Grammy nominated producer, composer, arranger, pianist and recording artist. Since 1993, he has been the musical director and pianist for Cuban singing sensation Willie Chirino, travelled the world as keyboards player for international superstar Chayanne, wrote many popular compositions and played piano with The Latin Jazz Crew.
Conti is a bass musician, composer and educator with 20 years of professional performing and recording experience in the United States, South America and Europe. He holds two bachelor's degrees in music and a master of music in Jazz Performance. He is currently an adjunct professor at Miami Dade College and New World School of the Arts in Miami, FL.
Puerto Rican drummer Monroig is one of the most in-demand drummers in Miami. He began playing drums at the age of nine, has toured the entire world, and for that, has developed an eclectic style infusing pop, rock, gospel, Latin Jazz, swing and more. Monroig has toured with the greats like Tito Puente (timbale legend), Jose Feliciano (singer), Gloria Estefan, Nestor Torres and many more.
Bonilla is a Latin Grammy nominated, multi-talented musician of Peurto Rican decent. He's regarded as one of the best percussionists, songwriters and producers in the world, Bonilla has worked with many top artists like Gloria Estefan, Ricky martin, Madonna, Juan Luis Guerra, Marc Anthony, Cachao, Gilberto Santa Rosa, Celia Cruz and many more.
Binek, a 2000 University of Mary graduate, has earned international acclaim as a jazz and classical singer, pianist and clinician. He is already a prolific arranger and composer whose works, including his jazz-inspired "Missa Lucis" (an ecumenical mass for soloists, choir, rhythm section, and horns) have been published by Kerry Marsh Music and Sound Music Publications.
Los Angeles musician, Nolte is a jazz pianist, vocalist and thriving YouTube creator. Though primarily a jazz player, she knows over a thousand songs and can play them at the drop of a hat. Nolte earned her jazz piano degree from Brigham Young University In 1998. Downbeat magazine praised her 2019 release, "Looking for the Answers," raving that "What separates Nolte from other vocalists and composers is the poetry and storytelling quality of her compositions, with lyrics reminiscent of Joni Mitchell."
The greatest aspect of this festival is the opportunity for the University of Mary student musicians to perform alongside and learn from some of the world's best jazz performers and educators. Additionally, more than a thousand middle school and high school students from around the region will be part of the festival performances judged by these renowned jazz artists. As part of the event, these guest artists will judge nearly 50 junior high and high school ensembles from across North Dakota, South Dakota, at both Arno Gustin Hall (Clairmont Center for Performing Arts) and Founders Hall. The public is invited to attend any of the participating schools' performances (doors are opened between school performances).
Student Musicians
Barret Smith, Bismarck ND
Ben Lee, Bismarck ND
Brooke Mueller, Bismarck ND
Chase Angermeier, Bismarck ND
Clare Dalton, Littleton CO
Cole Kitzenberg, Billings MT
Cooper McDonald, New Market MN
Danny Plunkett, Clarkston MI
David Harrison, Downers Grove IL
David Ruiz, Loretto MN
Emily Cicha, Mandan ND
Hunter Fox, Bismarck ND
Jane Gowen, Bismarck ND
Joey Meyer, Ypsilanti MI
Jordyn Varland, Bismarck ND
Josef Sollmann, Port Angeles WA
Kat Lawson, Bismarck ND
Kelli Vetter, Bismarck ND
Kylee Cline, Beulah ND
Lucas Schlosser, Mandan ND
Madison Bartholomay, Sheldon ND
Mary Borrow, Winfield IL
Nathan Mattoon, Mandan ND
Nick Mortenson, Jamestown ND
Patrick Litton, Bismarck ND
Rebecca Richardson, Kemah TX
Rylee Kubischta, Bismarck ND
Stephanie Otremba, Sartell MN
Victoria Del Curto, Oakdale CA
Explore Topics