Harold Hamm, Monsignor Shea, and Dignitaries Christen the Hamm School of Engineering at Mary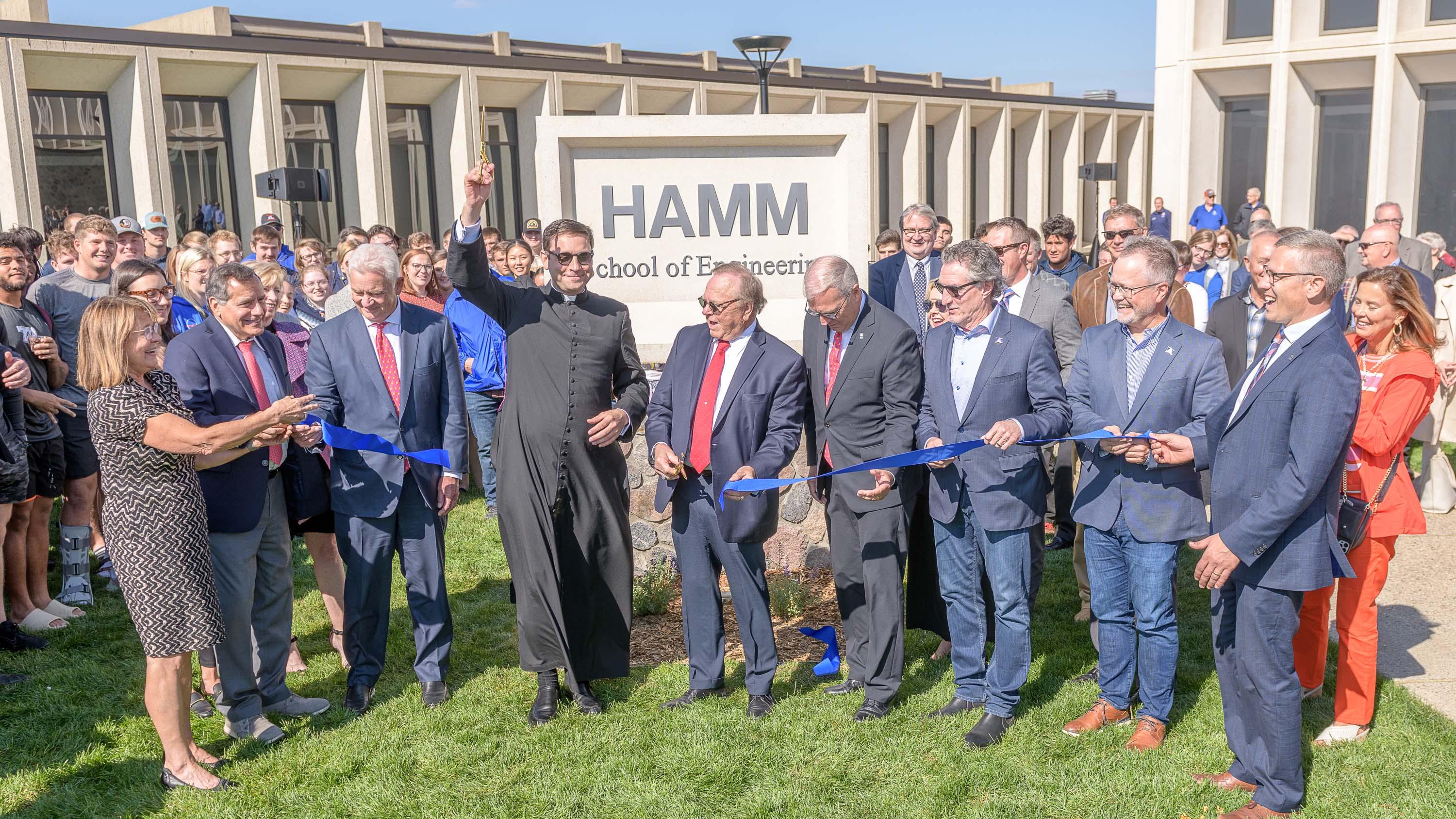 Harold Hamm, the entrepreneurial oil man whose name is engraved on University of Mary's school of engineering, cut the ribbon on the new state-of-the-art facility at a late-morning ceremony on campus today, Tuesday, September 20, 2022.
The new Hamm School of Engineering facility opened in the fall of 2020, offering electrical, civil, and mechanical engineering education within a space of 15,650 square feet. The school's instant popularity, success, and demand prompted an additional 3,900 square feet of space be added to the south end of the building that opened this month at the start of the new 2022 academic year. Flanked by President Monsignor James Shea, North Dakota Governor Doug Burgum, Senator Kevin Cramer, faculty, staff, students, benefactors, and dignitaries, Hamm officially christened the new space that welcomes students and guests with a chiseled 'Hamm School of Engineering' sign inside its courtyard area.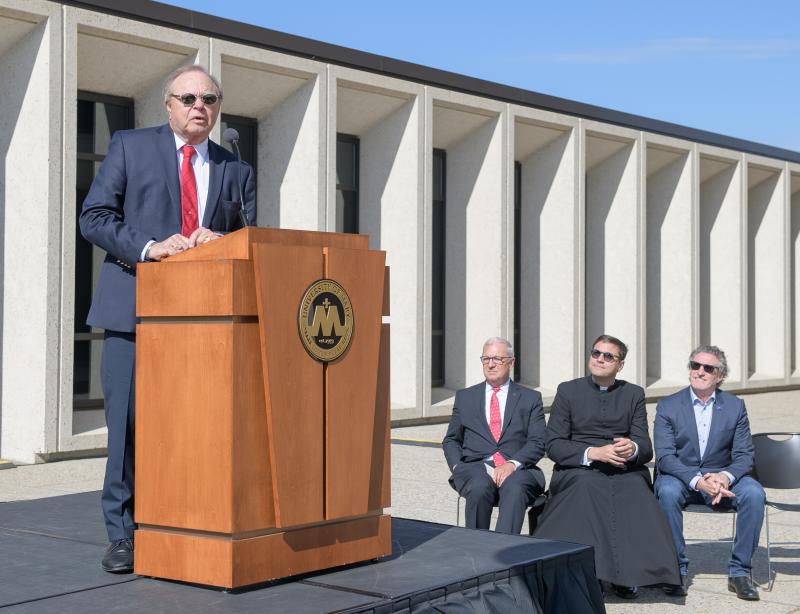 "I know from speaking with the leadership of the University of Mary that a great deal of thought and research has gone into designing and building this facility for students so that they can receive world-class, hands-on education as both engineers and leaders in business and industry," commented Hamm, founder, and chairman of the Oklahoma City, OK, based Continental Resources. "And we can see that this approach is not only working but thriving: the University of Mary's engineering graduates are being sought after even before graduation to help solve the engineering shortage in North Dakota and throughout the US. Students here are prepared for real-world experiences, and connected to statewide engineering firms for internships and projects from the beginning. The use of every inch of classroom and lab space has been meticulously considered. While I am extremely proud and honored to have our family name associated with the University of Mary and this facility, we know it's the world-class faculty, comprehensive curriculum, and imaginative and hard-working students who make the Hamm School of Engineering a shining success and a model for others to follow."
In February of this year, the Harold Hamm Foundation donated $10 million towards naming the Hamm School of Engineering. Continental Resources specifically earmarked an additional $2 million to endow a Chair of Engineering, naming it the "Continental Resources | Monsignor James Shea Chair of Engineering." This gift also launched Phase 2 of University of Mary's $272 million Vision 2030 Capital Campaign. The goal for Phase Two is $87 million.
"We are deeply grateful, honored, and humbled to share this momentous day with Mr. Hamm, members of his family, and Continental Resources," said Monsignor James Shea, president of the University of Mary. "Today is a testament to the pioneering spirit of our founders, the Benedictine Sisters of Annunciation Monastery. It is a tribute to our dedicated faculty and talented students. And it is a signal of Continental Resources' commitment to business and industry in North Dakota, where they have contributed so much. The University of Mary intends to do nothing less than help transform the world by the transformation of lives, as our students continue to demonstrate that they were made for more. The Hamm School of Engineering is a major piece of that plan as an academic Center of Distinction on our campus. We are committed to educate engineers who competent in profession and culturally prepared for the workplace, servant leaders of moral courage. We extend heartfelt thanks to Mr. Hamm and to all our benefactors for generous partnership that helps bring stability and prosperity to those communities looking to us in higher education to assist with their workforce needs."
In 2015, the University of Mary announced its intent for a new school of engineering and began to dramatically increase technical course offerings in the fall of 2016. Since then, Dr. Terry Pilling has spent the last half decade soliciting input from local and regional firms, touring other colleges and universities, and listening to his own students, as to what they believe would make up the most ideal, most comprehensive, and most student-friendly engineering program. Pilling took all that advice to heart, along with his own 25 years of experience as a professor, nuclear physics researcher, engineering firm executive, and scientist, to help design and build what he and the University of Mary believe is the most modern, teaching-centered, student-friendly, state-of-the-art engineering facility in the United States.
In just seven years since its beginning, the new Hamm School of Engineering has already earned a reputation for rigorous course work, innovation, and multidisciplinary experiential learning during all four years of study in civil, mechanical, and electrical engineering, in addition to programs in construction management and computer science.
"During the development of our engineering school, we made it a top priority to prepare our students for engineering careers in western North Dakota and beyond," said Pilling, dean of the Hamm School of Engineering. "To this end, we have nurtured relationships with many of the companies that do business here and encouraged them to hire our students for summer internships and semester-long co-ops while they are completing their degrees. Companies have responded beyond our expectations and have informed us about how impressed they have been working with our students as interns. Our students begin getting summer internships right away in their freshman year and are able to continue to do so each summer until they graduate. The new engineering building was constructed with our unique curriculum in mind. We decided on a layout that allows us to teach the laboratories and the lectures in the same space. Our curriculum is designed so that courses and labs can be combined and taught by the same faculty member. This enables the student to study the theory behind an engineering concept, such as an electric circuit, and then immediately test the theoretical results with a computer simulation, and then immediately follow this by constructing the circuit and testing the results in a direct laboratory experiment. This combined way of teaching engineering concepts is not done elsewhere, and we believe it is crucial to connecting the theoretical concepts learned in class with the physical apparatus that the student will encounter in their future career. So, we have designed the classrooms and laboratory spaces in our new building with this teaching method in mind."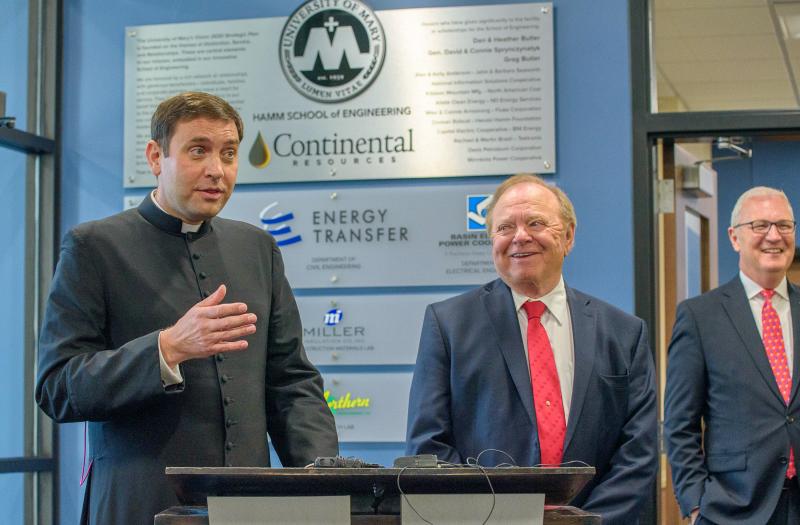 The Hamm School of Engineering has witnessed a steady rise in enrollment: from just a handful of students when it began in the fall of 2015, to nearly 200 in 2022. It's well on its way to its goal of 400 students by 2030 as outlined in the Vision 2030 Strategic Plan and current capital campaign. As important to Dr. Pilling, the Hamm School of Engineering graduates are being placed in high paying jobs.
"All of our graduates are employed and doing well," added Pilling. "We have a 100 percent placement rate. Also, our students have a 100 percent pass-rate on the national fundamentals of engineering (FE) exam. Passing this exam is required before a student can pursue a professional engineers (PE) license in the future. I know of no other school in the country with that 100 percent pass rate."
By 2030, the University of Mary plans to graduate 50 or more engineers annually who are culturally ready for the workplace and formed for leadership and possibly create additional programs in chemical and industrial engineering.
About the University of Mary: True to its motto "lumen vitae"—The Light of Life—the University of Mary offers education for the whole of life through cutting-edge professional programs and graduate programs animated by moral courage and leadership in chosen professions and service to the community. A private, co-educational Catholic institution, the University of Mary welcomes students of all faiths and backgrounds.
A Christian, Catholic, Benedictine institution founded in 1959 by the Benedictine Sisters of Annunciation Monastery, Mary offers nearly 60 bachelor's, 15 master's, and five doctoral programs—in Business Administration, Education, Nursing Practice, Occupational Therapy and Physical Therapy. The 19-sport Athletic Department adheres to its Greatness Through Virtue mission under the governance of the National Collegiate Athletic Association (NCAA) and American Collegiate Hockey Association (ACHA) conferences. With more than 3,800 students, Mary has locations in North Dakota, Montana, Arizona, Rome, Italy, as well as vibrant online offerings. For more information, visit www.umary.edu.
About Continental Resources: Harold Hamm founded Continental Resources in 1967 and is chairman of the board of directors. Continental Resources (NYSE: CLR) is a top 10 independent oil producer in the U.S. and a leader in America's energy renaissance. Based in Oklahoma City, Continental is the largest leaseholder and the largest producer in the nation's premier oil field, the Bakken play of North Dakota and Montana. The Company also has significant positions in the SCOOP and STACK plays of the Anadarko Basin of Oklahoma and newly acquired positions in the Powder River Basin of Wyoming and Permian Basin of Texas. With a focus on the exploration and production of oil, Continental has unlocked the technology and resources vital to American energy independence and our nation's leadership in the new world oil market. This year, the company celebrates 55 years of operations.
Explore Topics