The Harold Hamm Foundation Donates $10M and Continental Resources Donates $2M to the University of Mary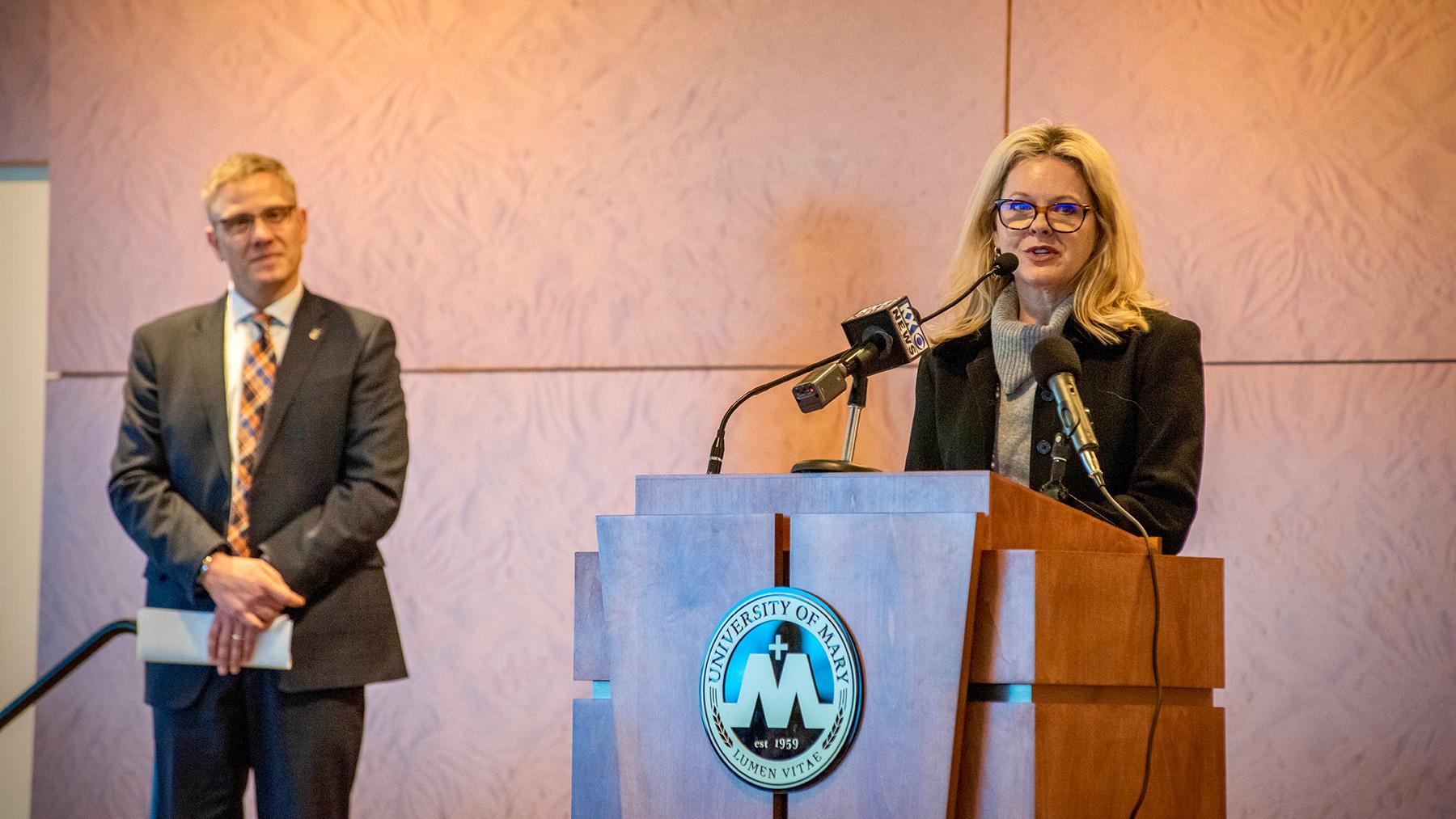 The gift establishes the Hamm School of Engineering and The Continental Resources | Monsignor James Shea Chair of Engineering
Gift launches Phase 2 of University of Mary's record-setting Vision 2030 Capital Campaign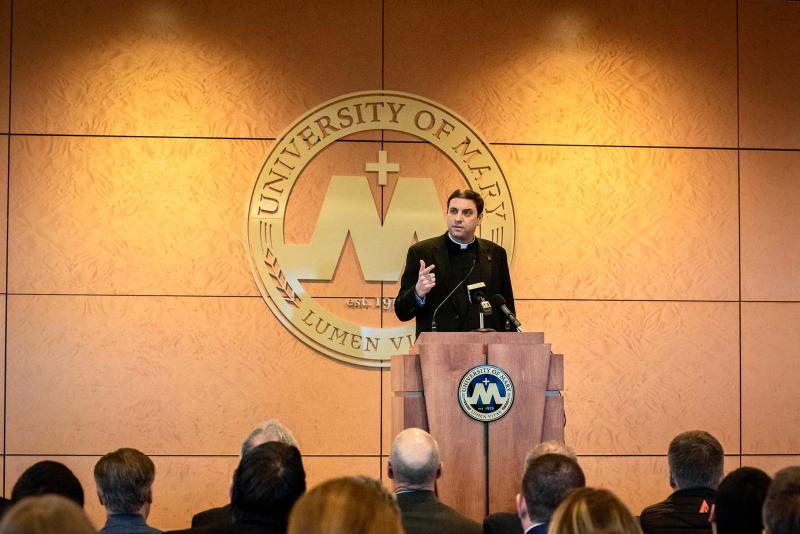 BISMARCK, ND — Today, Tuesday, February 1, 2022, University of Mary President Monsignor James Shea announced a $10 million philanthropic gift to the university from the Harold Hamm Foundation and a $2 million gift from Continental Resources. It is the largest single donation in the school's history and believed to be the largest-ever charitable gift given for education in the footprint of the Bakken Shale Formation, western North Dakota and eastern Montana. 
$10 million from the Harold Hamm Foundation goes towards naming the Hamm School of Engineering, while Continental Resources has specifically earmarked an additional $2 million to endow a Chair of Engineering, naming it the "Continental Resources | Monsignor James Shea Chair of Engineering." This gift also launches Phase 2 of University of Mary's $272 million Vision 2030 Capital Campaign. The goal for Phase Two will be $87 million.
 "This gift is significant in so many ways," stated Hamm, who was unable to attend the noon press conference because of a scheduling conflict, but was represented by his daughter, Shelly Lambertz. "We believe so strongly in the values and mission of the University of Mary and the leadership of Monsignor Shea. Continental Resources is serious about oil and gas production in the Bakken, and to sustain that growth we need some of the best and brightest engineering graduates. We believe Mary's engineering program will provide some of the most well-prepared engineers in the industry. So we see this as a long-term partnership for the viability of the economy in western North Dakota."
In just five years since its beginning, the new Hamm School of Engineering has already earned a reputation for rigorous course work, innovation, and multidisciplinary experiential learning during all four years of study in civil, mechanical, and electrical engineering, in addition to programs in construction management and computer science.
"We are humbled, grateful, and honored that Mr. Hamm and Continental Resources have so generously made this transformative investment in our students, faculty, and mission," said Shea. "We understand that this is about leadership. Stewardship of such generosity carries with it a tremendous amount of responsibility, ultimately to transform the lives of current students and future generations, even as we meet the growing workforce demands of North Dakota and our great nation. We accept this challenge with great vigor and excitement, as we continue to meet the needs of the people of this region and beyond — that same pioneering spirit exemplified by our founders, the Benedictine Sisters of Annunciation Monastery, when they arrived to Dakota Territory in 1878. Thank you for your trust in us and your partnership."
Phase 2 of the Vision 2030 Capital Campaign is a three-year endeavor that will conclude in December of 2025 and includes four pillars. Phase 2 will grow the Saint Gianna School of Health Sciences to meet America's growing healthcare needs, a renewed commitment to providing exceptional health sciences education, and reaffirming the dignity of every human person.
Phase 2 also will put the finishing touches on its Hamm School of Engineering. By 2030 the school will graduate 50 engineers each academic year.
Phase 2 includes a new Welcome Center on south campus built on to the east side of the Benedictine Center for Servant Leadership. The south entrance will be designated as the main entrance, and with a "re-ordering" of roadways, prospective students and their parents will be naturally directed to the front door of the Welcome Center. Services will include the offices of admissions, alumni, military services, residence life, financial aid, and students accounts.
Phase 2 also includes a massive overhaul of certain athletics facilities and campus landscape. A new sports complex will run parallel to University Drive/Highway 1804 and features a new stadium directly east of the current fieldhouse. A Gameday Plaza connects to the stadium with an outdoor track and field to the south. Continuing south, new baseball and softball complex will push up against the main entrance on south campus. Plans are also for scholar-athlete academic support, additional classroom space, artificial turf surfaces, and an Air Dome in the winter will allow teams to practice and all students a place for recreation in the winter months.     
"We are truly blessed by this donation from Mr. Hamm and Continental Resources as it allows us to launch Phase 2 of our Vision 2030 Capital Campaign that will bring about new programs, new facilities, new social spaces, new classrooms, and much more, while totally transforming the look and feel of our campus layout," said Executive Vice President Jerome Richter. "More importantly, Phase 2 will help transform students' lives and provide a stronger sense of hospitality and community — two Benedictine values near and dear to the Sisters and our late president emerita, Sister Thomas Welder. This will undoubtedly continue to honor their legacy that we so cherish." 
The three-phased Vision 2030 Capital Campaign, launched in 2015, has a total goal of $272 million. In just over three years, Phase 1 contributions surpassed its goal and exceeded $100 million. Phase 1 brought about a new Lumen Vitae University Center (LVUC) that is at the heart of campus, offering places for students to dine, study, enjoy fellowship, and find certain services they need. Helping to showcase LVUC is its 24/7 Crow's Nest Campus Restaurant sponsored by Steve and Eileen Scheel, and Founders Hall, dedicated to the Benedictine Sisters of Annunciation Monastery. Phase 1 also included the new 276-bed Roers Hall for women to help accommodate record enrollment. Phase 1 also saw the construction of a state-of-the-art fieldhouse supporting indoor track and field, coach's offices, and a wellness center for all students to access a wide array health and fitness activities. The beautiful Warford Grotto, constructed of fieldstone, and dedicated to the university's patroness, the Blessed Mother, welcomes students, faculty, and the community to immerse themselves in the sacred space for prayer, worship, and reflection. And Phase 1 also featured the enshrinement of Gift Hill Cross that was used in the 1958 ceremony and blessing commemorating the donation of property the university now sits on.
About Continental Resources
Harold Hamm founded Continental Resources in 1967 and is chairman of the board of directors. Continental Resources (NYSE: CLR) is a top 10 independent oil producer in the U.S. and a leader in America's energy renaissance. Based in Oklahoma City, Continental is the largest leaseholder and the largest producer in the nation's premier oil field, the Bakken play of North Dakota and Montana. The Company also has significant positions in the SCOOP and STACK plays of the Anadarko Basin of Oklahoma and newly acquired positions in the Powder River Basin of Wyoming and Permian Basin of Texas. With a focus on the exploration and production of oil, Continental has unlocked the technology and resources vital to American energy independence and our nation's leadership in the new world oil market. This year, the company celebrates 55 years of operations.
About the University of Mary
True to its motto "lumen vitae" — The Light of Life — the University of Mary offers education for the whole of life through cutting-edge professional programs and graduate programs animated by moral courage and leadership in chosen professions and service to the community. A private, co-educational Catholic institution, the University of Mary welcomes students of all faiths and backgrounds.
 A Christian, Catholic, Benedictine institution founded in 1959 by the Benedictine Sisters of Annunciation Monastery, Mary offers nearly 60 bachelor's, 19 master's, and five doctoral programs—in business, education, nursing practice, occupational therapy, and physical therapy. The 19-sport Athletic Department adheres to its Greatness Through Virtue mission under the governance of the National Collegiate Athletic Association (NCAA) and American Collegiate Hockey Association (ACHA) conferences. With more than 3,800 students, Mary has locations in North Dakota, Montana, Arizona, Rome (Italy), as well as vibrant online offerings.
Explore Topics