Giving Day at Mary Helps Provide Need-Based Funding to Students Who Wouldn't Normally be able to Afford Higher Education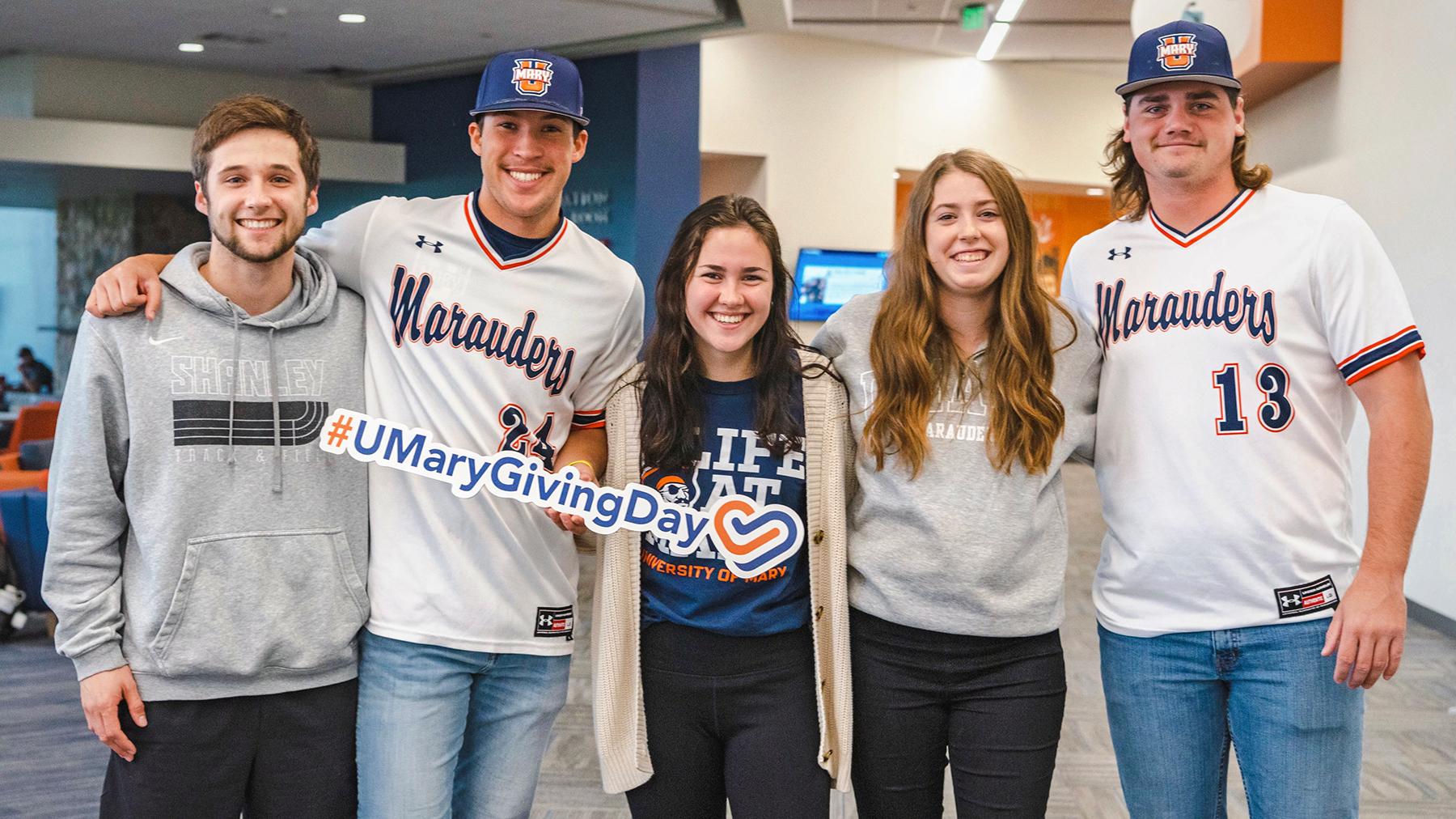 Save the date—Mary looks to break fundraising goal as it prepares for its annual
Giving Day event Thursday, Nov. 18
BISMARCK, ND — The 2021 Giving Day fundraising celebration Thursday, November 18, hopes to raise money for two important scholarships: the Need-Based Scholarship and the Marauders Armada Scholarship for University of Mary athletes.
Needs-based assistance is for students who have a financial need, based on family income and assets — test scores, academic standing, or unique talents are not a determining factor. According to debt.org, "there is never enough money" available for Needs-Based grants. "Federal grant money peaked in 2010-11, but has since declined by 34 percent. The 2010-11 funding was attributed to poor economic times that created a higher need."
Today, in 2021, the need is even greater as colleges and universities like Mary continue to try and fill the funding void so students can fulfill their dreams of attending the school of their choice.
"The Need-Based Scholarship was created to help fill the gap between federal and academic aid and the tuition students can afford," said Brenda Nagel, vice president for Public Affairs at the University of Mary. "Just this year alone, there were over 350 highly motivated, intelligent, hardworking students who fell into this category at the University of Mary. So, there is a tremendous need for financial support from our friends who are able to give to this great cause."
University of Mary freshman Victoria Noland had wanted to come to Mary for some time because of its
No. 1 nursing program in the country, its successful, nationally recognized track and field program, and Christian education. But as time drew closer to choosing a university, she feared she wouldn't be able to afford it. But that all changed when she received news of her Needs-Based scholarship from Mary.
"For this, I cannot thank you enough," said Noland, a Kalispell, MT, native. "There is not a single more touching moment I have experienced in my 19 years than receiving my scholarship letter and showing my immigrant mother, Eunice, the woman who single handedly raised five children, the woman who taught herself English, the woman who had three jobs all during my childhood to provide a meal on the table every night, the opportunity I have been given; I was going be a college student."
Luke Little of Bismarck had plenty of offers from other colleges and universities around the country to continue his education and play football. He chose Mary because of the welcoming culture and care he received when he first stepped onto campus, and the generous scholarship from the Marauders Armada. Five years later, after earning a scholarship from the Marauders Armada, Little is now the school's all-time leader in receiving touchdowns (20) within a season, and it's currently the most by any player in all of NCAA. In the classroom, he graduated with a degree in finance and banking and is currently pursuing a master's in business administration.
"Thanks to the Marauders Armada scholarship I didn't have the extra burden of student loans and basically working two fulltime jobs as an athlete and a student," said Little. "It's made a massive impact on my college career, and it's allowed me the free time to focus on my studies and the love for football. So, I wouldn't have had that experience without this scholarship. Thank you."
The University of Mary hopes to reach their goal of over $75,000 and more than 250 donors. For every donation made to the Marauders Armada, two donors have generously stepped up to provide matches worth $25,000 each. Anyone interested in giving to these two scholarships can do so now at www.UMaryGivingDay.com and the donations will officially be counted on Giving Day, Thursday, Nov 18.
About the University of Mary 
True to its motto "lumen vitae"—The Light of Life—the University of Mary offers education for the whole of life through cutting-edge professional programs and graduate programs animated by moral courage and leadership in chosen professions and service to the community. A private, co-educational Catholic institution, the University of Mary welcomes students of all faiths and backgrounds.
A Christian, Catholic, Benedictine institution founded in 1959 by the Benedictine Sisters of Annunciation Monastery, Mary offers nearly 60 bachelor's, 15 master's, and five doctoral programs—in Business Administration, Education, Nursing Practice, Occupational Therapy and Physical Therapy. The 19-sport Athletic Department adheres to its Greatness Through Virtue mission under the governance of the National Collegiate Athletic Association (NCAA) and American Collegiate Hockey Association (ACHA) conferences. With more than 3,800 students, Mary has locations in North Dakota, Montana, Arizona, Rome, Italy, as well as vibrant online offerings. For more information, visit www.umary.edu.
Explore Topics