Georgia Native Peter Collart Named University of Mary 2021 Outstanding Senior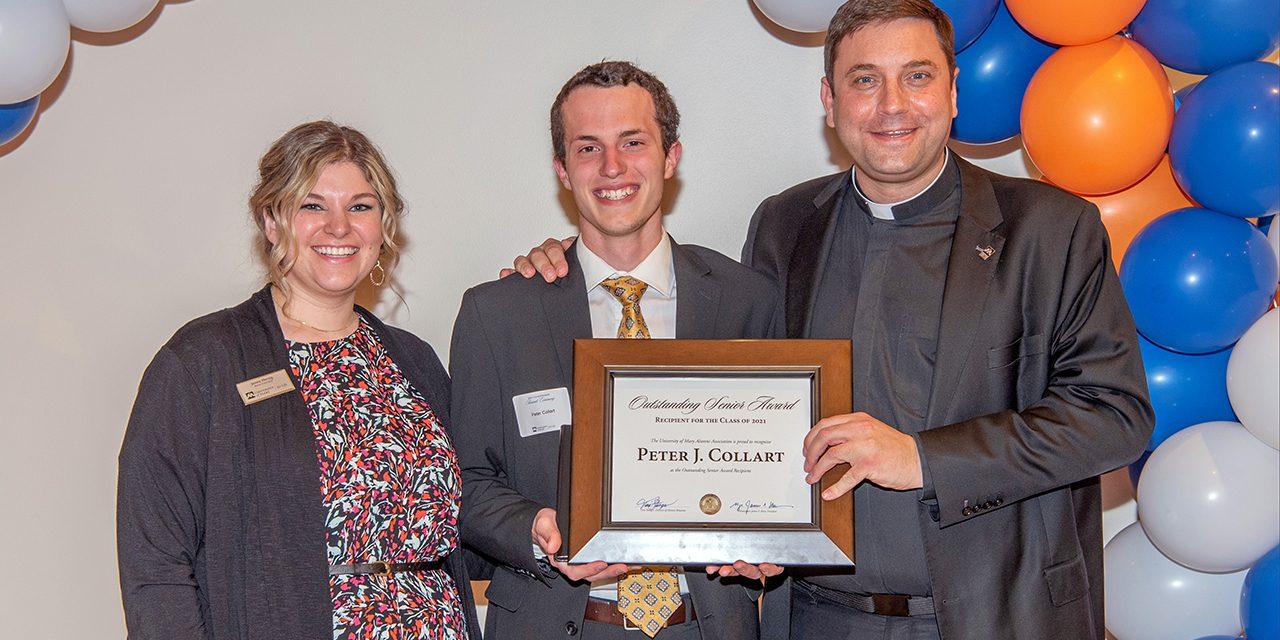 BISMARCK, ND — Peter Collart of Covington, GA, a mechanical engineering major, is the 2021 University of Mary Alumni Association Outstanding Senior Award winner. Collart is the first engineering student to receive the award presented by University of Mary President Monsignor James Shea at the annual Student Leadership Awards Ceremony held in Founders Hall on campus.
Collart's leadership, energy, and initiative is exemplified by community involvement, internships, and work experience accrued during his four years at Mary. When he's not volunteering in his home state of Georgia, he is giving his time and resources at St. Mary's Catholic Church in Bismarck, participating in University of Mary's annual Day of Service, or standing up for the unborn during March for Life. While staying active, Collart's 3.99 GPA has allowed him three internships where he's designed dip tube sensor assemblies, machine parts and metal brackets for Steffes in Dickinson, and conducted maintenance and repairs on excavators at Doosan Bobcat in Bismarck.
"Peter is a model of Benedictine values and servant leadership," said University of Mary Assistant Professor of Engineering, James Carrico. "He's been an enthusiastic participant in engineering's prospective service trip to Peru before COVID-19 caused the trip to be cancelled, and active participant of the Pro-Life organizations on campus. Peter not only shows up for these roles, but in doing so is always gracious, attentive and fully prepared to contribute. The supervisors from Peter's internships praise him in as glowing terms as his teachers do. Peter always approaches his peers with respect and humility, wanting above all to be helpful. Given his graciousness, competence, and reliability, his peers naturally come to rely on him and trust his judgment."
Peter is the son of David and Kathy Collart of Covington.
Each year, the teaching faculty at the University of Mary nominates members of the graduating class for this prestigious award, based on their academic achievement, service to the university and to the community. The Alumni Council Board then selects the recipient from these nominees.
"These students have worked hard and given so much that it would take many hours to list their abundant achievements, both in the classroom and in the community," said Tina Stanger, Director of Alumni Relations at the University of Mary. "We are so very proud of them, and look forward with great anticipation to watching them continue to grow and achieve in the future."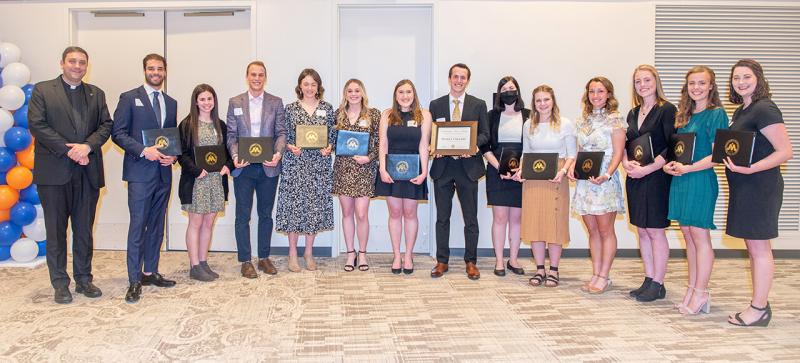 This year's Outstanding Senior nominees included Snaedis Danielsdottir, Reykholahreppur, Iceland, Jacie Kohler, Williston, ND, Erin Claussen, Sioux Falls, SD, Zoe Krauskopf, Louisville, KY, Thomas Rumpza, Saint Paul, MN, Emma Davies, Bismarck, ND, Jamie Stoppler, Bismarck, ND, Annie Roufs, Bismarck, ND, Clare Dalton, Littleton, CO, Luisa Garcia Michel, Tlalnepantla, Mexico, Sydney Murphy, Bismarck, ND, Leonardo Vecchi, Bergamo, Italy, and Katie Hauser, Yankton, SD.
Explore Topics