Employers and Students Invited to First Ever Part Time Summer Job Fair at the University of Mary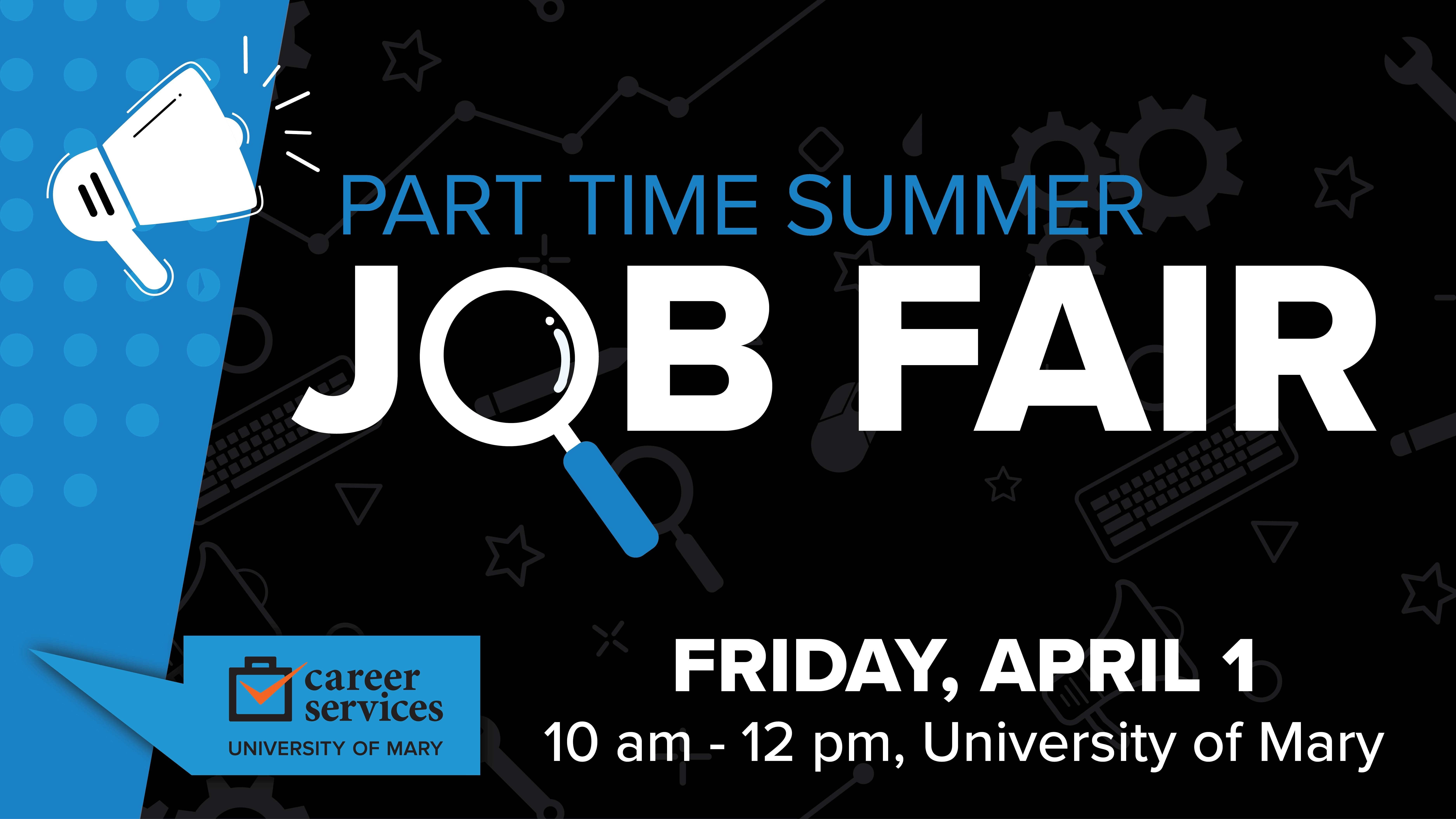 BISMARCK, ND — Many have seen the signs taped on the windows and doors of businesses and organizations across North Dakota and the country. Some messages go something like, "Due to workforce shortages, our business days and hours have been reduced. Sorry for the inconvenience." If restaurants haven't closed, some are no longer open all day and every day, or have gone to take-out only. Some employers in various fields are even going beyond typical "Help Wanted" signs to entice people to apply by including sign-on bonuses. 
Job Service North Dakota reports 17,000 statewide job openings for December 2021, with 3,000 in the Bismarck and Mandan area alone. With the spring and summer months fast approaching, University of Mary students from outside the Capital City area or out of state are starting to decide whether they will go back to their hometowns or stay in Bismarck and work over the summer. If their decision is to work in Bismarck or Mandan, the University of Mary wants to be part of the solution and connect students with area businesses and organizations to help meet the high demand for a quality workforce.
The University of Mary invites employers and University of Mary students to its very first Part Time Summer Job Fair April 1, 2022, from 10 a.m. to noon in the Tom and Francis Leach for Student Life (Chick's Place) on campus. With a limited 35 spaces held for local businesses or organizations, entry is allowed on a first-come first-serve basis and costs $10 per table. Employers may register for the event in Handshake. For more information contact Kevin Allan, director of Career Services at the University of Mary at (701) 355-8050, or kallan@umary.edu.
"The Part Time Summer Job Fair is a win-win situation for University of Mary students and the community," said Allan. "University of Mary students are bright, motivated leaders who are looking to gain real life experiences while becoming better connected with the community. University of Mary students can help to curb the workforce shortage. Employers in the area can provide valuable learning experiences for students and help them gain skills that augment their coursework. These skills will help students become career ready upon graduation."
About the University of Mary
True to its motto "lumen vitae" — The Light of Life — the University of Mary offers education for the whole of life through cutting-edge professional programs and graduate programs animated by moral courage and leadership in chosen professions and service to the community. A private, co-educational Catholic institution, the University of Mary welcomes students of all faiths and backgrounds.
 A Christian, Catholic, Benedictine institution founded in 1959 by the Benedictine Sisters of Annunciation Monastery, Mary offers nearly 60 bachelor's, 19 master's, and five doctoral programs—in business, education, nursing practice, occupational therapy, and physical therapy. The 19-sport Athletic Department adheres to its Greatness Through Virtue mission under the governance of the National Collegiate Athletic Association (NCAA) and American Collegiate Hockey Association (ACHA) conferences. With more than 3,800 students, Mary has locations in North Dakota, Montana, Arizona, Rome (Italy), as well as vibrant online offerings.
Explore Topics