Dickinson, ND, Native Morgan Ehlis Named University of Mary 2023 Outstanding Senior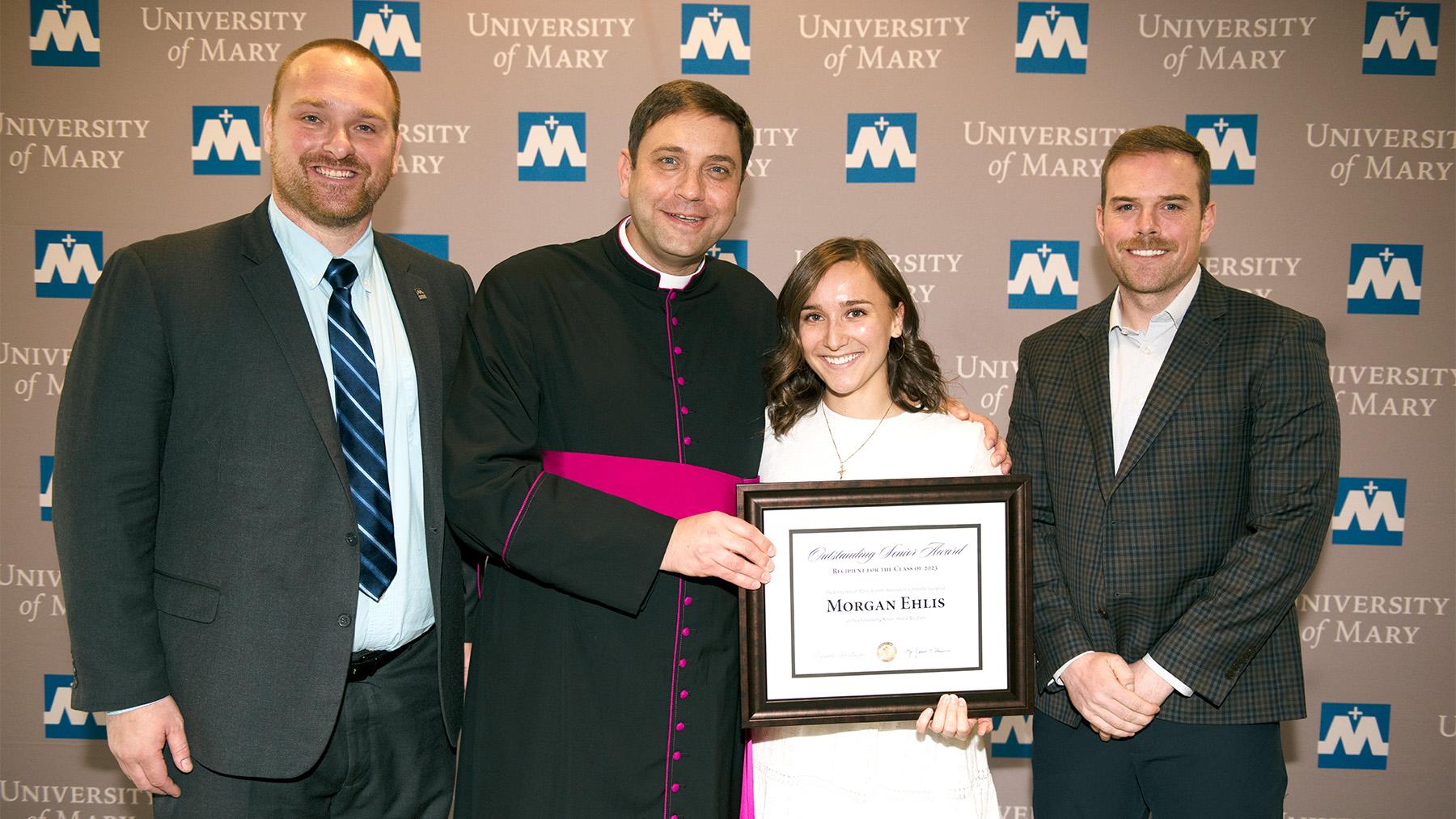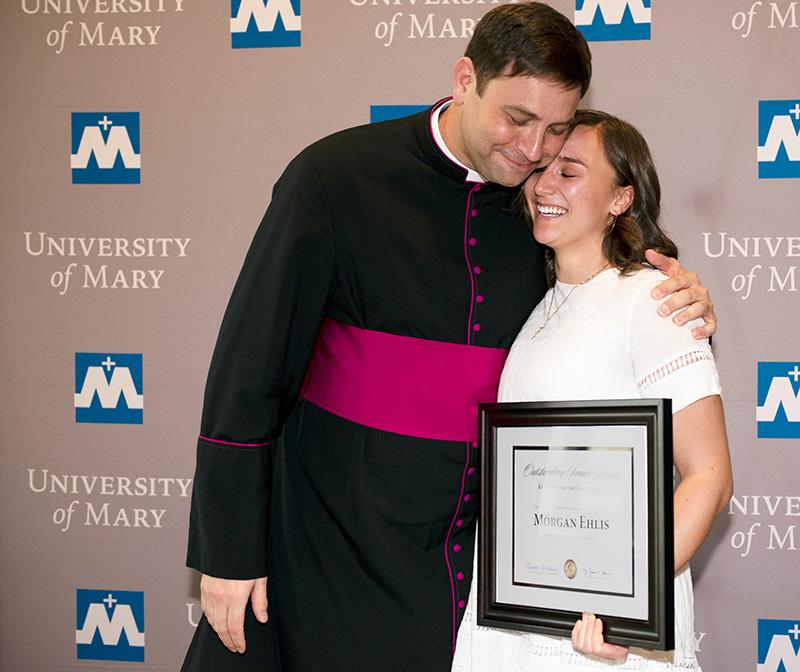 Bismarck, ND — Morgan Ehlis of Dickinson, ND, a communications graduate from Dickinson, ND, is the 2023 University of Mary Alumni Association Outstanding Senior Award winner. University of Mary President Monsignor James Shea presented Ehlis with the prestigious award Saturday just hours prior to University of Mary's 62nd commencement ceremony at the Bismarck Event Center over the weekend.
Ehlis is known by her peers to be joyful, modest, and considerate. She is a dedicated servant leader who has moral courage, a deep understanding of the world around her, and is truly committed to the betterment of the greater good. Ehlis has been an incredibly active member of the University of Mary community by serving at countless events, such as being a site leader for the Day of Service in 2021 and 2022, a peer leader to freshman during Welcome Week, and serving on the leadership team for the Marauders Activities Committee. After graduation, she will lead a Rome pilgrimage alongside Father Robert Shea. When she returns, she hopes to be accepted by Handmaids of the Heart of Jesus in New Ulm, MN.
"Morgan's dedication to academic excellence and service to the university and surrounding communities, make her the ideal candidate for this award," stated Amy Hollar, assistant professor and internship coordinator in the Department of Communication at University of Mary, and an alum and past recipient of the Outstanding Senior Award. "She is a dedicated servant leader who has moral courage, a deep understanding of the world around her and is deeply committed to the betterment of the greater good. In addition, Morgan is a leader among her peers and has repeatedly demonstrated her leadership qualities in and outside of the classroom. Morgan is graduating with a degree in communication, and a concentration in public relations and a minor in Catholic Studies. A feat she accomplished in three years, while also representing UMary as a student at our Rome campus during the Spring of 2022."
Ehlis is the daughter of Eric and Cheri Ehlis of Dickinson, ND.
Each year, the teaching faculty at the University of Mary nominates members of the graduating class for this prestigious award, based on their academic achievement, service to the university, and service to the community. The Alumni Council Board then selects the recipient from the nominees.
"We are thrilled that this year's nominees were of such a high caliber," said University of Mary Director of Alumni Relations Michael Mortenson, a 2015 University of Mary graduate. "All the nominees are outstanding individuals whose academic achievements, service, and leadership exemplify the University of Mary's emphasis on educating the whole person. We are so very proud of them and look forward with great anticipation as they grow and achieve success in the future."
This year's Outstanding Senior nominees included Katherine Achbach, Rapid City, MN; Sarah Bachmeier, Austin, MN; Emily Belland, Bowman, ND; Christopher Borash, Bowlus, MN; Mara Dalton, Littleton, CO; Mary Favorite, Minnetonka, MN; Calvin James, Buffalo, MN; John Nauertz, Spooner, WI; Rory Neary, Long Beach, IN; Sarah Pankratz, Billings, MT; Collin Prom, Upsala, MN; David Ruiz, Loretto, MN; Kaden Sago, Hazen, ND; and Elizabeth Thompson, Great Falls, MT.
—UMARY—
Anyone who wishes to learn more about Mary can do so at www.online.umary.edu, or by contacting an admissions representative at enroll@umary.edu, or by calling (701) 355-8030. The University of Mary is one of only 15 Recommended Cardinal Newman Society Residential Colleges and Universities in the US.
About the University of Mary: True to its motto "lumen vitae"—The Light of Life—the University of Mary offers education for the whole of life through cutting-edge professional programs and graduate programs animated by moral courage and leadership in chosen professions and service to the community. A private, co-educational Catholic institution, the University of Mary welcomes students of all faiths and backgrounds.
A Christian, Catholic, Benedictine institution founded in 1959 by the Benedictine Sisters of Annunciation Monastery, Mary offers nearly 60 bachelor's, 15 master's, and five doctoral programs—in Business Administration, Education, Nursing Practice, Occupational Therapy and Physical Therapy. The 19-sport Athletic Department adheres to its Greatness Through Virtue mission under the governance of the National Collegiate Athletic Association (NCAA) and American Collegiate Hockey Association (ACHA) conferences. With more than 3,800 students, Mary has locations in North Dakota, Montana, Arizona, Rome, Italy, as well as vibrant online offerings. For more information, visit www.umary.edu.
Explore Topics