Company Donates Thousands of Dollars' Worth of Lab Equipment to University of Mary's Hamm School of Engineering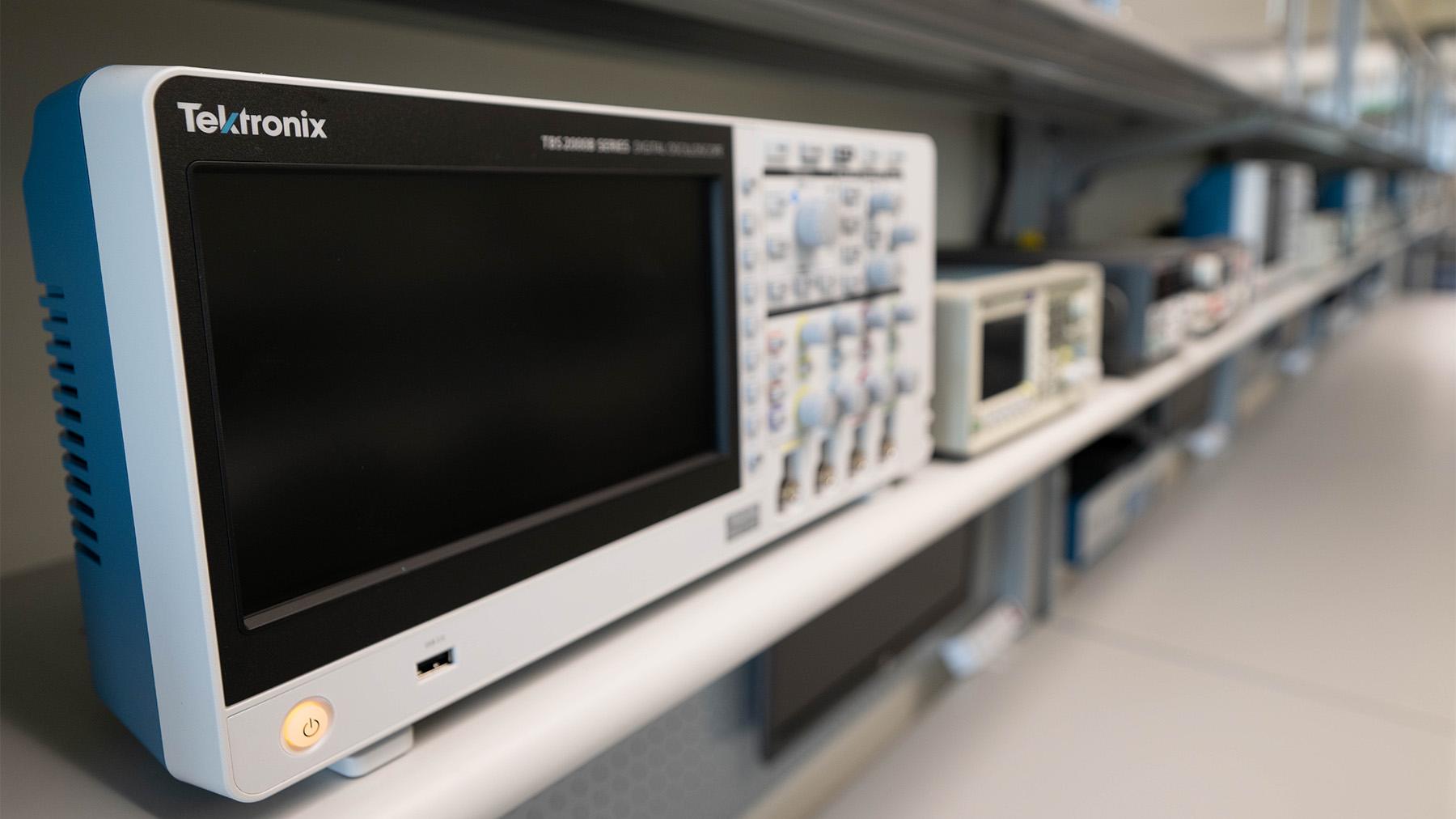 BISMARCK, ND — Tektronix, one of the world's leading manufacturers of electronic testing and measuring technology, has gifted University of Mary's Hamm School of Engineering $80,000 worth of its products in two separate donations. The state-of-the-art equipment includes digital oscilloscopes, function generators, triple-output power supplies, waveform generators, and digital benchtop multimeters.
"We believe these donations to the Hamm School of Engineering at the University of Mary will provide these students the tools they need to break through the walls of complexity and accelerate their innovation and success in the classroom, lab, and when working with client projects," said Tektronix Key Account Manager, Jake Graves. "We know graduates of the Hamm School of Engineering already play a pivotal role in helping meet the global need and demand for highly skilled, ethical, and communicative engineers in the workforce. The industry needs these graduates now more than ever. From what we know, the Hamm School of Engineering is already a model of excellence in such a short time of existence."  
Hamm School of Engineering Lab Coordinator Rodrigo da Costa Aparecido says the donated equipment will be used to teach fundamental and leading-edge testing concepts. 
"The cutting-edge Tektronix equipment is what students and recent graduates are going to see in the field," added Aparecido. "The build quality of the Tektronix products is second to none and helps me as the lab coordinator have less down time and repair expenses. Most importantly, this equipment allows us to have one student per lab station, increasing active learning and motivation for each student. Tektronix was always available and willing to work with the Hamm School of Engineering to determine our needs, evaluate, advise, and complete the donation. Tektronix is the market leader, and we are grateful to have them as a partner." 
According to Tektronix, their mission is to empower engineers to create and realize technological advances with ever greater ease, speed, and accuracy. Tektronix solutions have supported many of humankind's greatest advances of the past 75 years — health, communication, mobility, and space. With offices in 21 countries, Tektronix is committed to the scientists, engineers, and technicians around the world who will define the future.
The Hamm School of Engineering is helping meet the growing workforce demands of North Dakota and nation. The US Bureau of Labor Statistics (BLS), projects employment growth of 140,000 new engineering jobs for the ten-year span ending in 2026. In 2016, engineers already had a median annual wage of $91,010 — more than twice the median wage for all workers.
In just five years since its beginning, the new Hamm School of Engineering has already earned a reputation for rigorous course work, innovation, and multidisciplinary experiential learning during all four years of study in civil, mechanical, and electrical engineering, in addition to programs in construction management and computer science.
About the University of Mary
True to its motto "lumen vitae" — The Light of Life — the University of Mary offers education for the whole of life through cutting-edge professional programs and graduate programs animated by moral courage and leadership in chosen professions and service to the community. A private, co-educational Catholic institution, the University of Mary welcomes students of all faiths and backgrounds.
A Christian, Catholic, Benedictine institution founded in 1959 by the Benedictine Sisters of Annunciation Monastery, Mary offers nearly 60 bachelor's, 19 master's, and five doctoral programs — in business, education, nursing practice, occupational therapy, and physical therapy. The 19-sport Athletic Department adheres to its Greatness Through Virtue mission under the governance of the National Collegiate Athletic Association (NCAA) and American Collegiate Hockey Association (ACHA) conferences. With more than 3,800 students, Mary has locations in North Dakota, Montana, Arizona, Rome (Italy), as well as vibrant online offerings.
Explore Topics