Beach Native Sydnee Steele Named University of Mary 2022 Outstanding Senior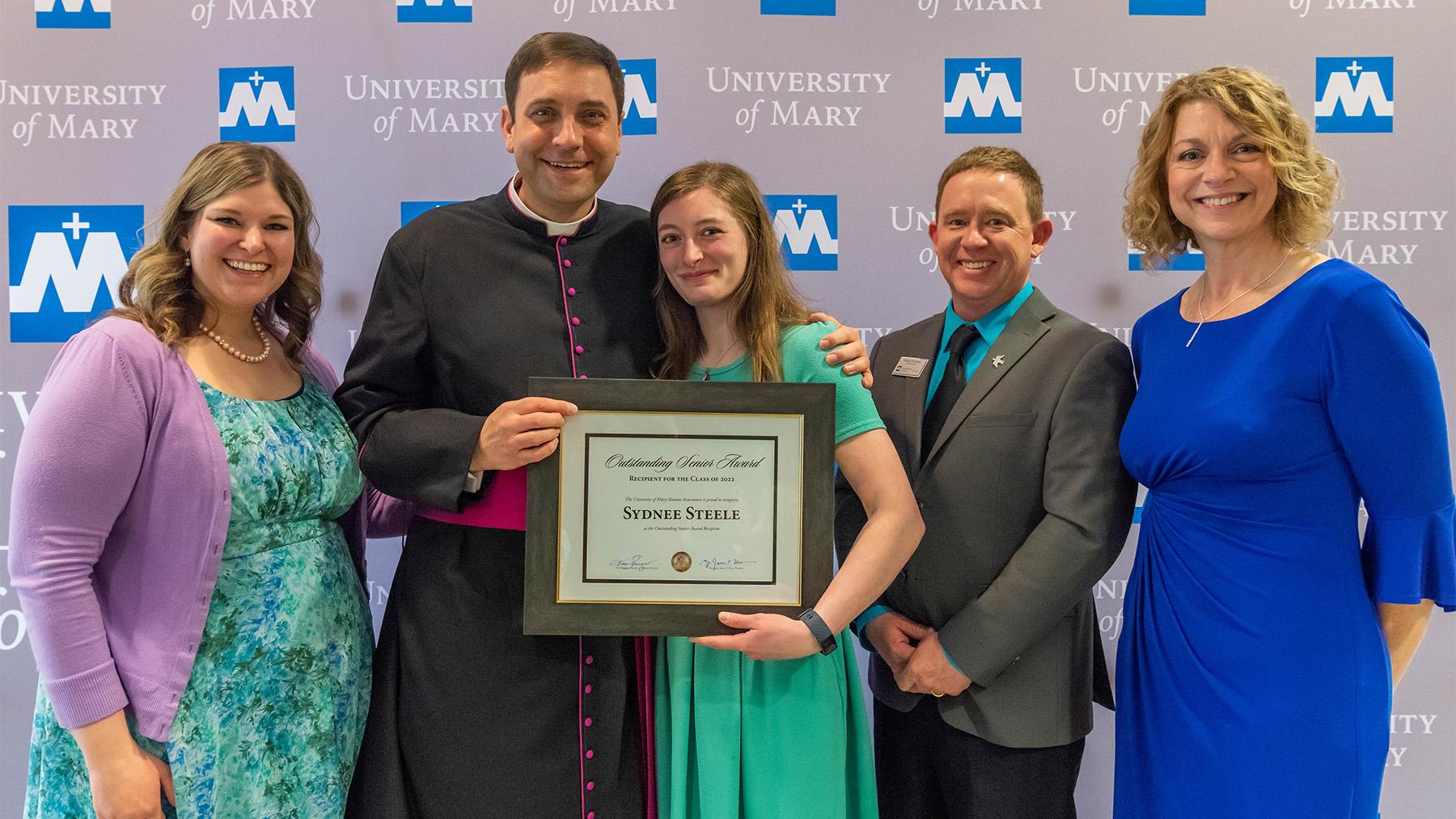 BISMARCK, ND—Sydnee Steele of Beach, ND, a business administration major with a double minor in Catholic studies and Spanish, is the 2022 University of Mary Alumni Association Outstanding Senior Award winner. University of Mary President Monsignor James Shea presented Steele with the prestigious award Saturday morning just hours prior to University of Mary's 61st commencement ceremony at the Bismarck Event Center.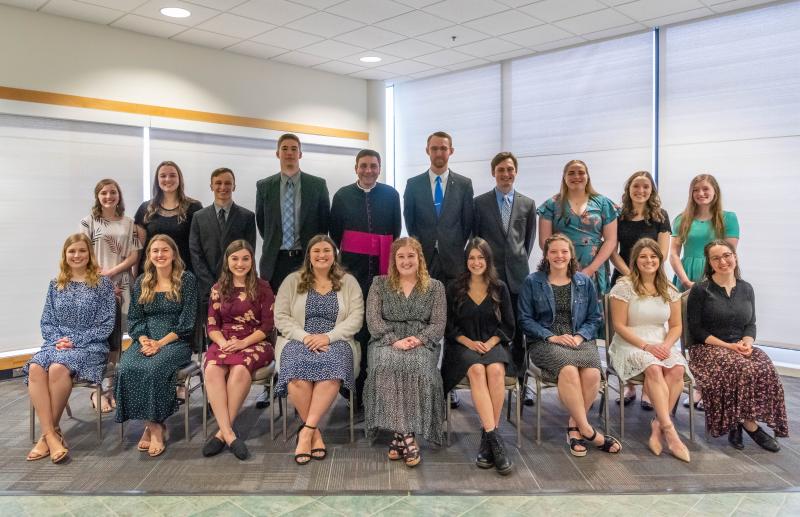 Steele's leadership, energy, and initiative is exemplified by her classroom, campus, and community involvement, and internship and work experience accrued during her time at Mary. She's been an active member and leader in the University of Mary Collegiate DECA (Distributive Education Clubs of America) chapter since her freshman year, including most recently as chapter president. Steele finished 1st in the Restaurant and Food Service Management category at the state DECA competition and represented University of Mary at the international competition in Baltimore. She has also spearheaded service activities for the chapter, including volunteering at Christ the King Montessori School for fall clean-up and assisted with the annual Prison Fellowship Angel Tree program in which Christmas gifts are given to children of incarcerated parents. Steele is a member of the Harold Schafer Emerging Leaders Academy in the Gary Tharaldson School of Business (GTSB), Catholic Studies Student Leaders, FOCUS Bible Study, Theology Reading Club, and Social Dance Club. She enjoys volunteering at her church, taking part in the annual University of Mary Day of Service, and helping at Papa's Pumpkin Patch. Steele began an internship at Caribou Coffee in Bismarck and will move into an assistant manager position following graduation. Steele's future entrepreneurial plans include opening up her own coffee shop-brewery-bookstore combination in North Dakota, South Dakota, and Montana.
"Sydnee has shown herself to be an engaged student in the classroom and highly conscientious with her coursework and assignments," commented Caroline Kozojed, assistant professor of leadership and management in the Gary Tharaldson School of Business, and Sydnee's advisor. "She constantly applies herself, and her efforts are rewarded with a 3.96 GPA. She has not only been an impressive student in the classroom, but has also demonstrated leadership on and off campus. She's an exemplar of the University of Mary student and is most deserving of the accolades she continues to receive."
Steele is the daughter of Alysia and Scot Steele of Beach.
Each year, the teaching faculty at the University of Mary nominates members of the graduating class for this prestigious award, based on their academic achievement, service to the university and service to the community. The Alumni Council Board then selects the recipient from these nominees.
"These students have worked hard and given so much that it would take many hours to list their abundant achievements, both in the classroom and in the community," said Tina Stanger, director of Alumni Relations at the University of Mary. "We are so very proud of them, and look forward with great anticipation to watching them continue to grow and achieve in the future."
This year's Outstanding Senior nominees included Louisa Bresee, Post Falls, ID, Izaiah Bitz, Bismarck, ND, Annika Bobb, Taylor, ND, Raquel Doll, Hazen ND, Sarah Dudley, East Grand Forks, MN, Jane Gowen, Bismarck, ND, Zachary Halpin, Bloomington, MN, Haley Luke, Topeka, KS, Shaylin Messmer, Bismarck, ND, John Regnier, Prescott, WI, McKinsey Rosendahl, Fosston, MN, Mark Sammons, Bismarck, ND, Madalyn Scherwinski, Kenosha, WI, Megan Tollefson, Sunburg, MN, Crystal Trefz, Moffitt, ND, Jordyn Varland, Mandan, ND, and Regina Zabinski, Isanti, MN.
About the University of Mary 
True to its motto "lumen vitae" — The Light of Life — the University of Mary offers education for the whole of life through cutting-edge professional programs and graduate programs animated by moral courage and leadership in chosen professions and service to the community. A private, co-educational Catholic institution, the University of Mary welcomes students of all faiths and backgrounds.
A Christian, Catholic, Benedictine institution founded in 1959 by the Benedictine Sisters of Annunciation Monastery, Mary offers nearly 60 bachelor's, 15 master's, and five doctoral programs — in business administration, education, nursing practice, occupational therapy, and physical therapy. The 19-sport Athletic Department adheres to its Greatness Through Virtue mission under the governance of the National Collegiate Athletic Association (NCAA) and American Collegiate Hockey Association (ACHA) conferences. With more than 3,800 students, Mary has locations in North Dakota, Montana, Arizona, and Rome, Italy, as well as vibrant online offerings.
Explore Topics