Fieldhouse & Wellness Center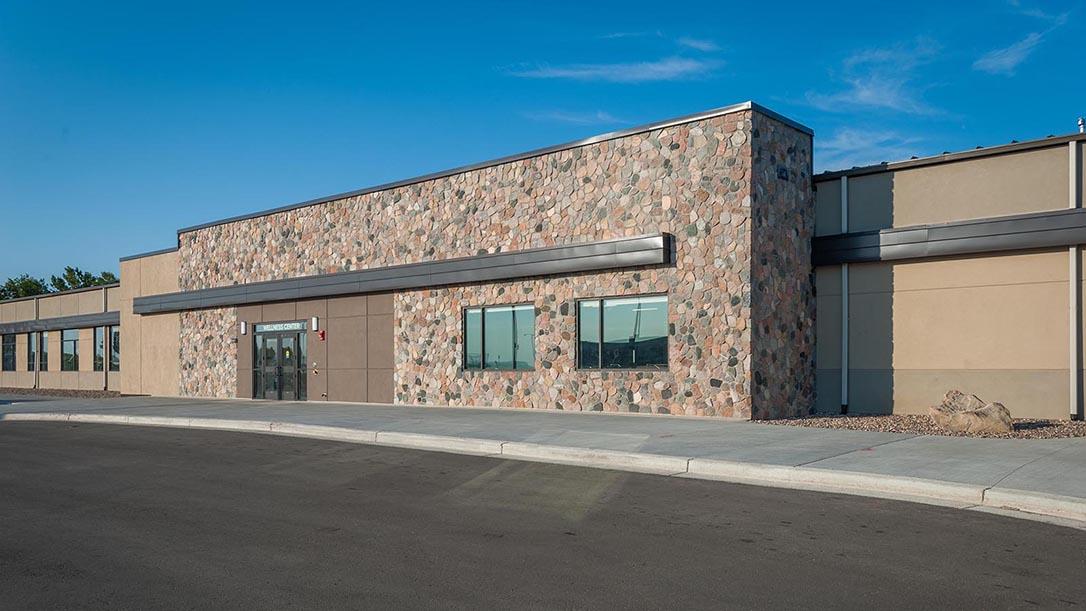 Stay Active and Have Fun!
The University of Mary opened the fieldhouse in 2017, an 80,000 square-foot structure dedicated to enhancing the health and fitness of our university members. 
The fieldhouse and wellness center is equipped with four basketball courts, a 200-meter competition-size NCAA track and field area, rock climbing wall, tennis, volleyball and racquetball courts, state-of-the-art group fitness room and studios, coaches' offices, team and day locker rooms, meeting rooms and a lounge.
There's something for everyone at the fieldhouse. Come see for yourself!
A large Wellness Center inside the University of Mary Fieldhouse on campus features treadmills, weightlifting, stationary bikes, ellipticals, and much more allows all students to exercise and maintain a healthy lifestyle.
The Neal Kalberer lounge inside the campus fieldhouse allows scholar-athletes to converse, lounge, study, and watch from overhead as athletes train and practice on the track below.
A full-sized 200 meter indoor track in the lower-level of the campus fieldhouse provides track and field athletes space to practice, while inside the track circumference are basketball courts for intramurals as well as motorized cages that descend from the ceiling allowing softball and baseball athletes to also practice.
Student Rec & Wellness
Student Recreation is committed to enhancing the educational experience and promoting lifelong wellness through excellent recreation programs, services, and facilities. We have a variety of activities that are a fun and exciting way to get involved and to meet new friends. We offer several events that are sure to meet the needs of everyone. We have many team and individual sports along with fitness opportunities. The recreation program at Mary is a great way for you to have fun and try that new sport or activity that you always wanted to learn.
Fitness Center and Studio
Fitness Center
Hours: 5 – 12 am daily
Equipment: treadmills, ellipticals, stationary bikes, rowers, free weights, stationary weight machines.
Fitness Studio
Fitness and group exercises instructed by YMCA and student instructors. Private reservations are available upon request.
Recreational Activities
Fieldhouse Area: 
Four regulation-size basketball and volleyball courts, six-lane 200 meter track.
Hours: 5 – 12 am daily
Racquetball Court: 
Regulation size, first come, first served. Check out equipment at the service desk.
Hours: 5 – 12 am daily
Rock Wall: 
Features bouldering section.
Hours: 8 – 10 pm Tuesday & Thursday
Men's and women's locker rooms are available for all students with three single-stall showers in each.
Hours: 5 – 12 am daily
No Outside Shoes in Fitness Areas
This includes the basketball courts, track, fitness center, fitness studio, and racquetball courts.
Keep Facility Clean
Maintaining hygiene and cleanliness of fitness center is a partnership between student and fitness staff. Students are encouraged to put weights back and wipe down equipment after use.
Equipment Checkout
Campus ID is required to check out equipment. Any equipment that is taken out of the building will require a completion of an equipment checkout slip. View equipment available for checkout.
No Outside Food and Drinks
Outside food and drinks other than water are prohibited in the Fitness Center and Fieldhouse Track.
Have Questions About Mary's Recreation Program?
We're here to help. Call the Student Recreation & Wellness office at 701-355-8260.

Join an Intramural League