University of Mary in Bismarck Announces Dean's List for Summer Semester 2021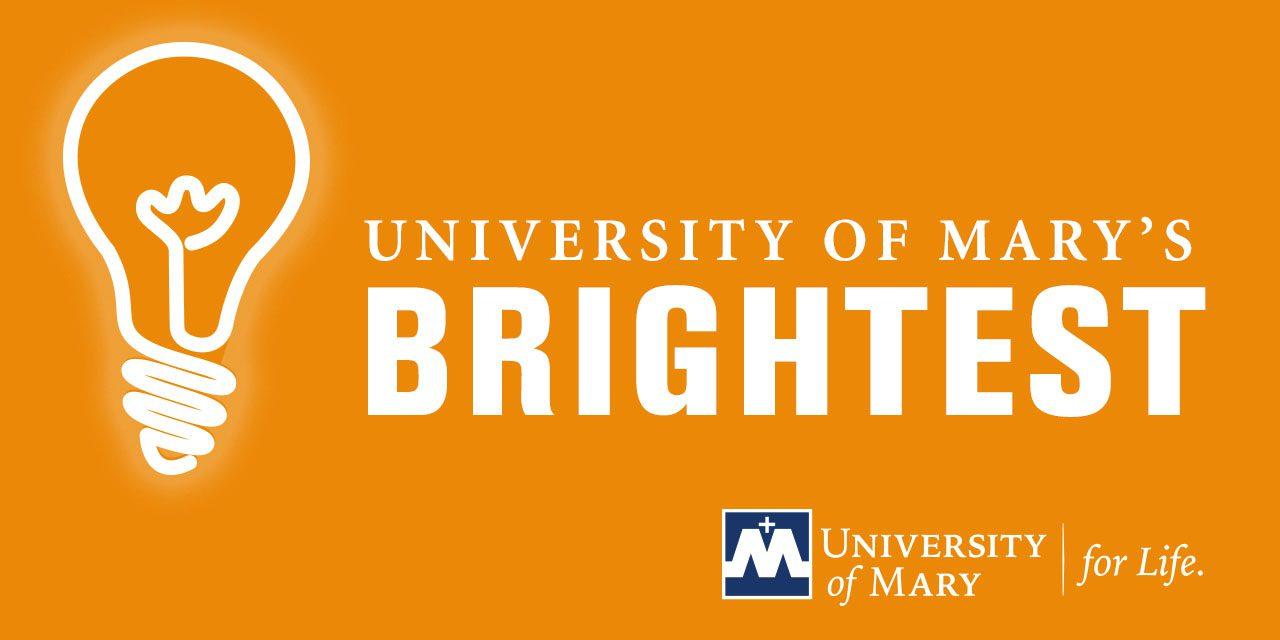 BISMARCK, ND — Area residents are among a record 133 students named to the 2021 Summer Semester Dean's List at the University of Mary, in Bismarck. This number includes students in Mary's undergraduate program and in adult education (University of Mary Online).
To qualify for the honor, traditional undergraduate students must earn a 3.50 or better grade point average while carrying at least 12 credit hours.
Students enrolled in the UMary Online program must earn a 3.50 or better grade point average while at a full-time adult learner status.
About the University of Mary
True to its motto "lumen vitae"—The Light of Life—the University of Mary offers education for the whole of life through cutting-edge professional programs and graduate programs animated by moral courage and leadership in chosen professions and service to the community. A private, co-educational Catholic institution, the University of Mary welcomes students of all faiths and backgrounds.
A Christian, Catholic, Benedictine institution founded in 1959 by the Benedictine Sisters of Annunciation Monastery, Mary offers nearly 60 bachelor's, 15 master's, and four doctoral programs—in Education, Nursing Practice, Occupational Therapy and Physical Therapy. The 19-sport Athletic Department adheres to its Greatness Through Virtue mission under the governance of the National Collegiate Athletic Association (NCAA) and American Collegiate Hockey Association (ACHA) conferences. With more than 3,800 students, Mary has locations in North Dakota, Montana, Kansas, Arizona, Rome, Italy, as well as vibrant online offerings. For more information, visit www.umary.edu
International
| First Name | Last Name | City | State | Country |
| --- | --- | --- | --- | --- |
| Victoria | Murillo Quiroga | Cancun Q Roo | FC | MX |
| Andrea | Peter | Kajang | | MY |
United States
| First Name | Last Name | City | State |
| --- | --- | --- | --- |
| Noelle | Flodin | Chugiak | AK |
| Adriana | Dyson | Gilbert | AZ |
| Hannah | Kipp | Mesa | AZ |
| Jenysa | Patterson | Bakersfield | CA |
| Sophia | Spence | Burbank | CA |
| Dominic | Regli | Ferndale | CA |
| Gabriela | Spartz | Poway | CA |
| Sarah | Oppenheim | Torrance | CA |
| Alyssa | Clow | Vista | CA |
| Julia | Simonson | Wheat Ridge | CO |
| Amber | Mohr | Sac City | IA |
| Matilda | Pugh | Sac City | IA |
| Sidney | Corcoran | Amboy | IL |
| Claire | Pikul | Downers Grove | IL |
| Matthew | Potoniec | Mt Prospect | IL |
| Mark | Joseph | Carmel | IN |
| Julia | Conry | Dyer | IN |
| Mary | Horlander | Indianapolis | IN |
| Blaine | Hamilton | Winchester | KY |
| Ryan | Duffy | Brownfield | ME |
| Sarah | Jackson | Clare | MI |
| Sydney | LeBlond | Grand Rapids | MI |
| Riley | Tanis | Silverwood | MI |
| Jacob | Donnett | Annandale | MN |
| Kaitlin | Kriefall | Blaine | MN |
| James | Rotondo | Coon Rapids | MN |
| Trever | Kaiser | Dassel | MN |
| Trey | Juran | Fergus Falls | MN |
| Mckinsey | Rosendahl | Fosston | MN |
| Arianna | Erickson | Grand Rapids | MN |
| Anna | Schwab | Loretto | MN |
| John | Yapello | Mahtomedi | MN |
| Ryan | Kielty | Maple Grove | MN |
| Maxwell | Weisenburger | Mendota Heights | MN |
| Natalie | Bot | Minneota | MN |
| Paige | Welsh | Minneota | MN |
| Allana | Staryszak | Monticello | MN |
| Samuel | Dibble | Moorhead | MN |
| Kayla | Johnson | Moorhead | MN |
| Abigail | Kunkel | Norwood | MN |
| Mary | Dunne | Plymouth | MN |
| Sarah | Zielinski | Plymouth | MN |
| David | Villafana | Richfield | MN |
| Ian | Somdahl | Saint Francis | MN |
| Megan | Anderson | Sartell | MN |
| William | Lacina | Shakopee | MN |
| Kira | DeMaris | Sleepy Eye | MN |
| Mikaela | Gaworski | West St Paul | MN |
| Dylan | Elletson | Fairview | MT |
| Elizabeth | Page | Glasgow | MT |
| Shea | Roberts | Sidney | MT |
| Maria | Yarsky | Salisbury | NC |
| Caitlin | Molter | Ashley | ND |
| Sydnee | Steele | Beach | ND |
| Skylar | Ackerman | Bismarck | ND |
| Kathryn | Buechler | Bismarck | ND |
| Zachary | Cave | Bismarck | ND |
| Emily | DeSantis | Bismarck | ND |
| Jeffrey Aaron | Dimdiman | Bismarck | ND |
| Olivia | German | Bismarck | ND |
| Taylor | Gerving | Bismarck | ND |
| Brianna | Hanson | Bismarck | ND |
| Taylor | Hoekstra | Bismarck | ND |
| Sarah | Jangula | Bismarck | ND |
| Kelsey | Mischel | Bismarck | ND |
| Rachel | Mischel | Bismarck | ND |
| Monica | Northrop | Bismarck | ND |
| Brooke | Pfaff | Bismarck | ND |
| Meghan | Rath | Bismarck | ND |
| Taylor | Richter | Bismarck | ND |
| Morgan | Salwei | Bismarck | ND |
| Noel | Scalzo | Bismarck | ND |
| Jessica | Schultz | Bismarck | ND |
| Dylan | Smith | Bismarck | ND |
| Madison | Steckler | Bismarck | ND |
| Hannah | Stroeder | Bismarck | ND |
| Frances | Taylor | Bismarck | ND |
| Allyson | Treiber | Bismarck | ND |
| Kyla | Wanzek | Bismarck | ND |
| Allison | Wiedrich | Bismarck | ND |
| Emily | Belland | Bowman | ND |
| Ashlynn | Dix | Bowman | ND |
| Ashley | Hettervig | Buxton | ND |
| Katie | David | Cando | ND |
| Cody | Ruscheinsky | Carson | ND |
| Joshua | Haugen | Crary | ND |
| Alexis | Andres | Dickinson | ND |
| Haley | Luke | Dickinson | ND |
| Ashley | Revering | Edgeley | ND |
| Madaline | Cooper | Fargo | ND |
| Casey | Gourde | Fargo | ND |
| Madison | Yonke | Fargo | ND |
| August | Mickelson | Forman | ND |
| Kaitlyn | Gefroh | Hague | ND |
| Alonna | Narum | Horace | ND |
| Sydney | Nathan | Kindred | ND |
| Sarah | Weigel | Kintyre | ND |
| Natalia | Cruz | Lincoln | ND |
| Mercedes | Flores | Lincoln | ND |
| Abbey | Lux | Lisbon | ND |
| Dylan | Binder | Mandan | ND |
| Breenna | Davidson | Mandan | ND |
| Hannah | Gardner | Mandan | ND |
| Alexandria | Elliott | Minot | ND |
| Gabriel | Thom | Minot | ND |
| Andrew | Hulm | New Salem | ND |
| Madison | Bartholomay | Sheldon | ND |
| Carlos | Gomez | Stanley | ND |
| Alex | Scherr | Strasburg | ND |
| Annika | Bobb | Taylor | ND |
| Lauren | Koski | Wing | ND |
| Patricia | Tomjack | O'Neill | NE |
| Olivia | Flure | Rio Rancho | NM |
| Joseph | Amidon | Lancaster | PA |
| Kenneth | Paulino | Pittsburgh | PA |
| Megan | Krause | Saylorsburg | PA |
| Madeline | Orr | Aberdeen | SD |
| Jaci | Krebs | Belle Fourche | SD |
| Meghan | Schlichte | Rapid City | SD |
| Wyatt | Parks | Stafford | VA |
| Charis | Vululleh | Puyallup | WA |
| Jacob | Dailey | Vancouver | WA |
| Afton | Bartol | Beaver Dam | WI |
| Gabriel | Andress | Colgate | WI |
| Jacob | Schaefer | Dresser | WI |
| Angela | Van Hecke | Hartland | WI |
| Abigail | Lynch | Holcombe | WI |
| Grace | Gierke | Hudson | WI |
| Xavier | Bergmann | Pepin | WI |
| Michael | Campion | River Falls | WI |
| Grant | Ritterbusch | Sheridan | WY |
Explore Topics