Thomas Orr, PhD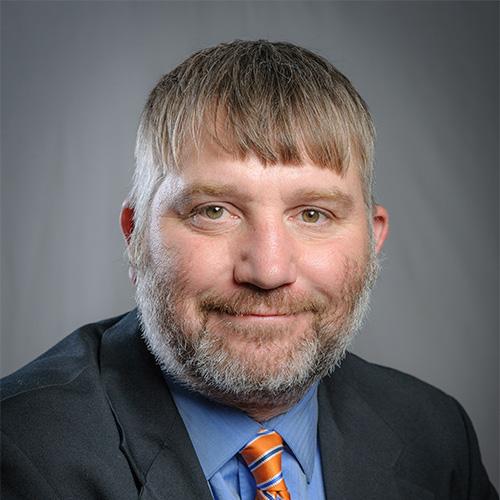 Program Director of Sport Management
Varsity Assistant Men's Ice Hockey Coach
Athletics, Gary Tharaldson School of Business
About Me
I work as a sport and leisure management professor at the University of Mary while serving as the assistant coach of men's ice hockey. Sports have been a large part of my life, having experience as a player, official, supervisor, coach, and administrator. I serve as the Associate Director for the Center on Sport Policy & Conduct, an organization dedicated to improving sports. I have written many scholarly articles and presentations in the area of coaching and sport management. When I am not working I enjoy spending time with my hockey-playing wife, Matty, and my five children.
I have always wanted to be a teacher and coach because I love to help others reach their goals and aspirations in life. Being a professor at Mary, not only can I do those things directly, but even more importantly, I can focus on educating others so that they can teach and coach with excellence and care well beyond my lifetime. 
Expertise
I have expertise in the following areas: sports psychology, sports violence, sport policy & governance, athletes and the law, deviance, youth sport, sport finance, excellence and success, the art of coaching & scouting, ice hockey coaching, player development, risk management & legal aspects of sport, prison recreation, philosophy of leisure, event management/programming, international & global sport, and marketing of sport.


Brown, G., Shaw, B., Shaw, I., & Orr, T. (2022). Comparison of Running Performance between Division and Sex in NCAA Outdoor Running Championships 2010-2019. American College of Sports Medicine Annual Meeting.

Wallrich, S., Romsa, K., Lim, J., Orr, T., & Romsa, B. (September, 2021). Analysis of Fan Motivation Factors in a Summer Collegiate Baseball League. Global Sport Business Journal. 

Orr, T. (2021). How to Break up a Fight and Other Violence Mitigation Strategies for PE and Sport. Society for Health and Physical Educators Conference-NE State Conference. Lincoln, NE. 
Orr, T., & Jamieson, L. (2020). Sport Violence; A Critical Examination of Sport, 2nd Edition. Champagne: Sagamore. 

Waid-Lindberg, C., & Orr, T. (August, 2019). College Athletes and Crimes Against Women. Encyclopedia of Women and Crime. Wiley Online Library. 

Hwang, G., Yoo, J., & Orr, T. (December, 2018). The Influence of Online Customer Reviews on Sports Consumers' Online Purchase Intentions: An Application of Consumer Decision Making Model. International Journal of Human Movement Science. 

Wakefield, M., Orr, T., Barclay, A., & Arvidson, M. (September, 2018). Marketing Techniques in the Women's National Basketball Association. Recreation, Parks, and Tourism in Public Health 2, 1, 115-124. 

Orr, T. (2016). The Wide World of Sports; China and the U.S. Relations in Sport Business. International Business Conference. Jinan, China. 

Orr, T. (October, 2015). Concussions: The Marketing Nightmare that Faces the NFL and Youth Sports. Journal of Business and Economics, 6, 10, 1735-1739.
Education
PhD (Philosophy): Indiana University, 2012
MS (Park and Recreation Administration): Indiana University, 2005
BA (History): University of North Dakota, 2001