Rachel Johnson Krug, EdD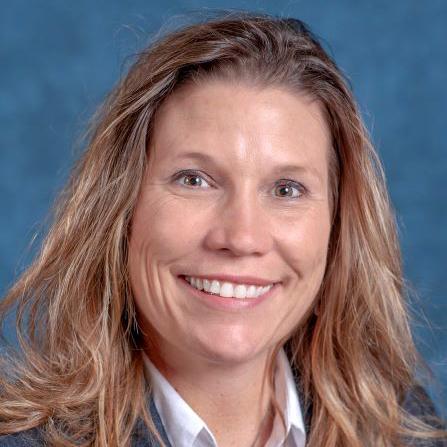 Chair of Athletic Training and Kinesiology
Director of Athletic Training Program
Associate Professor of Athletic Training
Saint Gianna School of Health Sciences
About Me
Originally from Bismarck, ND, I have over 20 years of experience as an athletic trainer as well as over 10 years of teaching in the K-12 setting. After graduate school, I went to Beaver Dam, WI where I was the first athletic trainer at the Beaver Dam Community Hospital. During my tenure at the hospital, I was able to grow the sports medicine program to provide athletic training services to multiple area high schools. I started in 2010 at the University of Mary as the Program Director for Athletic Training. I am married and have three children. I also am the high school gymnastics coach for the Bismarck Public Schools.
I have grown up living close to the university and my dad worked at Mary. I had a wonderful interaction with the sisters, and I enjoyed the atmosphere as a child. I graduated with my bachelor's degree and I have always wanted to teach at the college level. I continue to think the small, close-knit community is irreplaceable.
Expertise
My areas of expertise in athletic training include behavioral health, burnout, interprofessional education, and telemedicine. I enjoy working with the motion capture system and force plate in biomechanics and kinesiology programs.
Javad Anjum, Rachel Johnson Krug, & Destiny Kindsvogel (2020) "The Role of AT-SLP Collaborations in Return to Academics Following mTBI: A Scoping Review," Journal of Interprofessional Care. DOI: 10.1080/13561820.2020.1840339
Johnson Krug, R., Strand, B., German, N. (2017) "A Review of Burnout Concerns in Athletic Training," Future Focus. 38(2): 13-22.
Johnson Krug, R., Kunkel, L. 2020 "Interprofessional Education: Implementation Into Your Framework and Program Assessment," CAATE 2020 Accreditation Conference.
2018, "Burnout," CD SHAPE Conference, Sioux Falls, SD.
2017, "Burnout in Athletic Training II," North Dakota State Athletic Training Association State Meeting, Fargo, ND.
2016, "Burnout in Athletic Training," North Dakota State Athletic Training Association State Meeting, Bismarck, ND.
 
2010-Present, "Athletic Training," Mandan High School, Bismarck High School, Century High School, Legacy High School, Bismarck Career Academy.
2013, "Philosophy of Education for a First-Grader," Presented to the Annual Education Doctoral Program Fall Conference.
2013, "Exercise: We Know We Should Do it, Why Don't We?." North Dakota Nutrition Council Annual Conference, Bismarck, ND.
Education
EdD: NDSU, 2017
MS: Fort Hays State University, 1995
BS: University of Mary, 1992