Kathleen Kirsch, PhD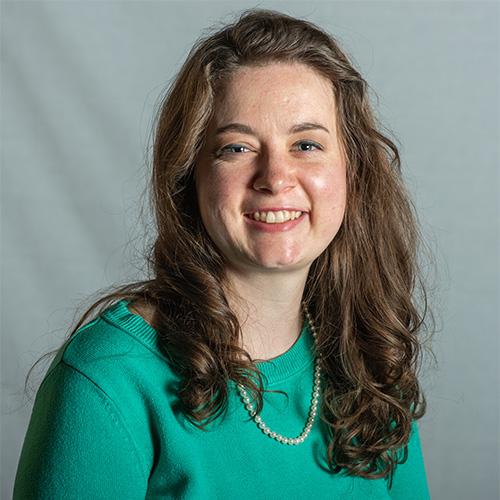 Assistant Professor of Classics and Catholic Studies
Director of the Summer Latin Institute
School of Arts & Sciences
About Me
A Minnesota native and the oldest of five, my education and formation inspired in me a love of truth and a desire to learn. As an educator, I strive to pass on those gifts. In addition to my scholarship and teaching, I love to sing, to hike, to bake, to discover new cuisines, and to live up to my vocation to be the glory of God as a (wo)man fully alive (cf. St. Iranaeus). In my travels, I've visited or lived in Australia, Austria, Belgium, Canada, England, France, Germany, Greece, Hungary, Ireland, Italy, Poland, and Spain.
I firmly believe in the mutual complementarity of natural and divine revelation and I see the purpose of education as the liberation of the mind for a more profound encounter with truth. With a joint appointment in Classics and Catholic Studies, I enable students to explore the dialogue between classical/pagan and Romano-Christian literature and culture.
Expertise
My specialty is fourth-century Christian Latin poetry, especially the work of Prudentius. In my research, I show how he articulated his faith in language and imagery comprehensible to his contemporaries. In this way, he engaged in a "New Evangelization" in his era. My secondary research area is manuscript studies, especially paleography and textual criticism.
Kirsch, Kathleen M. (2024) "Shaping Christianity in Calagurris: Prudentius's Renouatio of Ambrose in Peristephanon 1." Journal of Early Christian Studies 32.2.
Kirsch, Kathleen M. (2023). "Imagining Holiness: Legitimized Interior Warfare in Prudentius' Psychomachia." In Religious Modes of (De-)Legitimizing Violence in Antiquity: Proceedings of the International Conference, Mainz (Germany), September 2019. Hamburger Studien zu Gesellschaften und Kulturen der Vormoderne.
Kirsch, Kathleen M. (2023). "How καθ' ὅλον Should a Catholic Studies Program Aspire to Be?" LOGOS: A Journal of Catholic Thought and Culture, Supplement.
Kirsch, Kathleen M. (2020). Considering the Monsters of Prudentius's Psychomachia. Journal of Late Antiquity, 13(2), 220-233.
Education
PhD: Catholic University of America, 2019
MA: Catholic University of America, 2014
BA: Ave Maria University, 2011