Meghan Salyers, PhD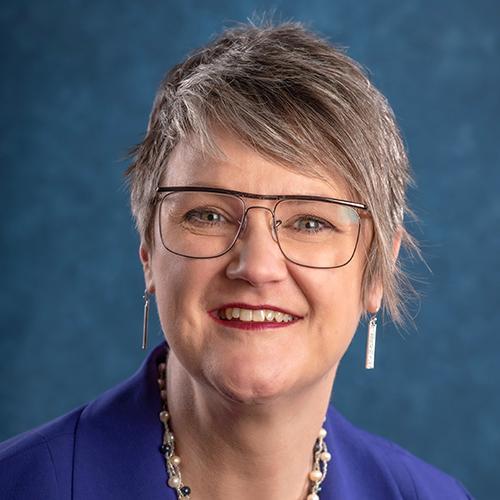 Director of Student Teaching and Accreditation Program
Associate Professor of Education
Liffrig Family School of Education and Behavioral Sciences
About Me
I am driven by three things: faith, family, and education. We are here with God-given purpose in multiple facets of life: I am inspired by the Holy Spirit; I am devoted to my family which includes my loving husband and two grown daughters; and I serve by being an educator - a long-standing tradition in my family.
I felt a pull to the University of Mary for years prior to my arrival - to be in a faith-infused teacher preparation program was a dream of mine. When I received a phone call from our dean asking if I would be interested in a position here, I knew I had to take this opportunity.
Expertise
Strengths include teaching critical/creative thinking and K-12 gifted/talented, educational assessment, special education diagnostics, and program evaluation/improvement. I have taught in private and public schools at the elementary and secondary levels and developed the state's first approved Endorsement coursework in gifted/talented education. I have great interest in studying ethics in education, conflict resolution, school violence, and collaboration in teaching.
Salyers, M., Miller, L. (2020) "How am I Doing? A Guide to Self-Evaluation of New Faculty's Teaching," New Faculty Workshop Series, University of Mary.
Pitkin, R., Copas, A., Dulski-Buchholz, A., Salyers, M. (2020). "The North Dakota Story: The Model Code of Ethics for Educators," Webinar for the National Council for the Advancement of Educator Ethics on behalf of National Association of State Directors of Teacher Education and Certification. https://www.nasdtec.net/page/NCAEE_Webcast 
Salyers, M., one of 42 contributing authors. (2019) "Preparing Effective Teachers: Multiple Approaches to Ensure Teaching Quality and Impact," Network for Excellent in Teaching (NExT) Online. https://www.nextdigitalhandbook.org/
Salyers, M., Duffield, S., Borden-King, L. (2017). "An Open Discussion Regarding the Teacher Shortage: Teacher Preparation Programs Responding to Rural District Needs," Rural Administrators at NDCEL Conference, Bismarck, ND.
Salyers, M., Yearwood, J, & Baas, S. (2017) "Beyond Borders: Establishing Mutually Beneficial Partnerships Across State Lines," AACTE Conference, Tampa, FL.
Salyers, M. (2016) "Co-Teaching in Student Teaching and in School Improvement," Department of Public Instruction Conference, Bismarck, ND.
Molapo, T., & Salyers, M. (2014) "Parent-Teacher Shared Commitment as a Predictor for Teachers' Attitudes Toward Gifted Students and Gifted Education," Journal of Studies in Education. 4(1).
Education
PhD (Teacher Education): University of North Dakota, 2008
MEd (Elementary Education): University of North Dakota, 2005
BSEd (Speech Communications for Secondary Ed): University of North Dakota, 1995