Matthew Brumit, PhD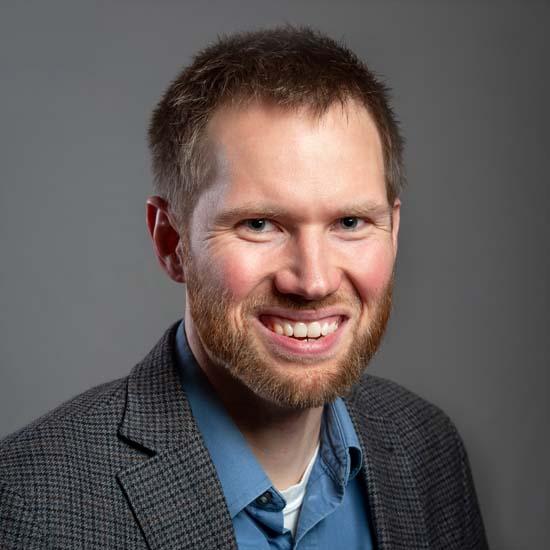 Assistant Professor of English
Fellow in Catholic Studies
Faculty Mentor for Honors Program
School of Arts & Sciences
About Me
Born and raised in Texas, I began my undergraduate career at Wake Forest in North Carolina before returning to Texas to finish my bachelor's degree and pursue graduate studies. My wife, Amanda, and I owned and operated a tutoring center in Dallas for seven years. We now have four children: Severin, Eleanor, Tobias, and Augustyn. I teach Composition, Intro to Poetry, World Literature, and History of the English Language, but I especially enjoy medieval literature and what Chaucer calls "old books." Outside of the university, I enjoy woodworking, gardening, and baking — and would love to live on a farm someday.
I'm at Mary because I have colleagues here who are not only good teachers and scholars but also good friends. When I first visited here, I felt I was already friends with the people I met. The word "colleagues" refers to people who read together, and I'm at Mary to read good books with the other students and professors here.
Expertise
My scholarly work focuses on how medieval poets (primarily Chaucer and the Pearl-poet) engage the philosophical tradition, especially the platonic tradition and in particular the question of universals, the relation between the body and the soul, the unity of virtue, and being and becoming. I'm also interested in dream visions, the liberal arts, and the history of education.
(Forthcoming). "'Þay ar happen also þat con her hert stere': Virtue and Nautical Metaphor in Patience," Becoming the Pearl-poet: Perceptions, Connections, Receptions, edited by Jane Beal. Lexington Books.
(2020). "Freedom Found in Unfreedom: Reading and Writing Medieval Prison Literature." Unfreedom: ACMRS 2020 Conference, Tempe, AZ.
(2019). "Teaching Platonic Poetics in Boethius and Chaucer," 54th International Congress on Medieval Studies, Kalamazoo, MI. Co-authored with Tiffany Schubert.
(2018). "'Gode is the lay, swete is the note!': Music as a Liberal Art in Sir Orfeo." 53rd International Congress on Medieval Studies, Kalamazoo, MI.
(2016). "A Medieval Look at the Modern, Corporate University," 20th Biennial Congress of the New Chaucer Society, Queen Mary University, London.
(2014). "'Then, then': The Two Poetic Moments of Herrick's 'Upon Julia's Clothes'," The Explicator, 72(4): 282-285.
(2013). "'[T]hey both like Vingt-un better than Commerce': Characterization and Card Games in Pride and Prejudice," Persuasions On-Line, 34(1).
(2011). "Symbolism, Nominalism, and Realism in Pearl," Southeastern Medieval Association, Agnus Scott College.
Education
BA (Humanities): Southern Methodist University, 2010
MA (English): University of Dallas, 2012
PhD (Literature): University of Dallas, 2017