Margaret Nordlie, DA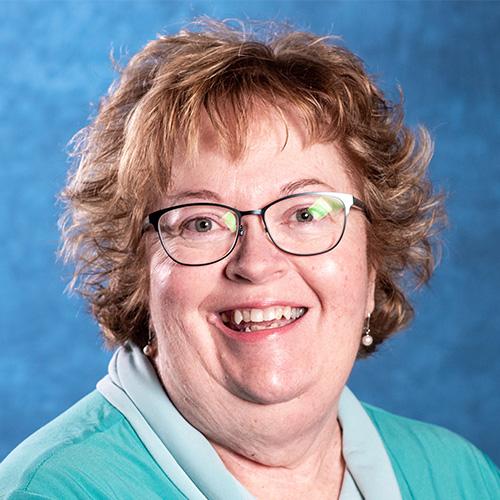 Visiting Professor, Biology and Chemistry
School of Arts & Sciences
About Me
I recently returned to Mary as a visiting professor in biology and chemistry. I'll be teaching chemistry for nurses, anatomy & physiology, and human biology labs. My first love is teaching, and I was also blessed to have the opportunity to complete a research sabbatical at The Heart Institute at Good Samaritan Hospital in Los Angeles, CA. I received the Regents' Award for Teaching Faculty in 2003. Outside of work, I enjoy playing the piano, reading, boating, attending the symphony and theater, and traveling. My husband Al and I have three children, six grandchildren, and Polly the Pug.
I taught at Mary for 27 years, after which I moved to Aberdeen, SD, upon my husband's retirement. This year I had the opportunity to return to Mary as a visiting professor, and I am thrilled to be back! Mary feels like home. The sense of community here with both faculty and students is extraordinary.
Expertise
My expertise includes genetics (particularly human and behavior genetics), and physiology/pathophysiology. Past research projects have focused on the possible induction of chromosome abnormalities by different genetic subtypes of the blood protein transferrin and the effects of particulates in air pollution on cardiac function. 
Nordlie, M.A. (2010). "Using problem-based learning to teach concepts of physiology." Presented at the Human Anatomy and Physiology Society National Conference, Denver, CO, May 2010.

Nordlie MA, Wold LE, Simkhovich BZ, Sesti C, and Kloner RA. (2006). Molecular aspects of ischemic heart disease: ischemia/reperfusion-induced genetic changes and potential applications of gene and RNA interference therapy. J Cardiovasc Pharmacol Therapeut, 11, pp. 17-30.

Wold LE, Simkhovich BZ, Kleinman MT, Nordlie MA, Dow JS, Sioutas C and Kloner RA (2006). In vivo and in vitro models to test the hypothesis of particle-induced effects on cardiac function and arrhythmias. Cardiovascular Toxicology, 6, 69-78.

Nordlie, M.A., Wold, L.E., and Kloner, R.A. (2005). Genetic contributors toward increased risk for ischemic heart disease. Journal of Molecular and Cellular Cardiology, 39, pp. 667-669. 
Education
Doctor of Arts (Biology): University of North Dakota, 1991
MS (Genetics): University of Minnesota, 1987
BSN: University of North Dakota, 1982