Eric Garcia, PhD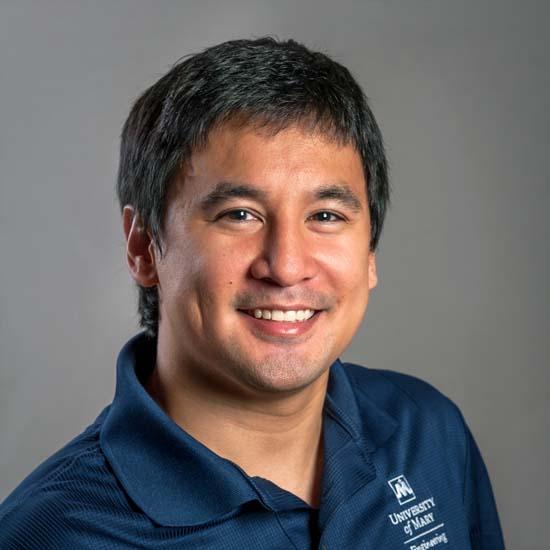 Assistant Professor of Civil Engineering
Hamm School of Engineering
About Me
I am an Assistant Professor of Civil Engineering here at the University of Mary. I received my PhD in Architectural Engineering from the University of Nebraska "Lincoln and BS in Civil Engineering from California State University "Long Beach. Here at Mary, I primarily teach engineering mechanics, structural engineering, and engineering design courses.
I'm at Mary because of the university's mission and the unique opportunity to directly integrate engineering into that mission. I really enjoy working with students and seeing them apply what they learn in the classroom to hands-on labs and design projects, but, more importantly, getting to witness their growth as servant leaders and as engineers.
Expertise
I teach engineering mechanics and structural engineering courses. My research experience and interests are in non-destructive testing and evaluation, structural health monitoring, as well as structural and mechanical properties of building materials.
Erdogmus, E., Garcia, E., Amiri, A.S., and Schuller, M. (2020) "A novel structural health monitoring method for reinforced concrete bridge decks using ultrasonic guided waves," Infrastructures. 5(6): 49. DOI: 10.3390/infrastructures5060049 
Erdogmus, E., Skourup, B., Garcia, E., Matta, F. (2019). "Tornado resistant residential design using experimentally obtained characteristic values for cement stabilized earthen masonry," Journal of Architectural Engineering. 25(2). (Published as part of the Special Collection on Residential Construction, Guest Editor, Ali Memari). DOI: 10.1061/(ASCE)AE.1943-5568.0000342 
Garcia, E., Erdogmus, E., Schuller, M., Harvey, D. (2019) "detecting the onset of different types of flaws in reinforced concrete," ACI Materials Journal. 116(1). DOI: 10.14359/51710962 
Garcia, E., Erdogmus, E., Schuller, M., Harvey, D. (2017) "A novel method for the detection of onset of delamination in reinforced concrete bridge decks," ASCE Journal of Performance of Constructed Facilities. 31(6). DOI: 10.1061/(ASCE)CF.1943-5509.0001093.
Education
PhD (Architectural Engineering): University of Nebraska "Lincoln, 2016
BS (Civil Engineering): California State University "Long Beach, 2012