Daniel A. Barr, PhD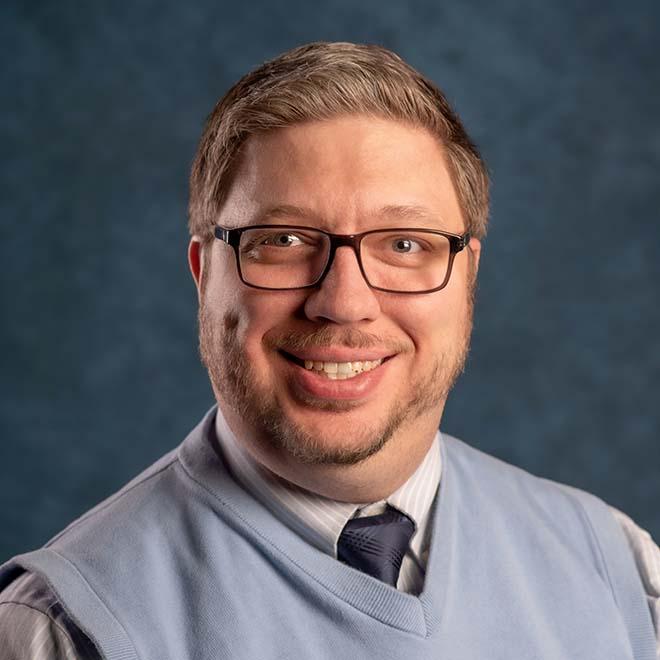 Chair of Chemistry and Chemistry Education
Associate Professor of Chemistry
Fellow in Catholic Studies
School of Arts & Sciences
About Me
Originally from Philadelphia, PA, I grew up in the Harrisburg area before heading to Arizona State University for my BS in Biochemistry and PhD in Computational Biophysical Chemistry. My work spans computational, medicinal, physical, and bio-organic/inorganic chemistry, and I teach broadly across the curriculum. I enjoy introducing students to the molecular world in non-majors courses as well as exploring the limits of human knowledge in advanced physical chemistry and biochemistry courses. I find that cultivating a sense of wonder for the deep mysteries of our universe is as important as continuing to advance the frontiers of our disciplinary knowledge.
During graduate school, I went on retreat at a Benedictine monastery that introduced me to the Liturgy of the Hours and changed the course of my life. Coming to Mary allowed me to come "home" in a sense as a Benedictine — to become an Oblate of Annunciation Monastery and integrate my academic and spiritual journeys.
Expertise
I am thrilled to be working on the problems that first drew me to a career in science, using computational methods to study the molecular interactions that govern biological systems. My particular areas of interest include mutation studies of proteins and the mechanisms by which information about structural and binding changes is communicated among various parts of the protein.
A full list of publications and awards can be found via my ORCID iD.
Luisa R. Garcia Michel*, Clara D. Keirns*, Benjamin C. Ahlbrecht*, and Daniel A. Barr. (2021) "Calculating Transfer Entropy from Variance-Covariance Matrices Provides Insight into Allosteric Communication in ERK2," J. Chem. Theory Comput. 17(5): 3168-3177. 
Donna Bassolino, Daniel Barr, Kersten Schroeder. (2021) "A Case for Case Studies when Teaching Biochemistry," [Poster] ACS Mid-Atlantic Regional Meeting (MARM). Virtual Meeting. 
Autumn C. Bertch* and Daniel A. Barr. (2020) "Transfer Entropy Pathways in Protein-DNA Complexes," 112th Annual Conference of the North Dakota Academy of Sciences. Virtual Meeting. (1st Prize — Undergraduate Oral Presentations) 
Benjamin C. Ahlbrecht* and Daniel A. Barr. (2020) "Deriving a Normalized Variant of the KSG Transfer Entropy," 112th Annual Conference of the North Dakota Academy of Sciences. Virtual Meeting. (2nd Prize — Undergraduate Oral Presentations) 
Dan Hu, MD, PhD, Dong Hu, Liwen Liu, Daniel Barr, Yang Liu, Norma Balderrabano-Saucedo, Bo Wang, Feng Zhu, Yumei Xue, Shulin Wu, BaoLiang Song, Heather McManus*, Katherine Murphy*, Katherine Loes*, Arnon Adler, Lorenzo Monserrat, Charles Antzelevitch, Michael H Gollob, Perry M Elliott, Hector Barajas-Martinez. (2020) "Identification, Clinical Manifestation and Structural Mechanisms of Mutations in AMPK Associated Cardiac Glycogen Storage Disease," EBioMedicine. 54: 102723. 
Danielle McHarris* and Daniel Barr. (2014) "Truncated Variants of the GCN4 Protein Recognize DNA Using Diverse Binding Mechanisms," J. Chem. Inf. Model. 54(10): 2869-2875. 
Daniel Barr, Arjan van der Vaart. (2012) "The Natural DNA Bending Angle in the Lac Repressor Headpiece - O1 Operator Complex is Determined by Protein-DNA Contacts and Water Release," PCCP. 14(6): 2070-2077. 
Daniel Barr, Taiji Oashi, Kimberly Burkhard, Sarah Lucius*, Ramin Samadani, Jun Zhang, Paul Shapiro, Alexander D. MacKerell Jr., Arjan van der Vaart. (2011) "Importance of Domain Closure for the Auto-Activation of ERK2," Biochemistry. 50(37): 8038-8048.
(*indicates student co-author)
Education
PhD (Chemistry): Arizona State University, 2011
BS (Biochemistry): Arizona State University "Barrett Honors College", 2006