Ann Brodeur, PhD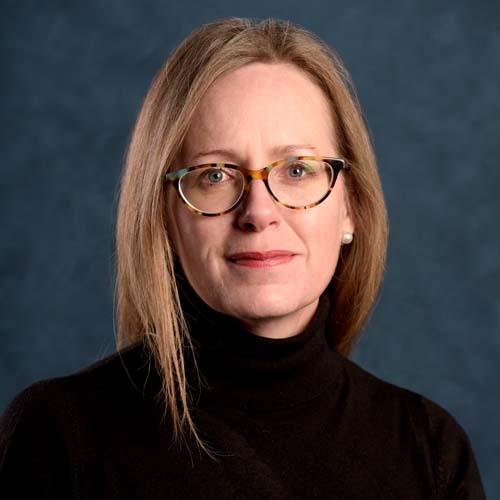 Associate Professor of History and Catholic Studies
Chair of Language and Literature Department
NCAA Faculty Athletic Representative
School of Arts & Sciences
About Me
I am an assistant professor of history and Catholic studies. I am a social historian of the medieval world, focusing my research on the intersection of religion and culture in medieval communities. I teach courses on medieval history, medieval pilgrimage, religion and culture, as well as courses on the history of education and Catholic studies. I have published papers and book chapters on history, anthropology, law, economics, and education. My most recent work focuses on mechanisms of solidarity in local communities and on new approaches to the person in disability history.
As a native of North Dakota, I love the beautiful sky and magnificent views of the Missouri bluffs at Mary! After years of living abroad in Europe and Canada, it is a joy to return to the high plains and to the University of Mary, where I enjoy deep intellectual friendships and conversations with my colleagues and students about deeply true things, both human and divine.
Expertise
In addition to my teaching and research, I have served as an advisor and board member to various educational and non-profit initiatives that support the development of the dignity of work, the home, women, and children. I have served on educational advisory committees for schools and dioceses and as an advisor to NGOs on United Nations policy. I currently serve at the University of Mary as the administrative chair for languages and literature and as the University of Mary's faculty representative to the NCAA.
Brodeur, Ann. (2022). "The Heart of Hospitality: The Historical Development of Care for Persons" in Humanism and Flourish in Hospitality and Tourism, ed. Kemi Ogunyemi et al. Palgrave-Macmillan.
Brodeur, Ann. (Forthcoming)."The Pursuit of Peace and Solidarity: Indulgences and the Medieval English Parish, 11th-16th c.," in Journal of British Studies.
Brodeur, Ann. (2022). "Setting Captives Free: Indulgences and the Ransoms of War and Piracy," in Clergy and Warfare, Craig Nakashian, ed. ARC-Humanities University of Amsterdam Press.
Brodeur, Ann. "Doing Our Home Work: Toward an Interdisciplinary Approach to the Study of the Work of the Home," Home Renaissance Foundation Working Paper 17, available at http://homerenaissancefoundation.org/wp-content/uploads/2017/12/17.-Ann-Brodeur.pdf
Brodeur, Ann. (2014). Review of Paul Auchterlonie, Encountering Islam: Joseph Pitts, An English Slave in 17th c. Algiers and Mecca (London: Arabian Publishing, 2012) in Journal of Early Modern History 18:3, 287-88.
Brodeur, Ann. (2008). "Preaching and Indulgences in Late Medieval England" in Weapons of Mass Instruction: Secular and Religious Institutions Teaching the World. Proceedings of the Eighth Annual St. Michael's College Symposium, ed. Francesco Guardiani. Legas. pages 105-115.
2018 — "Indulgences and Memory in the Medieval English Parish Context" at the International Medieval Congress, Leeds, U.K. 2018 — "Redeeming the Captive: Indulgences, Solidarity and the Hundred Years' War" at the 53rd International Congress on Medieval Studies, Kalamazoo, MI.
2012 — "Medieval Virtual Pilgrimage and the Hereford Mappa Mundi," University of St. Thomas.
2012 — "A History of Housework, 1900-present" at the Symposium on the Work of the Home, sponsored IESE/University of Navarra, New York City.
2005 — "Preaching and Indulgences in Late Medieval England" at St. Michael's College Symposium, Toronto, Ontario.
Education
BA: Franciscan University
MA: Catholic University of America
PhD: University of Toronto